MARY-THERESE BLAIR meets winemakers who make great wine for good causes.
As recent events in Christchurch have taught us, the world can be cruel. Tragedy can strike leaving us forever changed. However, among the injustices we must look for the good, as when we do it is found all around us. I didn't have to go very far or look very hard to find the good and the wonderful people within the wine industry. They are people who want to make a difference the way they know how: through wine. Rachael Carter owns SOHO Wines and has seen firsthand the effect that depression and suicide can have.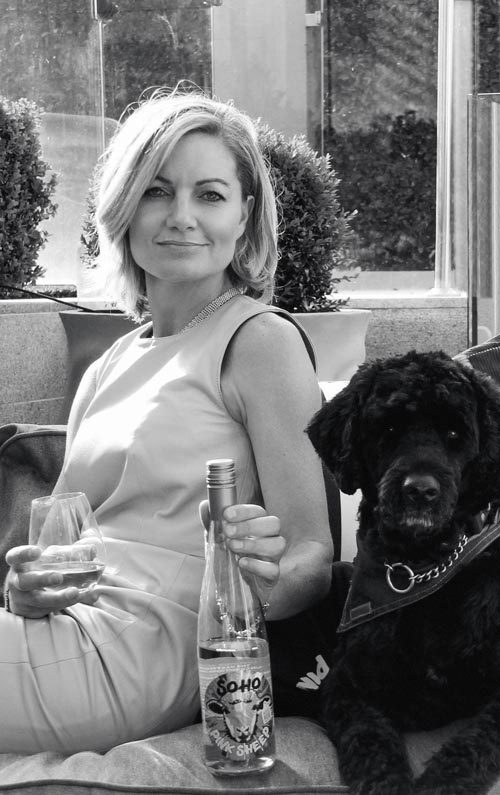 Rachael's uncle, sadly, lost his battle with depression and committed suicide. Impacted by the devastating waterfall effect that suicide had on her family, Rachael knew she had to do something: but what? In 2017, the answer came in the shape (or taste) of rosé, a style of wine that was growing intensely in popularity and for which SOHO had noted the increasing demand. Wine drinkers were seeking more rosé, specifically drier, Mediterranean styles, so SOHO set their Marlborough winemaker to the task of making a new rosé that would be a fundraiser, becoming part of the solution to our high suicide rate in New Zealand. Pink Sheep was born.
The name was inspired by the flamboyant, renegade British fashion designer Alexander McQueen who succumbed to suicide at the age of 40. McQueen dubbed himself the 'pink sheep of the family' and it seemed a fitting name for a pink wine that fundraises to help one of New Zealand's most prominent mental health charities, The Key To Life Charitable Trust (I AM HOPE). Fifty cents from every bottle of Pink Sheep goes to Mike King's remarkable organisation and to date $17,000 has been raised from the rosé alone, assisting this cause which seeks to change the way we think, act and feel about mental health and suicide. Buoyed by the success of Pink Sheep rosé, SOHO has expanded both their range of wine and charitable causes. Last year Pink Sheep pinot noir joined the herd to benefit Variety, and finally Pink Sheep sauvignon blanc rounds out the collection with proceeds going to the Blind Foundation guide dogs. The new wines have collectively raised an additional $13,000 to help New Zealand children and animals alike. So the wines are remarkable in their intention, but what about their taste? No cause for concern as you can be assured that these wines are as appetising as they are altruistic. Pink Sheep rosé is bone dry and Provençal in style, oozing berries and watermelon. The pinot noir reflects its Marlborough origins with fresh, juicy, cherry flavours and smooth tannins, and the sauvignon's high acidity and zingy tropical flavours has your mouth watering for more.
In North Canterbury, husband and wife team Pete and Alanna Chapman have their hands full. Young children and day jobs are enough to keep most families busy but Pete and Alanna also have a social enterprise called 27Seconds. Staggeringly, every 27 seconds a human is sold into slavery, a statistic that beggars belief, because isn't slavery a thing of the past? Not by a long shot. It's very much alive with more people in slavery now than ever before. The estimate is currently anywhere between 20-40 million people with only a quarter of one per cent (0.25%) of victims assisted or rescued. If knowing that doesn't outrage you, then perhaps the knowledge that one quarter of all slaves are children and the cost of buying another human being is on average NZ$130, will do so.
Alanna is only too aware of these statistics as she works for Hagar, an international organisation that assists survivors of slavery. Yet the idea to make the wine was Pete's. Before harvest 2017 it looked like there would be a grape surplus, so Pete suggested that they make wine from these grapes, the proceeds of which would profit Hagar. So, they did. Making wine, however, is not an easy or inexpensive pursuit and 27Seconds is the first to acknowledge that it would not have been possible without a little help from their friends. Grapes, harvesting, winemakers, designers, manufacturers… once the word spread, the local wine community got on board and every element of 27Seconds wine is either heavily discounted or donated. This ensures maximum profit goes where it is needed: towards counselling, education, medical assistance and legal support if the survivor should wish to bring their perpetrator to justice. 27Seconds is proud to report that last year Hagar had its most successful year to date, thanks, in no small part, to Pete and Alanna's $25,000 donation.
The 27Seconds range boasts five varietals – pinot noir, sauvignon blanc, pinot gris, riesling and a rosé – and, with the exception of the sauvignon and rosé, these wines are organic. The grapes all originate from North Canterbury. The winemaking was done at Greystone Wines, which for fans of Waipara wines should allay any qualms about quality. Be assured, 27Seconds wines are outstanding. The pinot gris is off dry and the riesling is medium sweet in style, the pinot noir is dark and earthy, the sauvignon has passionfruit and great acidity and the rosé, made from syrah, oozes strawberries and cream, as a good rosé should. Former US president Barack Obama famously said, "We are the change that we seek," and it is true we have the power with every decision and every purchase to influence the world we want to live in. How proud we should be that there is wine we can purchase that can change lives both for those here in our own beautiful backyard and across the world. mermaidmary.co.nz