ADDRESS:   20 Alma St, Hamilton Central
CHECK WEBSITE FOR OPENING HOURS
MAINS:   $42
WEBSITE:    palaterestaurant.co.nz
CONTACT:   07 834 2921
SCORE:   17 / 20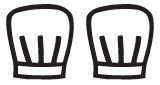 Here on the wooded banks of the Waikato River sits a business now enjoying its second decade. That's a long life in restaurant years. How has seasoned campaigner Mat McLean and his team achieved that? The Hamilton eatery is committed to using top-of-the-range products and allowing them to blow their own trumpets. That takes on extra significance when you learn they're also big on maintaining a low-carbon footprint, especially when it comes to sustainable fishing. Consider, for example, the pan- fried snapper with Anna potato, baby leeks and carrot, kissed with an oyster velouté. Snob value has no place at Palate, says McLean, but his team's expert knowledge will guide you through a seasonal food menu and well-appointed drinks list with ease. To eat at Palate gives diners a sense of having experienced something special.
IN BRIEF Riverside dining at its best
---