EIGHT LOCALS & EIGHT VISITING CHEFS COOK TOGETHER IN THE MANAWATU
Four years! How did that happen? Little did we know that what we thought would be a little restaurant competition called 'Plate of Origin' hosted in the Manawatu would grow into an event that now stretches across two weeks in March and has participating restaurants selling out of their competition dish due to popular demand. We've even heard news of enthusiastic punters plotting progressive dinners throughout the region to sample more than one Plate of Origin dish in one night. Thanks to the Kiwi ingenuity of the team at CEDA in association with Cuisine, eight local restaurants are partnered with eight renowned restaurants from around the country. Each partnership creates one main dish, highlighting two stellar ingredients to represent their partner restaurant's region and Manawatu-Whanganui.
This year, along with co-judge Mark Smith (chef-lecturer at Universal College of Learning, Palmerston North), Cuisine editor Kelli Brett wanted to ensure that the winning dish not only reflected the hero ingredients but the core of the local restaurant and its loyal customer base. Two plates of food outshone all others because of the delicious pairing of ingredients and techniques and because of the magnificent representation of the true essence of the restaurant. And so we have reached a draw. Four restaurants, four chefs, two very different, but equally spectacular plates.
And the 2019 Plate of Origin winners are…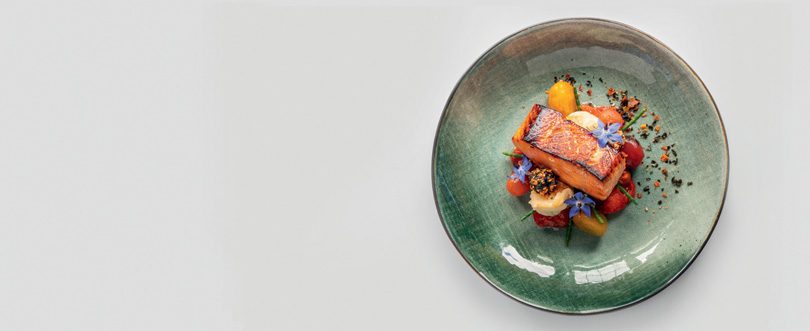 SCOTT KENNEDY,NERO & AARON BALLANTYNE, HOPGOODS (NELSON)
PLATE OF ORIGIN DISH: Ōra King salmon lightly smoked, with Cartwheel Creamery goat's curd and black garlic, tomato salad, miso-tomato jam and fried scampi tails finished with tomato and dashi consommé.
HERO INGREDIENTS: Cartwheel Creamery products from the Pohangina Valley and Ōra King salmon from Nelson. Scott Kennedy claimed the Plate of Origin top gong in 2018 alongside Kate Fay of Cibo restaurant in Auckland.
This year he has done it again, thanks to a well-matched partnership with Aaron Ballantyne from Hopgoods in Nelson. It is impossible for a static image to do justice to the prettiness of this dish. The shimmering tomato and dashi consommé, poured over at the table, was so deep and delicious the judges each wanted to take a bucket of it home with them. Scott and Aaron felt that Ōra King salmon was the obvious choice as the stalwart Nelson ingredient for their dish, with the hatchery based in Golden Bay, the salmon farms in the Marlborough Sounds and the processing facility back in Nelson. Both chefs feel the salmon is held in the highest regard in the restaurant and dining fraternity throughout the world, so it is an easy choice. The Manawatu ingredient needed to have the same endemic uniqueness to it and the sensational goat's curd from Cartwheel Creamery in the Pohangina Valley fitted the brief perfectly. Their use of different techniques did not reduce the vitality of the premium ingredients in this elegant dish, with a burst of summer from the exquisite tomatoes that were cleverly layered throughout.


THE COMPETITION
The most rewarding part of the competition is having the opportunity to work alongside another chef, to see new techniques and find new products. I love that it showcases the Manawatu food scene, with its local ingredients and talented chefs. Scott Kennedy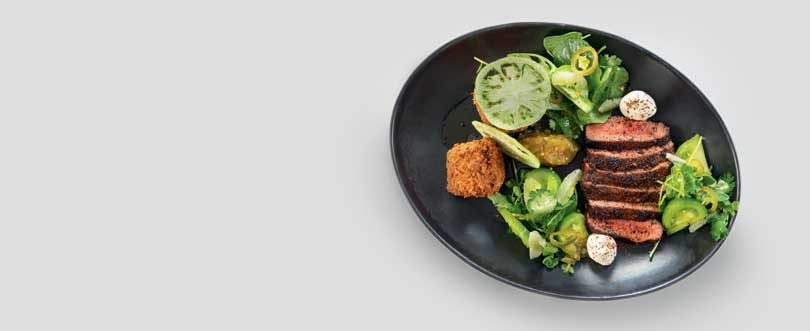 JANET GREY,THE FAT FARMER & KYLE STREET,CULPRIT (AUCKLAND)
PLATE OF ORIGIN DISH: Angus Pure Beef with Curious Croppers green tomatoes, flat iron steak, braised beef cheek, tomato marmalade, coffee-grind
rub and salt, and a touch of smoked sour cream.
HERO INGREDIENTS: Angus Pure Beef sourced and produced from the following four Angus Studs in the Manawatu region: Atahua Angus, Ngaputahi Angus, Pine Park Angus and Merchiston Angus with green tomatoes sourced and grown at Curious Croppers, Clevedon, Auckland.
Watching Janet and Kyle work together in The Fat Farmer kitchen was like watching two big kids conducting a very serious experiment. Janet chose Angus Pure Beef because of the traceability within her region, sourced from four local Angus Stud breeding farms who contribute to the Angus Pure supply. The flat iron cut and beef cheek are secondary cuts that are regularly used at Culprit with the beef following the rustic farm concept that is essential to The Fat Farmer.
Enter Culprit's 'Green Tomato Man' Kyle Street with his spectacular green tomatoes grown by Curious Croppers in Clevedon, Auckland and you have a dish that knocked the judges' socks off. Juicy, tender beef steak with the beef cheek presented in a super-crispy croquette styled cube (so very Culprit). A vibrant green salad dressed with a punchy herb oil screamed of summer and teamed perfectly with the tart, fresh, green tomatoes. The green-tomato marmalade and the smoky tones of the sour cream had the judges fighting for the last bits of beef so that they could swoop up every last drizzle. Freeze-dried green tomatoes (a special collaboration with Auckland freeze-drying company Fresh As) provided an unexpected and exciting sweet/sour crunch. Zing – Zap – Pow! Did we mention flavour?


THE COMPETITION
We seemed to have the same vision with our thoughts and the background with our hero products. We were
willing to learn from each other and open to ideas which would work to execute our dish efficiently and effectively during service. Janet Grey