Throughout the year, in all corners of the globe, Relais & Châteaux properties present exceptional events which marry fine food and wine with diverse cultural and educational experiences. We present a selection of the upcoming series from our New Zealand lodges.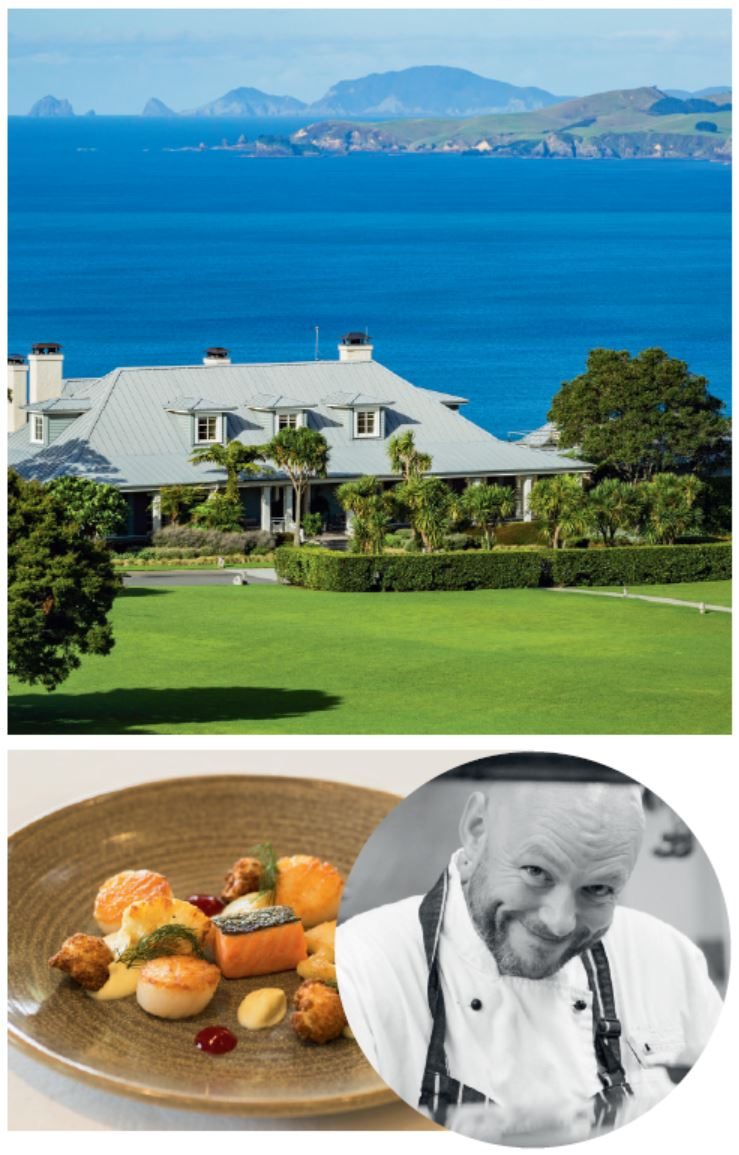 THE LODGE AT KAURI CLIFFS
Set on 6,000 acres in the Bay of Islands, Northland, The Lodge at Kauri Cliffs gives panoramic views across both the blue Pacific Ocean and an award-winning golf course. The timeless design of The Lodge offers space, comfort and complete relaxation amidst the homeliness of soft furnishings, warm carpets and blonde woods.
EXECUTIVE CHEF: Barry Frith
What is your signature? Creating dishes using punchy flavour combinations, but simply highlighting the ingredients' natural beauty with the greatest visual impact.
EVENT
– A Robertson Lodges Family Reunion, 24-26 May 2019. A showcase of the very best of New Zealand food and wine.
HELENA BAY LODGE
Nestled in a cove in the northeast corner of North Island, five villas host the hotel's suites. With views over the crystalline waters of Helena Bay reaching out to the Pacific, luxurious vegetation and alpacas along the paths, the setting is spectacular. The final touch of sophistication comes from the cuisine of the lodge's Italian chef. Inspired by the restaurant Don Alfonso 1890, the dishes are made from ingredients cultivated on site.
EXECUTIVE CHEF: Michele Martino
What is your Signature Dish? – Everything that comes from the heart becomes the next signature dish.
EVENT
– Ernesto Iaccarino of Don Alfonso 1890 returns to Helena Bay, 19-26 November 2019. Italian masterclass programme.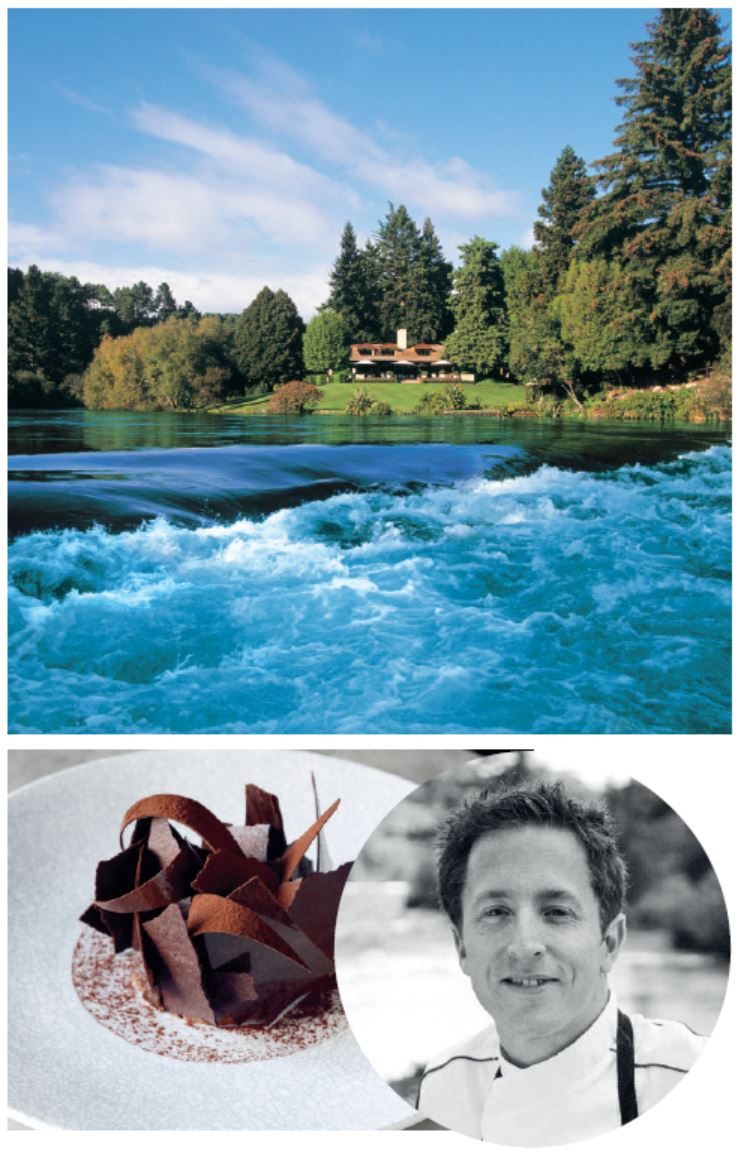 HUKA LODGE
Huka Lodge has enjoyed a location of great natural beauty, on the banks of the mighty Waikato River, since it was founded as a very simple trout fishing camp, in 1924. This legendary retreat continues to define absolute style, while offering privacy and relaxation, with authentic outdoor adventure, for those who appreciate exquisite cuisine, personal service and unique experiences.
EXECUTIVE CHEF: Paul Froggatt
What is your signature? Strong flavors so that you can understand what's on the plate, showcasing the produce in the best way possible without distorting it.
EVENT
– Inaugural Fly Fishing Tournament, 29-31 August 2019. Celebrate the rich heritage of Huka Lodge.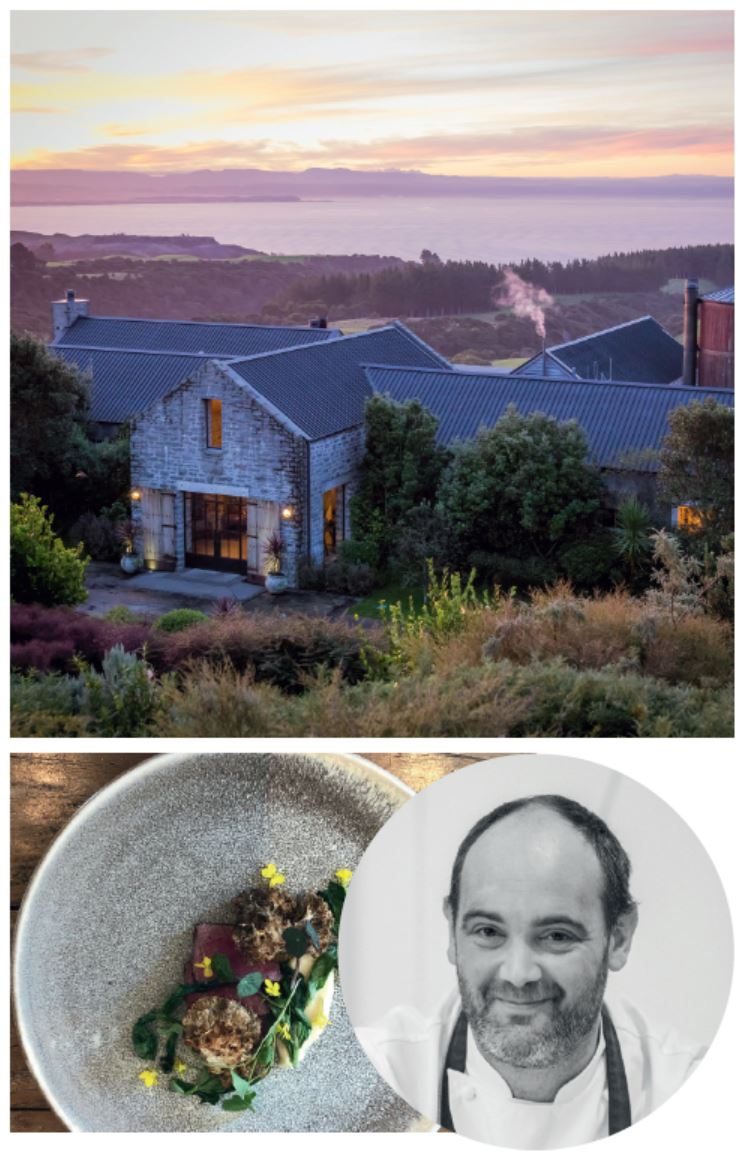 THE FARM AT CAPE KIDNAPPERS
This lodge is a golfer's paradise but it also has a whole lot more to offer. Nestled in a great wine region, it is an ideal base from which to discover the surrounding estates. Spend the days rafting and fishing in the rushing torrents, galloping along the immense beaches on horseback, relaxing in the spa and embarking on helicopter and hot-air balloon rides.
EXECUTIVE CHEF: James Honore
What is your Signature Dish? – Hawke's Bay beef fillet, grilled over charcoal with vegetables picked from our gardens.
EVENT
– Classic reinvented 27-29 September 2019. Weekend of Design with Paul Bangay and Thomas Hamel.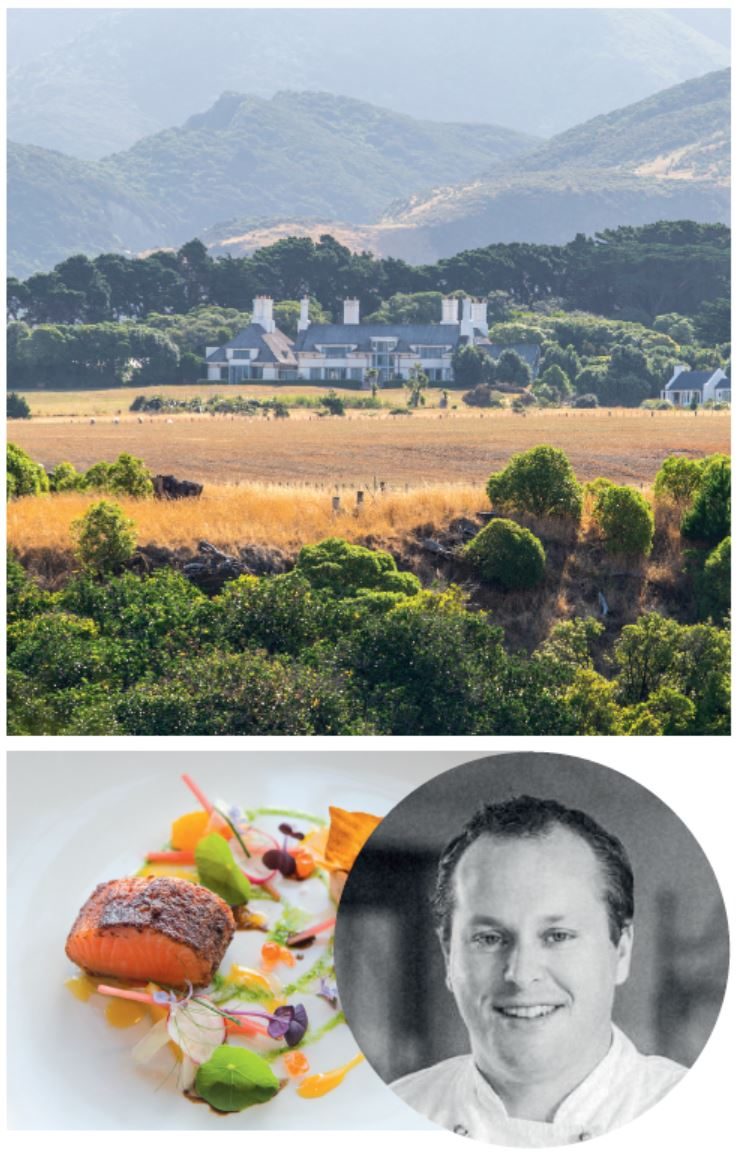 WHAREKAUHAU COUNTRY ESTATE
In a farm setting overlooking Palliser Bay, the lodge has a welcoming decor that mixes antiques with natural materials. It is surrounded by vast native gardens where the croquet lawn, flowers, orchard and vegetable garden stand alongside one another, with the latter two supplying the restaurant where a delicious revisited Kiwi cuisine is served.
EXECUTIVE CHEF: Marc Soper
What is your signature? Farm to table, my style is to tell the story, every ingredient is there for a reason.
EVENT
– Pinot Noir Blending Weekend, 12-13 July 2019. Hosted By Alastair Maling, Master Of Wine.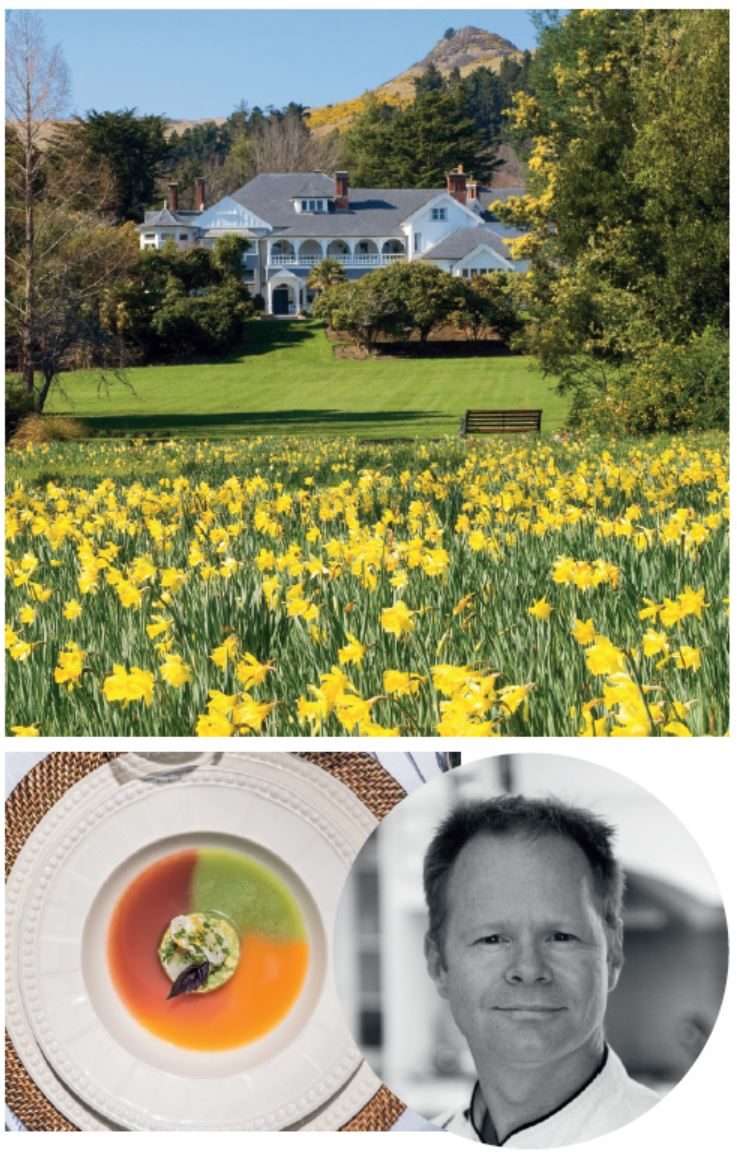 OTAHUNA LODGE
At the heart of a 19th century Victorian estate, Otahuna Lodge seamlessly knits past and present; period woodwork, stained glass windows and fifteen working fireplaces combine with a host of modern comforts and a rich collection of contemporary New Zealand art. Outside, Otahuna, which is Māori for 'little hill among the hills', has striking views over the Canterbury Plains and the Banks Peninsula.
EXECUTIVE CHEF: Jimmy McIntyre
What is your signature? Our cuisine celebrates the best of seasonal NZ produce, emphasising fresh Otahuna offerings.
EVENT
– A celebration of mid-winter Christmas, 15-30 June 2019. Private dining in this historic estate.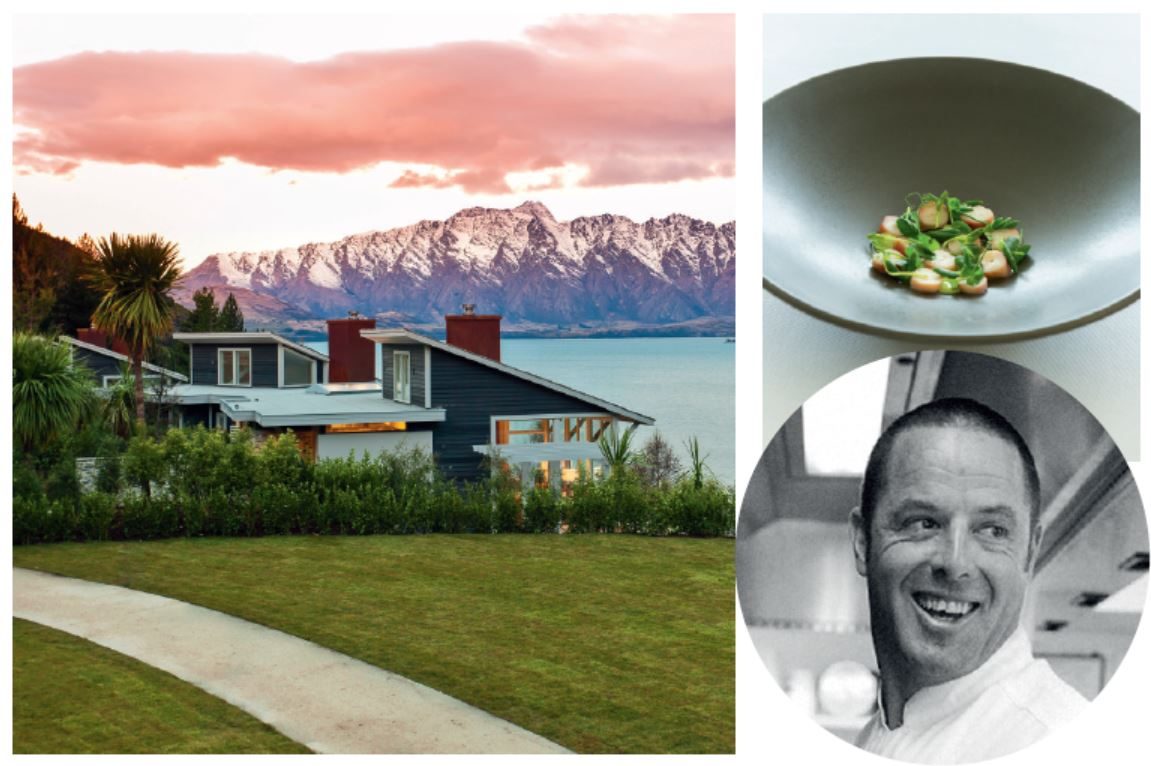 MATAKAURI LODGE
Spectacularly located on the shores of Lake Wakatipu, Matakauri Lodge provides a secluded feeling despite being only seven minutes from Queenstown. Offering a panoramic view of the mountains, Matakauri's take on luxury is understated and welcoming. Each beautiful suite is the ultimate sanctuary after a day spent atop mountains, exploring vast fjords, chasing thrills and simply discovering this unique region.
EXECUTIVE CHEF: Jonathan Rogers
What is your Signature dish? – Smoked octopus, pea, ice plant, wasabi vinaigrette. "I love the versatility and unique texture of octopus."
EVENT
– Learn and indulge with wine selection matches from the passionate and experienced lodge sommelier
Relais & Châteaux is an association of more than 550 landmark hotels and restaurants. Established around the globe, from the Napa Valley vineyards and French Provence to the beaches of the Indian Ocean, Relais & Châteaux members have a driving desire to protect and promote the richness and diversity of the world's cuisine and traditions of hospitality and are committed to preserving local heritage and the environment. www.relaischateaux.com Events: events.relaischateaux.com