CHICKEN & ASPARAGUS

Dust chicken pieces with either rice flour or plain flour seasoned with salt and pepper. Fry until golden, then set aside. Fry 2 shallots until soft, return the chicken to the pan, add a pinch of saffron pre-soaked in 2 tablespoons boiling water, 600g halved new potatoes and ½ cup chicken stock. Cover and cook until tender, around 15 minutes. In the last few minutes add a couple of bunches of chopped asparagus to steam. Add plenty of herbs such as chives, tarragon or chervil and serve.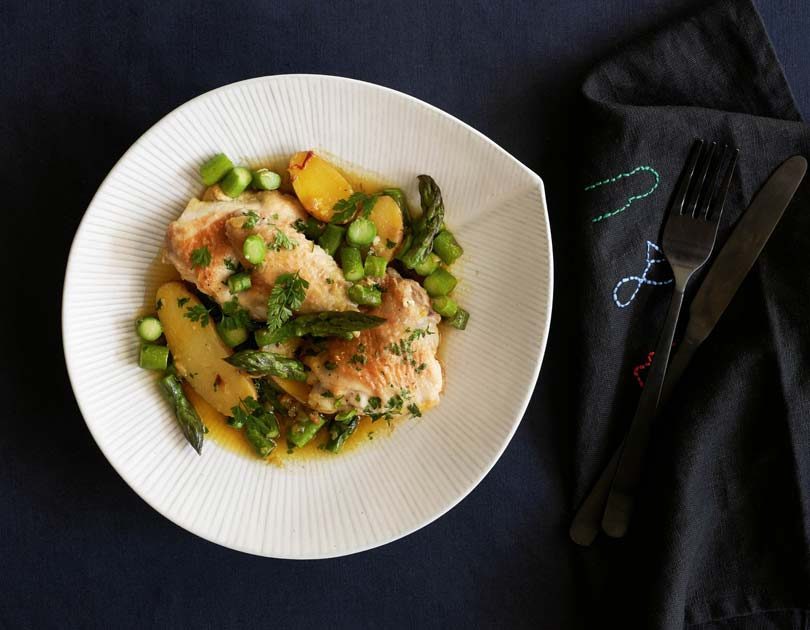 Venison with braised spring ragu
Fry diced pancetta with chopped thyme (or savory if you have some), shallots and garlic. Add broad beans, a tin of drained cannellini beans, peas and a little chicken stock (you want the mix to be a little saucy at the end). Cook until tender and add shredded mint. Rub venison medallions with chopped thyme, olive oil and mashed garlic and chilli flakes. Pan-fry, rest, then slice and serve with the vegetables and some bread to mop up the sauce.
Lamb with stir-fried broccoli
Marinate lamb rumps, chops or leg steaks in a mix of minced garlic, ground cumin, ginger, soy sauce and chilli flakes. Pan-fry until done to your liking and set aside to rest. In the same pan, heat some oil, add broccoli florets, and stir-fry for a few minutes, Add slivers of garlic and ginger, then add some soy sauce, a splash of water and cover to steam for a few minutes until crisply tender. Drizzle with sesame oil, add the sliced lamb, top with toasted sesame seeds. Serve with rice
Pork chops with roasted radishes
Brown thick-sliced pork chops on each side in a heavy ovenproof pan, add halved radishes to the pan (reserve the leaves), season generously and roast in a hot oven. Remove the pork chops when done to your liking and set aside to rest. Toss the radish greens through the radishes and cook until they wilt, add a squeeze of lemon and a drizzle of maple syrup. Delicious with new-season potatoes.
Pan-fried fish with spring onions & hard-boiled egg sauce
Make a sauce of chopped hard-boiled eggs with Dijon mustard, chopped capers, plenty of herbs such as parsley, tarragon or chives and a dash of white wine vinegar and olive oil. Fry a bunch of spring onions, cut into long lengths with some butter and salt until softened slightly, add a slug of water or white wine and finish cooking by steaming. Add a squeeze of lemon juice at the end. Pan-fry some fish fillets and serve with the sauce.
BLACK BEAN & HALOUMI PATTIES FOR BURGERS

Fry 1 onion with 1 cup grated pumpkin and 1 teaspoon salt until soft, then add a chopped clove of garlic, red chilli, 1 teaspoon ground cumin and ½ teaspoon sweet smoked paprika. Put into a bowl with 2 x 400g tins drained black beans. Take half the mix and whizz to a coarse mash. Add back to the bowl and add 50g grated haloumi, 1 cup chopped fresh parsley or coriander. Combine with 1 egg and ½ cup dried breadcrumbs. Fry for a few minutes on each side and serve in burgers with slaw and favourite pickle (I used Manaaki's KamoKamo).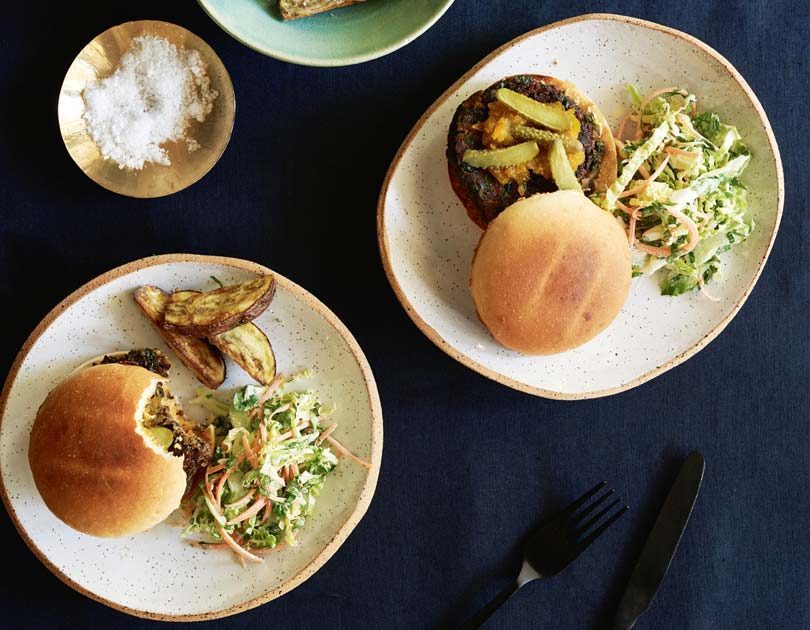 Roasted pumpkin, red split lentil & kaffir lime soup
Cube 600g pumpkin, toss with olive oil or coconut oil, a teaspoon of ground coriander and season well. Roast in a hot oven until tender. Put a sliced onion in a stockpot with a couple of stems of lemongrass, a good handful of kaffir lime leaves and some sea salt and fry until soft. Add minced ginger, chilli and garlic. Add ½ cup red split lentils and 3 cups stock and simmer gently. Put the roasted pumpkin in the pot, add extra stock to just cover the vegetables, bring to a simmer and cook gently for 20 minutes. Remove the kaffir lime leaves. Puree and add ½ cup coconut milk, a squeeze of lime juice and 2 teaspoons white miso, adjusting seasonings if necessary, and serve. Garnish with fried shallots.
Chicken & fennel spaghetti
Fry slices of chicken breast in a frying pan until browned, then set aside. Add very thinly sliced fennel and fry with ground fennel, sliced garlic and a pinch of chilli flakes until soft. Add the chicken back to the pan with ½ cup chicken stock and finish cooking. Add lemon zest and juice, plenty of chopped flat-leafed parsley and toss with cooked spaghetti.