FIONA SMITH SAMPLES WINNING DISHES THAT CELEBRATE THE VERY ESSENCE OF MARLBOROUGH.
Feast Marlborough showcases the best of Marlborough produce, shining a light on premium food and producers beyond the already well-known Marlborough wine story. The region buzzes with activity during this annual action-packed four-day event. It kicked off with a multi-sensory dining experience, this year in gorgeous yurt-style tents at Spy Valley winery, with delicious food from Bradley Hornby and Liz Buttimore of Arbour and music from talented Kiwis including singer Anna Coddington.
Marlborough Underground uncovered some of the region's best-kept secrets with dining experiences in some truly unique locations. A highlight from this year was Hākari with the Aunties, an event with the women of Omaka Marae who are well-known for their Manaaki preserves. The feast began with canapés followed by generous servings of kaimoana and hāngi, paying homage to contemporary Māori cuisine in a night rich in culture and tradition at Omaka Marae.
As part of the festival, Rare Fare encouraged chefs to celebrate Marlborough's bounty by creating one signature dish. Congratulations to all the entrants and especially the six finalists. The entries were varied and creative, highlighting many gems from the region.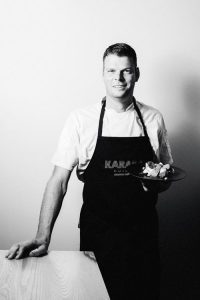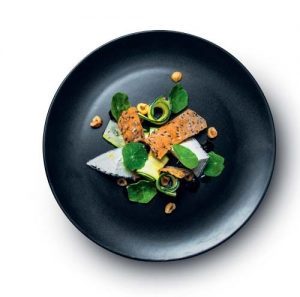 WINNER: CAFÉ SECTION
SANDER DE WILDT
KARAKA CUISINE (BLENHEIM)
Winner of the café section, Karaka café's chef Sander de Wildt's dish was deceptively simple, yet stunningly pretty. The preparation of each ingredient truly let it shine. The hero of the plate had to be Cranky Goat's 'The Reginald', a whiterind goat's cheese with earthy mushroom and hay flavours and a distinctive layer of ash. Accompanying zucchini ribbons were lightly dressed with lemon thyme, softening the crunch of raw zucchini to just the right side of tender. Peppery nasturtium and dill cut through the earthy richness of the cheese. Black garlic featured in a smooth paste with black olives, a great balance of bitter and sweet.
Just the right amount of crunch came from the home-baked linseed crackers, made with rye for a denser texture, and super-sweet, giant, fresh hazelnuts from Uncle Joe's. De Wildt designed this dish beautifully, each accompaniment complementing the cheese, which was the star on the plate. It was served with local Banjo Brews' Ginger, Lemon and Verbena Kombucha, which is not too sweet and a great midday option. Karaka is a smart, modern café serving the surrounding Riverlands Estate area.
2019 CAFÉ FINALISTS
Karaka Cuisine / Dish: The Reginald Meets Some Seasonal Locals
Mills Bay Mussels / Dish: Mills Bay Mussel Float
Vines Village/ Dish: King of the Beaver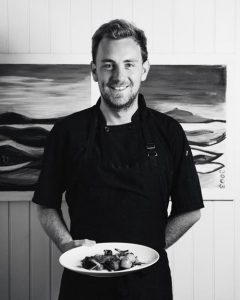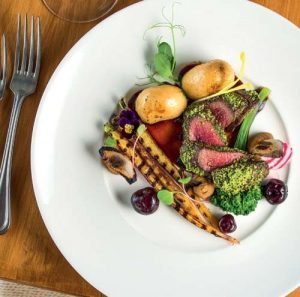 WINNER: RESTAURANT SECTION
CHEF JIP TUERLINGS
PUNGA COVE (QUEEN CHARLOTTE SOUND)
Wild food was a strong story running through this year's entries and there was no better example than Punga Cove's winning entry – Flavours of the Forest – highlighting locally hunted wild venison. British-born chef Jip Tuerlings explained his passion for offering not only local wild game, supplied by Premium Game, but introduced animals that are pests in the area. The wild fallow venison with pistachio and horopito crust was perfectly medium rare and complemented with some real surprises on the plate. Out-ofseason Marlborough cherries had been pickled in Prenzel's raspberry vinegar, adding that sweet, fruity edge that works so well with venison.
Local chestnut purée provided earthy depth and potato had been smoked out the back in a wine-barrel smoker. Charred shallots and a rich jus made from venison bones brought the dish together and it was nicely garnished with microgreens grown by the head housekeeper. Punga Cove has beautiful views of Endeavour Inlet in Queen Charlotte Sound – it may be surprising to find such an exceptional restaurant on the Queen Charlotte Track, but Tuerlings doesn't let the remote location hold him back. The winning dish has proved to be the most popular on their menu, enjoyed with a glass of Fromm Vineyard 2016 syrah.
2019 RESTAURANT FINALISTS
Bay of Many Coves / Dish: Marlborough Wild Game Venison
Hans Herzog Bistro / Dish: Wild Hunt
Punga Cove/ Dish: Flavours of the Forest