CHERMOULA-MARINATED FISH WITH CAULIFLOWER TABBOULEH & DATE SYRUP
GINNY GRANT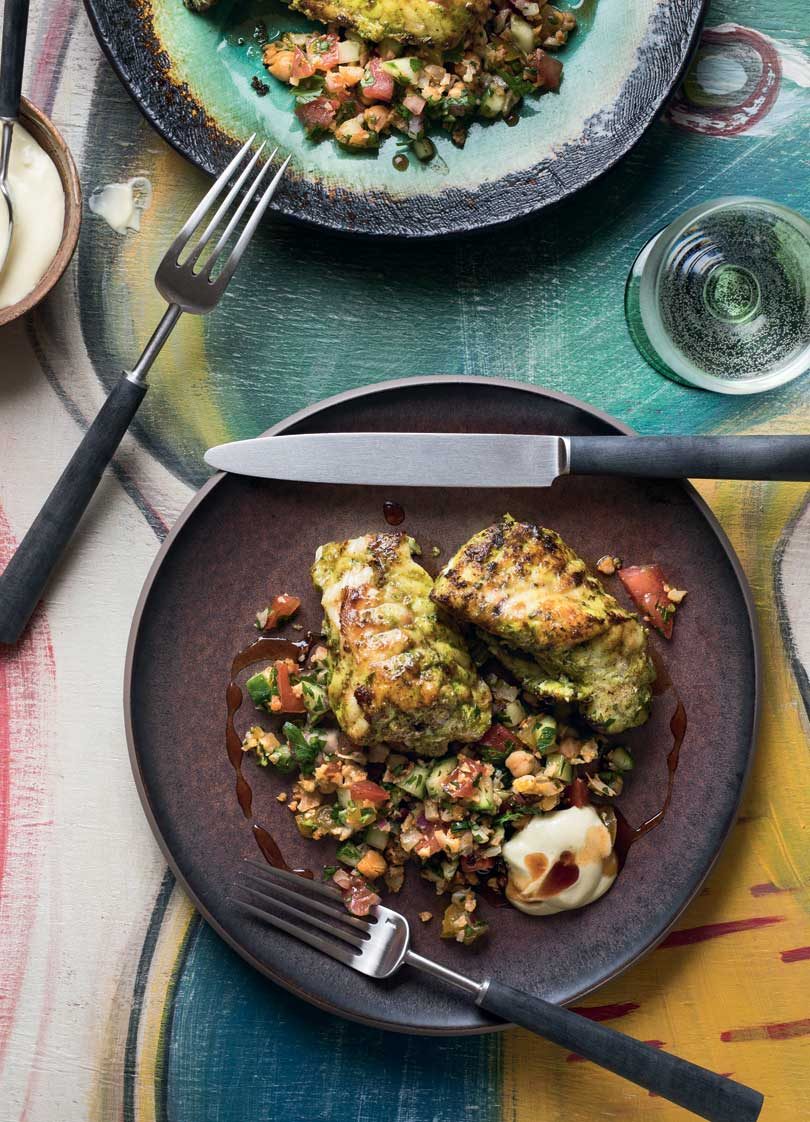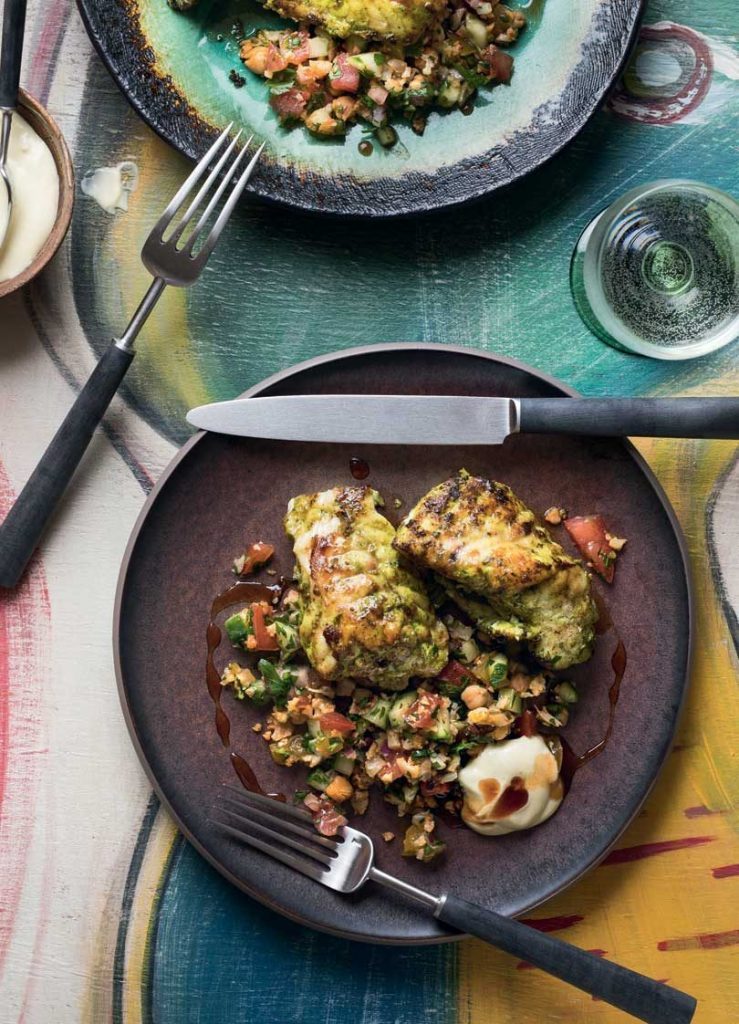 Preparation
40 min plus marinating
Ingredients
| | |
| --- | --- |
| | PRESERVED LEMON VEGAN MAYONNAISE |
| | ¼ cup aquafaba (liquid from a can of chickpeas) |
| | 1 small clove garlic, roughly chopped |
| | ¼ preserved lemon, skin only, roughly chopped |
| | grated zest and juice of ½ lemon |
| | 100ml sunflower oil |
| | 50ml extra virgin olive oil |
| | DATE SYRUP (MAKES ABOUT ½ CUP; KEEPS FOR A COUPLE OF WEEKS) |
| | 12 medjool dates, pitted, chopped |
| | FOR THE CHERMOULA-MARINATED FISH |
| | 2 teaspoons cumin seeds |
| | 2 teaspoons coriander seeds |
| | ½ teaspoon sea salt |
| | ½ teaspoon ground ginger |
| | ½ teaspoon ground turmeric |
| | 3 cloves garlic |
| | 1 cup coriander leaves and stalks, roughly chopped |
| | ½ preserved lemon, skin only |
| | 2 tablespoons olive oil |
| | 600g skinless, boneless fish fillets (I used monkfish) |
| | FOR THE CAULIFLOWER TABBOULEH & TO SERVE |
| | ¼ large cauliflower (or ½ a small one) |
| | 1 can chickpeas, drained, rinsed (reserve the aquafaba – the liquid in the tin) |
| | 1 tablespoon olive oil plus extra for frying |
| | ½ teaspoon sweet smoked paprika |
| | ½ teaspoon ground cumin |
| | ½ telegraph cucumber, deseeded, chopped |
| | 3 medium-sized tomatoes, deseeded, chopped |
| | 1 small red onion, chopped |
| | 2 cups flat-leafed parsley, finely chopped |
| | juice of ½ lemon |
| | 2 tablespoons extra virgin olive oil |
WINE MATCH
A dry, zesty rosé. We recommend the Two Rivers Isle of Beauty Rosé 2017.
There is a bit of preparation here, but most of it can be done ahead. I've taken to making a vegan version of mayonnaise using aquafaba, the liquid from a can of chickpeas, instead
of egg. Here I've added some preserved lemon too. There are infinite variatons on chermoula, with all kinds of spices and combinations, but I like to add fresh coriander to the mix. This recipe will make more chermoula than you need for the fish, but it's good for another meal – it pairs well with lamb,
or use it to marinate some haloumi or firm tofu. The date syrup adds a little sweetness to the dish and it's also
delicious drizzled over a fruit salad or muesli.
PRESERVED LEMON VEGAN MAYONNAISE
Depending on how you like your mayonnaise, you could also use all olive oil here, which will result in a stronger flavour. This will keep well in the fridge for ages.
Instructions
| | |
| --- | --- |
| 1. | PRESERVED LEMON VEGAN MAYONNAISE |
| 2. | Put the aquafaba, garlic, preserved lemon and lemon zest in a tall container suitable for a stick blender. |
| 3. | Blitz briefly then slowly drizzle in the oils until it thickens and emulsifies. |
| 4. | Add lemon juice and salt to taste. |
| 5. | Put in the fridge for at least 30 minutes to thicken before using. |
| 6. | DATE SYRUP |
| 7. | Put the dates in a saucepan with 1 cup water, bring to the boil and simmer gently for 10 minutes. |
| 8. | Put in a blender and blitz to a smooth paste |
| 9. | Pass through a cheesecloth-lined sieve (any leftover date paste is delicious in a smoothie). |
| 10. | Return the liquid to the saucepan and reduce until thick and syrupy – around 10 minutes. Set aside to cool. |
| 11. | FOR THE CHERMOULA-MARINATED FISH |
| 12. | Toast the cumin and coriander seeds in a dry frying pan until fragrant then grind finely with the salt using a mortar and pestle. |
| 13. | Put into a blender with the remaining ingredients, apart from the fish, add 2 tablespoons of water and puree to a paste, adding a little extra water if needed. |
| 14. | Set aside. |
| 15. | Marinate the fish fillets in ¼ cup of the chermoula and set aside for 2 hours. |
| 16. | The chermoula will keep in the fridge for up to a week. |
| 17. | FOR THE CAULIFLOWER TABBOULEH & TO SERVE |
| 18. | Preheat the oven to 220°C. Chop the cauliflower into rough chunks, then pulse briefly in a food processor to coarse rice-sized crumbs. |
| 19. | Put into a bowl with the chickpeas, olive oil, paprika and cumin, toss well then spread on a baking paper-lined oven tray, season generously with sea salt and roast for 15-20 minutes or until lightly coloured and just cooked. |
| 20. | Remove from the oven and allow to cool. |
| 21. | When ready to serve, put into a bowl with the cucumber, tomatoes, onion and parsley and dress with the lemon juice and extra virgin olive oil. |
| 22. | Season to taste. |
| 23. | Panfry the fish in a little oil until just cooked. |
| 24. | Serve each portion with some of the tabbouleh, drizzle with the date syrup and add a dollop of the mayonnaise. |

Recipes & food styling Ginny Grant / photography & styling Tamara West