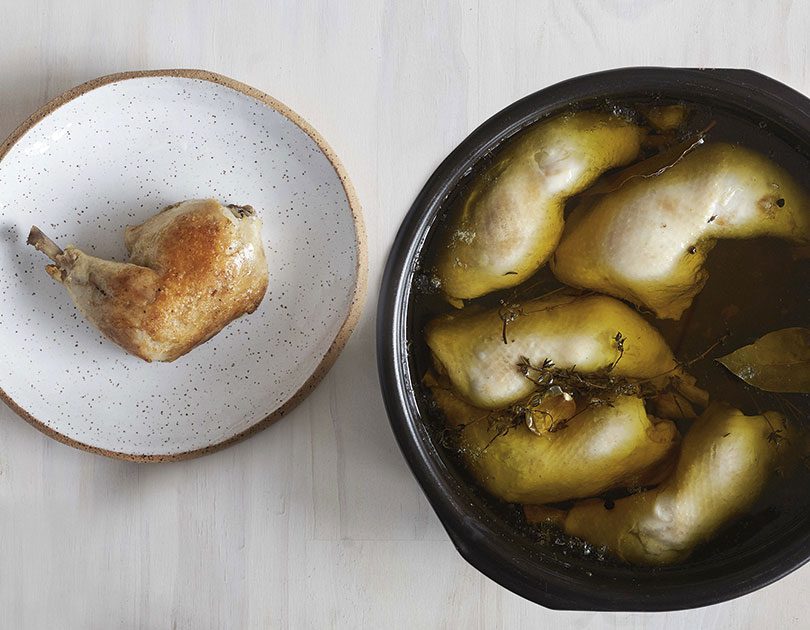 | | |
| --- | --- |
| | 3 tablespoons (45g) coarse sea salt 6 chicken Marylands (approx 900g-1kg) |
| | 2 bay leaves |
| | 6 cloves garlic, unpeeled |
| | ½ teaspoon black peppercorns a few sprigs of thyme approx 2 cups oil (I used a mix of extra virgin and sunflower oils) |
Traditionally the confit process was a way of preserving meat; the meat was salted then poached in fat enabling it to be stored long term. We mostly associate duck or goose with the confit method, however the process is adaptable; fish and chicken also work well, especially when the confit uses oil. The cooked chicken can keep in the oil for up to a week, and the oil can be reused for other dishes.
| | |
| --- | --- |
| 1. | Sprinkle half the salt into a nonreactive container, place the chicken pieces in a single layer, add the remaining salt, cover with plastic wrap and refrigerate overnight. |
| 2. | The next day rinse the chicken, pat dry with paper towels and put into a container that fits the chicken pieces snugly in a single layer. |
| 3. | Add the bay leaves, garlic, peppercorns and thyme. |
| 4. | Cover with enough oil to submerge the chicken. Preheat the oven 120°C. |
| 5. | Cook the chicken for two hours, then allow to cool in the oil. |
| 6. | To use, remove from the oil allowing any excess oil to drain off, fry skin side down until golden, then turn over and cook until heated through (or finish cooking in the oven). |
| 7. | The chicken can be kept for up to a week in the oil. |
| 8. | The oil can also be used to add flavour to other dishes, but keep it refrigerated and use within a week or two. |
Recipes & Food Styling Ginny Grant / Photography Aaron McLean / Styling Fiona Lascelles