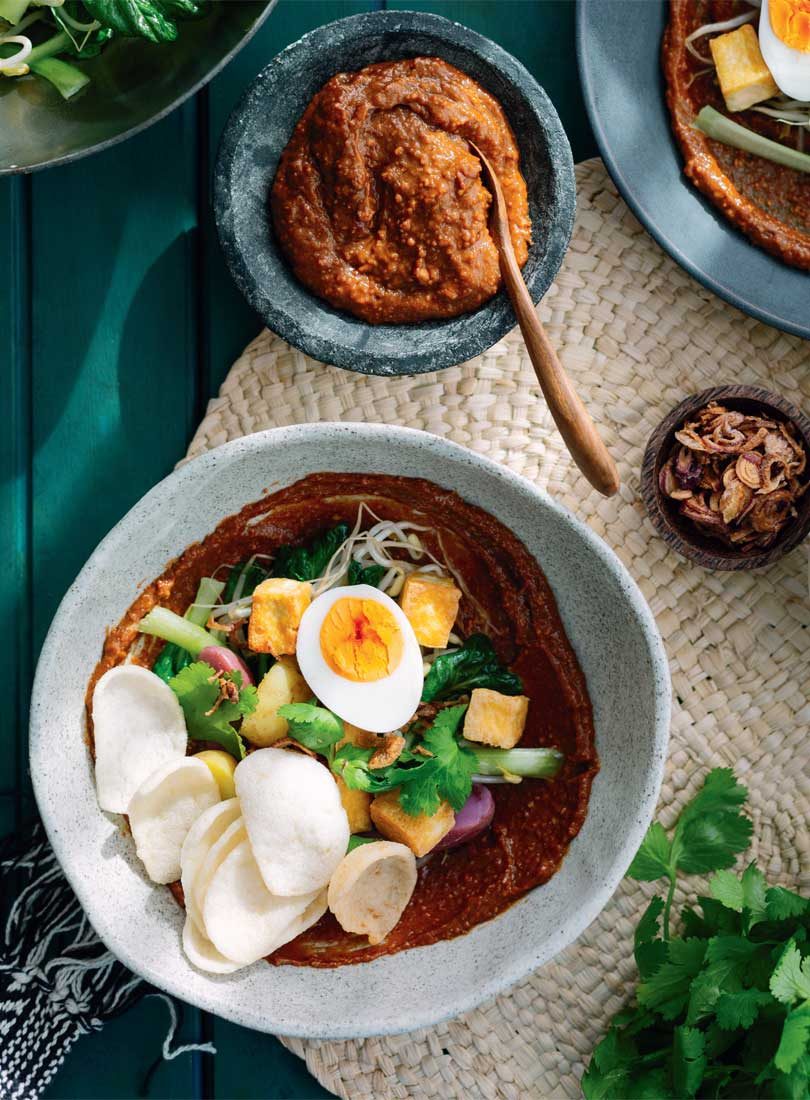 | | |
| --- | --- |
| | olive or peanut oil, to shallow-fry |
| | 1 bunch Asian greens, trimmed (or equivalent amount of your favourite green such as broccoli, broccolini, silverbeet or kale) |
| | 200g mung bean sprouts |
| | 1 x 300g packet tofu, cubed and fried in a little oil until golden |
| | 500g baby potatoes, boiled until tender |
| | hard-boiled eggs, cassava chips, fried shallots and coriander leaves, to serve |
| | FOR THE PEANUT-LIME SAUCE |
| | 1 cup unsalted blanched peanuts, lightly roasted (or 1 cup natural crunchy peanut butter) |
| | 2 cloves garlic |
| | 1 long red chilli, de-seeded and finely chopped |
| | 1⁄2 teaspoon fine sea salt |
| | 1 tablespoon coconut sugar |
| | 2 tablespoons kecap manis (gluten free if needed) |
| | juice of 1 lime |
| | 2-4 tablespoons water |
Gado gado is one of my all-time favourite dishes to eat when in Bali and is one of the most well-known Indonesian dishes to have travelled to the rest of the world. Essentially it's a bunch of cooked vegetables bound together in a punchy peanut sauce: this is how it's traditionally made and served, however I like to smear the sauce on the plates before topping with vegetables, so each person can mix their own when eating. I like to go the full deal and add crispy tofu chunks, boiled eggs and cassava vegetable chips, however you can leave the eggs out for a vegan version. You'll find plain cassava vegetable chips at selected supermarkets and health food stores. I like to use them in place of the more traditional prawn (or shrimp) crackers, as these are laced with MSG and food colouring. While developing this recipe I tested out many different ways of making peanut sauces until I was happy with both the texture and flavour. While not the fastest way to prepare peanut sauce, I found that hand-grinding the peanuts in a mortar and pestle first before adding the other ingredients gave by far the best results. No one will growl if you use good quality crunchy peanut butter, however.
| | |
| --- | --- |
| 1. | If you're using roasted peanuts, finely grind them using either a food processor or a mortar and pestle. |
| 2. | Continue to grind, scraping down the sides a couple of times, until the oils start to release and the nuts begin to form peanut butter. |
| 3. | Remove from the processor or mortar and set aside. |
| 4. | Add the garlic, chilli, salt and sugar and pulse or grind until finely chopped or ground. |
| 5. | Return the peanut butter, add the kecap manis, lime juice and 2 tablespoons water, then pulse or work into a sauce using the pestle, adding 1-2 tablespoons of extra water if needed. |
| 6. | You want it reasonably thick at this stage, so don't be tempted to add too much. |
| 7. | Heat a little olive or peanut oil in a frying pan over high heat, then stir-fry the Asian greens and mung bean sprouts until just wilted. |
| 8. | Season with a little salt and ground white pepper. |
| 9. | To serve, evenly divide the peanut sauce between four shallow bowls and spread to cover the base and a little up the sides. |
| 10. | Divide the greens, tofu, potatoes and eggs between bowls. |
| 11. | Add a handful of cassava chips to each and scatter with fried shallots and coriander leaves. |
| 12. | Encourage each person to gently mix the contents of their bowl, coating everything in peanut sauce before eating. |
Recipes, food styling & dish photography Emma Galloway