STEAMED TUATUA WITH CREME FRAICHE CURRY SAUCE
Fiona Smith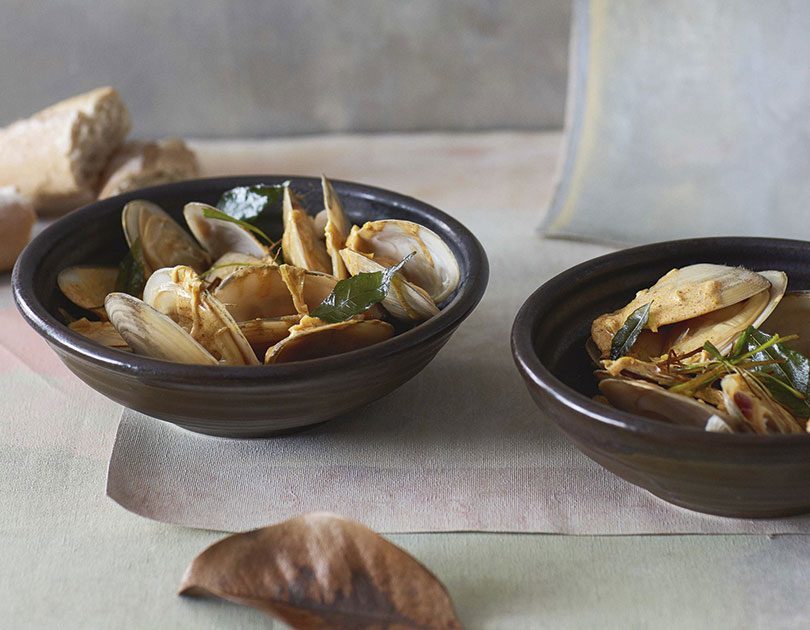 Ingredients
| | |
| --- | --- |
| | 1 smallish leek, washed sunflower oil for shallow frying |
| | 4 stalks curry leaves, stems removed |
| | 30g butter |
| | 1 clove garlic |
| | 1 tablespoon curry powder |
| | 2 tablespoons brandy or cognac, optional |
| | 250ml creme fraiche |
| | 2kg tuatua or other |
| | 150ml dry white wine crusty baguette to serve |
WINE MATCH
A focussed, off-dry riesling, such as the Akarua Central Otago Riesling 2017.
Mouclade is a famous – and somewhat surprising – dish from Brittany, in which mussels are first steamed then served with a lightly curried sauce. Of course, this combination works well with other shellfish too, and I especially like it with bigger tuatua.
Serve with crusty baguette as it would be in France, or you could use other types of bread; naan would be great. For more of a main course, spoon the shellfish and sauce over grilled fish and kumara puree or rice.
Instructions
| | |
| --- | --- |
| 1. | Trim the very top off the leek and remove the tough outer leaves. |
| 2. | Cut a 5cm piece off the green end and slice very finely into batons. |
| 3. | Slice the remaining leek into thin rounds and set aside. |
| 4. | Heat about 1cm of oil in a saucepan and fry the leek greens until golden, about 1 minute. |
| 5. | Remove with a slotted spoon and drain on paper towel. |
| 6. | Fry the curry leaves for about 30 seconds (stand back, they spit) then remove with a slotted spoon and drain. |
| 7. | Set aside (in an airtight container if longer than a few hours). |
| 8. | Discard all but about 2 tablespoons of the oil from the saucepan and add the butter and reserved sliced leeks. |
| 9. | Sprinkle with salt and cook over a low heat for 10 minutes until soft, trying not to brown. |
| 10. | Add the garlic and curry powder to the leeks, cook for 1 minute then raise the heat and add the brandy or cognac if using and bring to the boil. |
| 11. | Lower the heat and stir in the creme fraiche. If making in advance, you can chill at this stage until needed, then gently reheat. |
| 12. | To SERVE, bring the wine to the boil in a large saucepan. |
| 13. | Add the tuatua, cover and cook for about 2 minutes. |
| 14. | As the tuatua start to open use tongs to remove them to four warmed bowls. |
| 15. | Cover the pan and continue cooking a further 2-3 minutes until all are open and transferred to the bowls, discarding any unopened shells. |
| 16. | Set aside the cooked tuatua, covered with plastic wrap to keep moist. |
| 17. | Bring the tuatua cooking liquid to the boil and reduce a little. |
| 18. | Pour this carefully into the reheated creme fraiche mixture, leaving behind the last few tablespoons of liquid in case there is any sand. |
| 19. | If your sauce is too thick, stir in a little water or milk to get the required consistency. |
| 20. | Heat through, taste and season if necessary. |
| 21. | Pour the sauce over the tuatua and scatter with the fried leeks and curry leaves. |
| 22. | Serve with crusty baguette or other bread. |
Recipes & Food Styling Fiona Smith / Photography Aaron Mclean / Styling Ellen J Hemmings