POTATO MALAI KOFTA WITH TOMATO & CASHEW SAUCE
Ginny Grant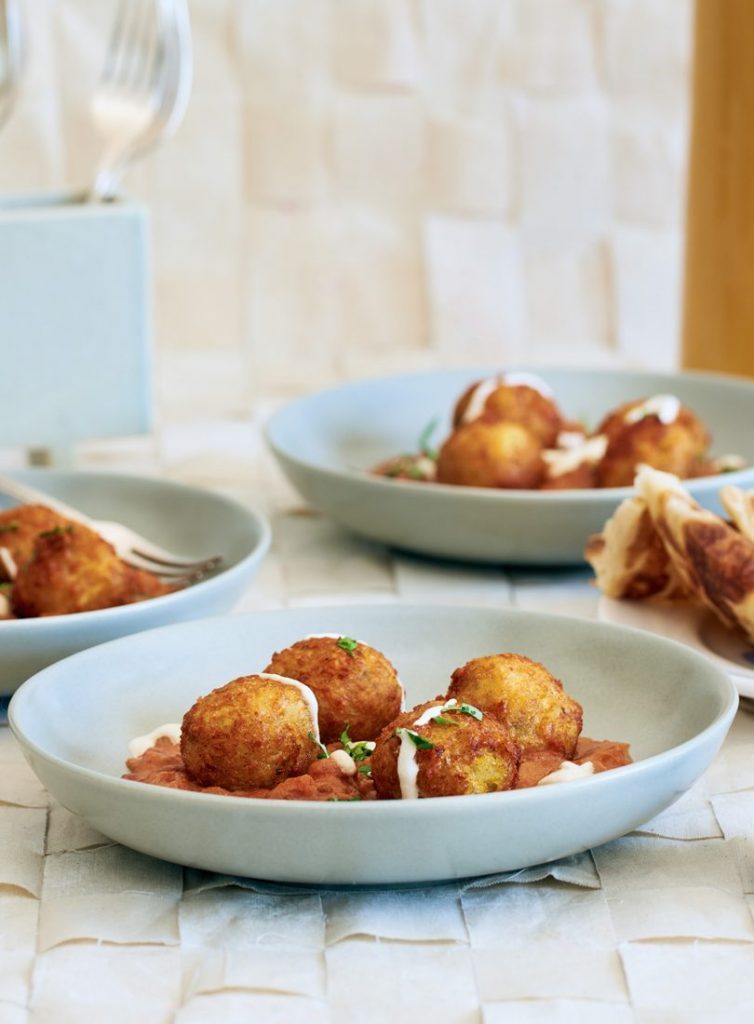 Ingredients
| | |
| --- | --- |
| | FOR THE KOFTA |
| | 700g Agria potatoes, peeled, cut into large chunks |
| | 200g paneer (or use firm tofu), grated |
| | ¼ cup cornflour |
| | 1 red or green chilli, finely chopped |
| | 3cm piece ginger, peeled, grated |
| | 2 cloves garlic, mashed to a paste |
| | ½ teaspoon garam masala (I'm loving Cassia at Home's blend) |
| | ½ teaspoon salt |
| | vegetable oil, ghee or coconut oil for frying |
| | TOMATO & CASHEW SAUCE |
| | ½ cup (approx 70g) raw cashews |
| | 2 tablespoons vegetable oil, ghee or coconut oil |
| | 1 onion, chopped |
| | 3 cloves garlic, finely chopped |
| | 3cm piece ginger, peeled, grated |
| | 1 teaspoon fenugreek seeds (optional but grand) |
| | 2 x 400g cans tomatoes |
| | 1 teaspoon garam masala |
| | ½ teaspoon chilli flakes |
| | 1 teaspoon salt |
| | a few coriander leaves to garnish |
I tend to look a lot towards the vegetable-focussed cuisines of India when looking for warming spices in the crossover autumn months and throughout winter. Here the sauce has a little kick while the delicate kofta marks it as pure comfort food. This one is on fairly high rotation at our place, mostly because the two components can be made ahead of time and cooked when required.
NOTES
• Use firm tofu in place of the paneer and use an oil rather than ghee to make this vegan. • If you are allergic to nuts you could add ½ cup cream (if vegetarian) or ½ cup coconut milk (if vegan) to the sauce instead.
• If keeping gluten free, make sure that your cornflour is maize-based.
Instructions
| | |
| --- | --- |
| 1. | FOR THE KOFTA |
| 2. | Put the potatoes in a saucepan, cover with water and add some salt. |
| 3. | Bring to a boil, then simmer for 15-20 minutes until tender. |
| 4. | Drain well, mash and allow to cool. |
| 5. | Put into a bowl then mix in the paneer or tofu, cornflour, chilli, ginger, garlic, garam masala and salt. |
| 6. | Roll into balls if deep-frying or into patties if shallow-frying, then set aside in the fridge until ready to fry. |
| 7. | To deep-fry, heat the oil in a deep-fryer or saucepan to 180°C and fry in batches for 3-4 minutes until golden. |
| 8. | If shallow-frying, heat a little oil in a wide frying pan and fry on each side for 3-4 minutes or until golden. |
| 9. | You may need to do this in batches. |
| 10. | TOMATO & CASHEW SAUCE |
| 11. | Put the cashews in a bowl, cover with boiling water and leave to soak for 15 minutes. |
| 12. | Drain, add ½ cup water and use a stick blender to make a smooth purée and set aside. |
| 13. | In a wide pan heat the oil, add the onion and cook until soft, about 10 minutes. |
| 14. | Add the garlic and ginger and cook for another minute. |
| 15. | Add the fenugreek seeds, tinned tomatoes, garam masala, chilli flakes and salt and cook for 15 minutes until thickened. |
| 16. | Add most of the cashew purée to the pan and, if necessary, add a little more water to loosen. |
| 17. | Spoon the sauce into bowls, top with the kofta, drizzle with the remaining cashew purée and garnish with coriander leaves. |
| 18. | Serve with some roti or rice and greens on the side. |
| 19. | The coconut, mint & coriander dipping sauce served with the pakora (see recipe) is also delicious here. |

Recipes & food styling Ginny Grant / Photography Aaron McLean / Styling Jessica Hemmings