PUMPKIN KIBBEH WITH WILTED GREENS & QUINCE PASTE DRESSING
Ginny Grant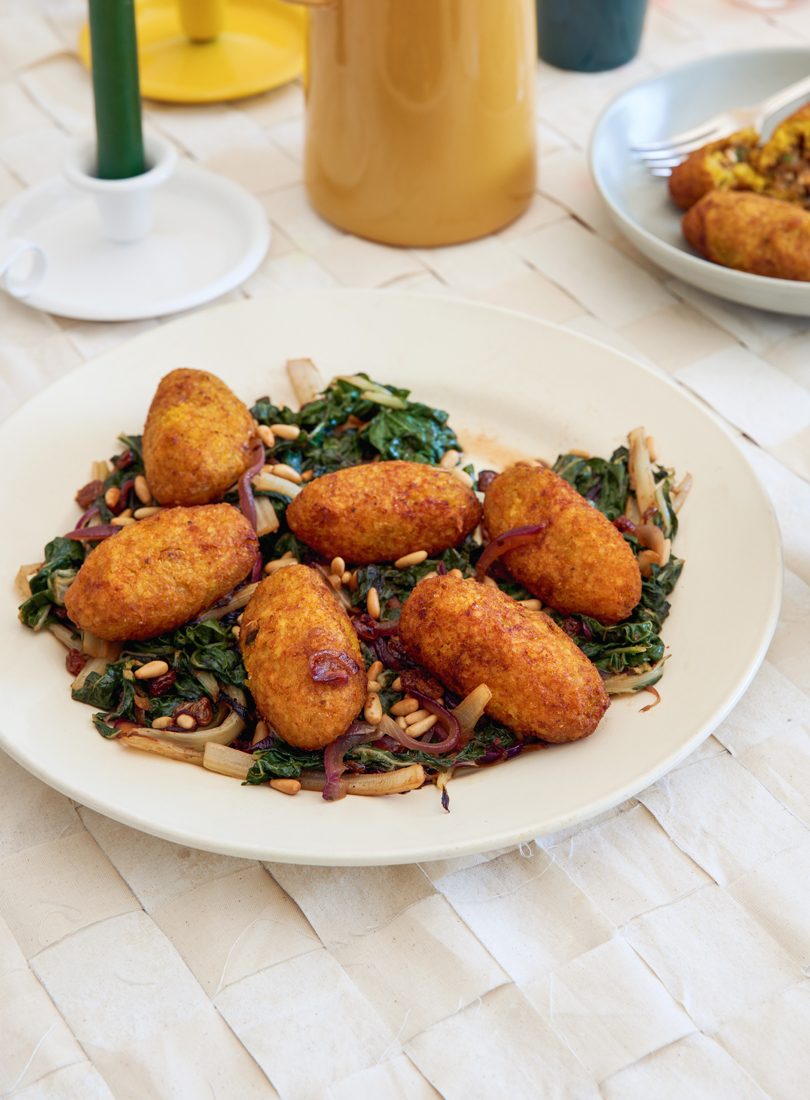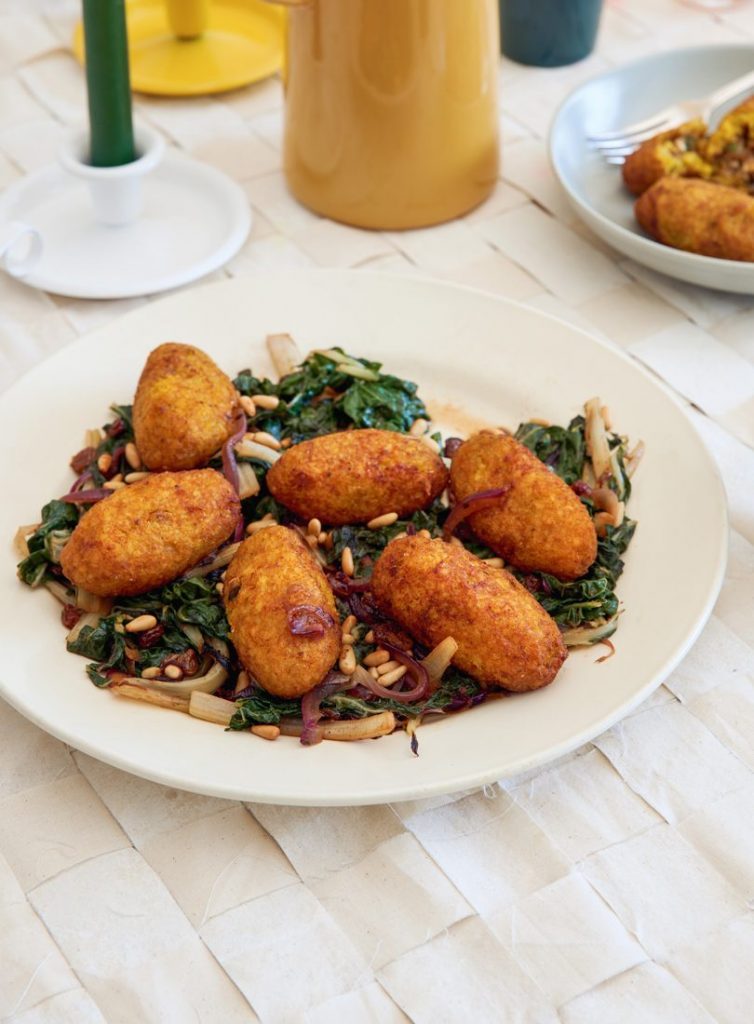 Preparation
30 mins plus 30 mins cooling time
Ingredients
| | |
| --- | --- |
| | FOR THE FILLING |
| | 1 tablespoon olive oil |
| | 1 onion, chopped |
| | ½ bunch coriander |
| | 2 cloves garlic, finely chopped |
| | 1 teaspoon baharat spice (see notes) |
| | ⅓ cup split red lentils |
| | 1 tablespoon tomato paste |
| | ½ teaspoon salt |
| | ¼ cup chopped walnuts |
| | 75g feta (optional or use a vegan version) |
| | FOR THE KIBBEH DOUGH |
| | ¾ cup bulghur wheat |
| | ½ small buttercup pumpkin (approx 500g to give 325-400g peeled weight), peeled, cut into chunks |
| | 1 onion, roughly chopped |
| | 1 teaspoon salt |
| | ¾ teaspoon baharat spice |
| | ¼ teaspoon ground turmeric |
| | ¼ teaspoon ground cumin |
| | 2 tablespoons flour, plus a little extra if necessary |
| | oil for frying |
| | FOR THE GREENS |
| | 50g quince paste, roughly chopped |
| | ¼ teaspoon ground cardamom |
| | zest and juice of 1 lemon |
| | 600g leafy greens such as silverbeet, kale or spinach |
| | 2 tablespoons olive oil |
| | 1 red onion, sliced |
| | 2 cloves garlic, sliced |
| | ¼ teaspoon chilli flakes |
| | 4 tablespoons raisins |
| | 4 tablespoons toasted pinenuts |
| | yoghurt, to serve |
While we mostly associate Middle Eastern-style kibbeh with meat, there are vegetarian/vegan versions, too, which are ideal for using pumpkin, but kūmara works well too. If the shaping and frying of the kibbeh seems like far too much work, then try the oven-baked version in the notes below. Again, it's a dish where most of the prep can be done ahead of time.
NOTES
• Omit the feta to keep this vegan.
• To bake instead of deep-frying, oil a baking dish and flatten half the kibbeh mix in the base, top with the lentil filling and then top with the rest of the kibbeh mix. Score diamonds in the top, brush with olive oil and bake in the oven at 200°C for 30 minutes or until cooked through.
• You could use other fruit pastes here instead of quince or even a couple of tablespoons of pomegranate molasses instead.
• If you can't find baharat spice, dry toast 1 tablespoon black peppercorns, 1½teaspoons each of cumin and coriander seeds, 1 small quill cinnamon and 3 cloves then grind in a spice grinder. Once ground, add ½ teaspoon freshly grated nutmeg, ½ teaspoon each ground cardamom and ground allspice. Store in an airtight container for up to 2 months.
Instructions
| | |
| --- | --- |
| 1. | FOR THE FILLING |
| 2. | Heat the oil in a saucepan and add the onion and chopped coriander stems. |
| 3. | Cook for 10 minutes or until soft. |
| 4. | Add the garlic and baharat spice and cook for a minute. |
| 5. | Add the red lentils, tomato paste, salt and 1 cup of water and cook for 15 minutes or until cooked through. |
| 6. | The mixture should be quite dry but if necessary add a little extra water to the pan. |
| 7. | Set aside to cool, then add the walnuts, chopped coriander leaves and feta, if using. |
| 8. | FOR THE KIBBEH DOUGH |
| 9. | Pour ½ cup boiling water over the bulghur wheat and set aside for 15 minutes. |
| 10. | Steam the pumpkin for approximately 30 minutes until tender (or add just enough water to a pan to cook/steam it). Drain well. |
| 11. | Put the onion in a food processor and blitz with the bulghur wheat. |
| 12. | Add the pumpkin, salt and spices and mix well. |
| 13. | Put into a bowl, add 2 tablespoons of flour and knead well. |
| 14. | If the mix feels a little wet add some more flour (you don't want the mix too stiff or it is hard to shape). Cool for 30 minutes. |
| 15. | Take a golf ball-sized piece of kibbeh dough and roll into a ball (a bowl of water to dip your hands in will help keep it smooth). |
| 16. | Make a hole in the middle and add a spoonful of the filling. |
| 17. | Pinch the dough together to seal. Shape into a kibbeh shape, or into a patty if planning on shallow-frying. |
| 18. | Put on a tray lined with baking paper and set aside until ready to cook. |
| 19. | To deep-fry, heat the oil in a fryer or in a small pan. |
| 20. | Fry the kibbeh in batches for 4 minutes or until golden. |
| 21. | Drain on paper towels to cool slightly before serving with the greens. |
| 22. | If shallow-frying, heat the oil in a wide frying pan and cook for 3-4 minutes on each side. |
| 23. | FOR THE GREENS |
| 24. | Combine the quince paste, cardamom, lemon zest and juice with ¼ cup water in a small saucepan. |
| 25. | Bring to a simmer and cook until smooth and slightly syrupy. Set aside. |
| 26. | Remove the stems of the greens; discard the kale stems but if using silverbeet, cut into long matchsticks and blanch in boiling, salted water for a few minutes to soften. |
| 27. | Blanch the green leaves then drain well. |
| 28. | Heat the olive oil, add the onion and silverbeet stems if using, and cook until soft. |
| 29. | Add the garlic and chilli flakes and cook for a minute then add the leafy greens and raisins. |
| 30. | Cook until warmed through, then add the quince dressing. |
| 31. | Toss well and then add the pinenuts. |
| 32. | To serve, put the greens on a platter, add the kibbeh and serve with some yoghurt alongside. |

Recipes & food styling Ginny Grant / Photography Aaron McLean / Styling Jessica Hemmings