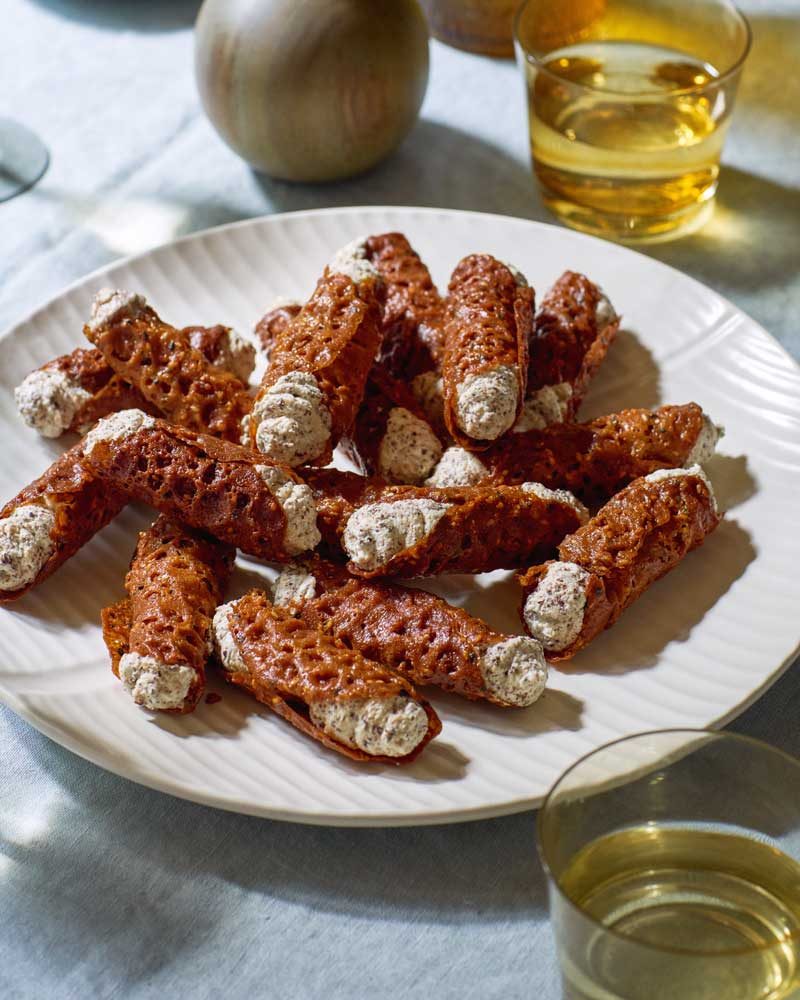 | | |
| --- | --- |
| | 3 tablespoons golden syrup |
| | 75g soft brown sugar |
| | 75g butter |
| | ⅓ cup sesame or plain flour, plus 2 tablespoons plain flour |
| | ¼ cup sesame seeds (I used a mix of white and black) |
| | 300ml cream, whipped |
| | 75g dark or milk chocolate, grated |
| | 150g halva, grated or 4 tablespoons tahini and 2 tablespoons icing sugar |
Brandy snaps are my idea of a perfect handheld dessert: crunchy, caramelised and creamy. Here I have added one of my other favourite flavours – sesame – taking these snaps to a whole other level. As with regular brandy snaps it takes a couple of batches to perfect your oven temperature, technique and timing. In my oven at 180°C regular bake (don't use fan bake), mine cook in about 6 minutes, but I check them after 5 minutes as it varies. Also, I only cook four at a time, even though more will fit, as that is just the right amount of time for me to roll all four without them crisping up too much. These store well in an airtight container but need filling as close as possible to serving. Make the filling up to 6 hours before and fill your piping bag and have it ready in the fridge. If you don't have a piping bag, fill a clean plastic bag and snip the corner off.
| | |
| --- | --- |
| 1. | Preheat the oven to 180 ̊C. Grease or line two baking trays. |
| 2. | Put the golden syrup, brown sugar and butter into a saucepan and heat gently, stirring, until just melted together. |
| 3. | Transfer to a mixing bowl and cool for 5 minutes. |
| 4. | Add the flour and sesame seeds and mix well. |
| 5. | Take small teaspoonfuls of mixture and drop onto one of the trays, allowing 4 to a tray. |
| 6. | They will spread so keep them well apart. |
| 7. | Bake one tray at a time for 6-8 minutes until the snaps are golden brown. |
| 8. | Leave them on the tray for a minute or two to set while you do the next tray and put in the oven. |
| 9. | Lift each snap from the tray with a spatula and roll around the handle of a wooden spoon, or something similar. |
| 10. | Leave on a rack to cool, join side down. |
| 11. | Repeat with remaining mixture. |
| 12. | Once cool, store in an airtight container. |
| 13. | In a bowl, fold together the cream, chocolate and halva. |
| 14. | If using tahini, mix together the tahini with the icing sugar and a couple of tablespoons of cream to loosen before folding into the remaining cream. |
| 15. | Fill a piping bag fitted with a wide plain nozzle and fill the snaps just before serving. |
Recipes & food styling Fiona Smith / Photography Aaron McLean / Styling Fiona Lascelles