FROM WEST AUCKLAND TO THE BIG APPLE, CHEF MATT LAMBERT HAS TAKEN ON THE WORLD AT BREAKNECK SPEED. BUT, AS KELLI BRETT FINDS, HIS MICHELIN SUCCESS IS NO FLASH IN THE PAN.
Barbara Cooper had no idea what to do with her life. It was 2005 and she'd just graduated from college in Newport Rhode Island. Her mum and dad had connections with Michael Dearth, the owner of a ritzy Auckland restaurant and New Zealand sounded interesting. So Barbara made the gutsy move to the Antipodes to take up the position of back waiter/lunch server at the newly opened The Grove where chef Michael Meredith was heading up the kitchen. That was where she met an eager, young West Aucklander who stole her heart.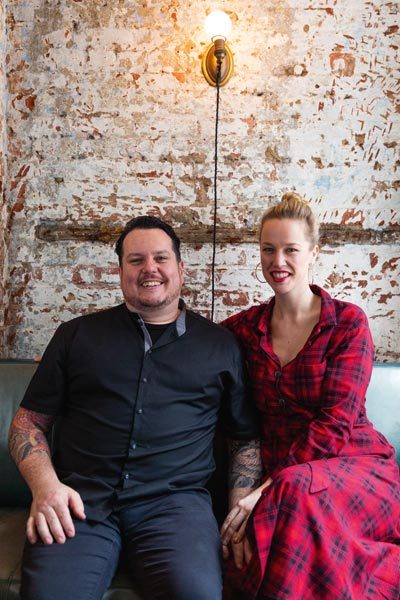 Matt Lambert was focussed and driven, and was already on his way towards the coveted sous-chef position. He wooed Barbara with similar swiftness and, three months later, they were standing in the registrar office with Michael Meredith and Melissa Morrow of Ponsonby Road Bistro as their witnesses.
Matt had worked hard in New Zealand restaurants from the age of 14 (he tried at 11 but was told he was too young) and attended culinary school at Auckland University of Technology. He regarded Meredith as one of the best chefs in the country and so, a year later, when the question of where to work next came up, he looked overseas. Besides, Barbara was homesick so it made sense to move: in Matt's words, "Barbara went to New Zealand and brought back a living souvenir."
The couple decamped stateside to Connecticut and Matt's personal benchmark became the pursuit of a Michelin star. By the age of 30, he was the head chef at one-Michelin-star New York restaurant Public (now closed) and working for a hospitality design and concept firm, AvroKO. But the dream was always to run his own show.
That opportunity started as a seed in 2008 and grew to reality in 2013 with the help of business partner/ restaurateur Jennifer Vitagliano and a Kickstarter campaign. Just four months in (a record at the time), the Lamberts and Vitagliano were awarded a Michelin star for their restaurant The Musket Room in Nolita, New York.
Before I headed to New York, I put out a request to New Zealand chefs and well-known hospitality peeps for recommendations on must-do eats in the city (you can find this intriguing list here). It quickly became apparent from the response that came flooding back that if I did not visit The Musket Room, I'd be as popular as a rattlesnake in a lucky dip.
One glimpse of all the hearts and clapping hands at Matt's Instagram account (@musketmatt) and you'll realise he has become a bit of a poster boy for New Zealand chefs. Not only because he is (arguably) the first to introduce New Yorkers to modern New Zealand cuisine in a New York restaurant setting, but also because his food is so damned spectacular (and yes – sexy).
The area of Nolita, so named because it lies north of Little Italy, is picturesque with a cool, gritty kind of vibe. There's an array of chic shops, boutiques, bars and restaurants on every block. The Musket Room is casual, warm and inviting with a menu that reflects Matt's desire to take his diners on a journey tinged with his own food memories. The menu is, however, also very much in the now, with the use of modern techniques and locally sourced ingredients. It doesn't get much fresher than herbs and vegetables plucked from their backyard kitchen garden.
This spring the menu saw its first major overhaul since the restaurant was awarded that initial Michelin star in 2013. It's a brave move by Matt and Barbara who have retained that star across the years up to their most recent award in 2019. To change it risks 'fixing' something that isn't broken.
I was lucky enough to be there the day Matt introduced his new creations, and his mastery of technique and balance remains true to The Musket Room's reputation for thoughtful, innovative cuisine and its take on nostalgic New Zealand classics. When I arrived, the place was already packed. I wondered how many diners were there to experience the New Zealand food story. The couple to my right said they had walked past many times and finally decided to make a booking because the room looked so inviting; the couple to my left booked because they wanted to dine at a Michelinstarred restaurant but couldn't afford a 2 or 3 star, and one of them had recently enjoyed an incredible holiday in New Zealand. Would either party come back? Definitely yes. In the end, I'm not sure that the NZ theme is the major drawcard, judging from the almost primal noises and reactions to the food going on around me; it's more about the unexpected flavour volume that can only be the result of food cooked from the heart.
Barbara Lambert runs a smooth and tight show front of house. The Musket Room team is friendly, totally on-board with the new menu and great fun. On the question of who is the boss, Barbara reckons her legs are definitely in the pants.
Running the restaurant with Matt requires coordination of all of the elements and multiple layers outside of Matt's exhausting and incessant drive and push for perfection. Then there is the balancing act of home and family. Not content with just the one restaurant, the couple recently opened Hamilton Park, a bistro in New Haven, Connecticut. It's an opportunity for them to play and have fun in a more casual environment, serving up seafood, steaks, burgers and chops, housemade bread and pasta, pretty much something for the whole family. The food here moves away from the finer detail needed at The Musket Room but is still delivered in that next-level Lambert style. It's from this menu that Matt's recipe for pork chops (below) is drawn. He wanted you to be able to replicate a dish that he would make at home for mates and serve with a good beer. Not that I think he'll be finding much time for entertaining at home. Along with running restaurants in New York and Connecticut, Matt also curates and oversees the menu at The Lodge Bar in Queenstown, where he can showcase his favourite New Zealand brands and produce.
The Michelin Guide describes Matt's culinary story as "one of starry-eyed and calculated determination." While Matt can stand proud as one of the fastest recipients of a Michelin award, receiving his first star within months of opening, it is clear that his is a story of premium New Zealand flavour that has been many years (and yep, much blood, sweat and swearing) in the making.
THE MUSKET ROOM, menu April 2019
Powhiri
Squash tart
Radish, brown butter
Corned beef croquette, smoked cheese
Kaimoana
Veal tartare, white asparagus, truffle
Hangi potato, hen yolk, caviar
Papatùànuku
Smoked foie, apple, manuka honey cake
Quail, blackberry, bread sauce, roasted onion
60 day dry aged beef, morels, asparagus
Ranginui
Page mandarin, kaffir lime
Manuka honey mousse, carmalized fig, dulce chocolate
Ka Kite
Musket crunch