JULIE DALZELL DIGS INTO THE ARCHIVES WITH MEMORIES OF FORMER CUISINE CONTRIBUTOR, PETER SINCLAIR.
When we asked the broadcaster, writer and vitality-plus foodie Peter Sinclair to contribute a piece for Cuisine in 1999, with the theme of New Zealand treasures, he sprang to the occasion with "Thanks for the Memory".
I first met Pete in Christchurch (my old 'hood) in the studio of 3YC, the radio station that we had elected to do a Cuisine subscriber prize draw on air. We pulled the name out of the hat, under police supervision, in case there was any monkey business.
After the "Thanks for the Memory" tale he wrote for us, Peter became a contributor to Cuisine, leading the charge on sharing with our readers the barely known internet and its knowledge base. He was a star with his curiosity and research. He was funny and sage and an editor's delight as every word, comma and semi-colon was perfect.
Re-reading his story and his hilarious tributes to our writing and broadcasting food icons, I recalled that while travelling in Sri Lanka a couple of my foodie buddies laid some flowers down for Tui Flower who died in 2017, aged 91. We popped them by the grave of a Navy cook. Apt, we thought. Tui would hate the use of the term 'foodie'. Not sure she was very fond of the upstart called Cuisine, either. We were considered a bit posh then.
But things change for the better, especially with food in New Zealand, as we are very good at inventing, but also, like magpies, stealing a few things from other cultures. JULIE DALZELL
In issue 193 Peter Sinclair wrote… Some time ago TV chef Garth Hokianga (Some Like It Hot) and partner Belinda Todd cooked me a birthday dinner – well, Garth did the cooking while Belinda poured gins big enough to swim in.
Oysters, duck breast in raspberry vinaigrette, tiny individual lemoncurd soufflés which almost drifted upwards from the table… what a long way we've come, I thought. I'm old enough to remember a time when haute cuisine meant Wiener Schnitzel.
Before the Dutch arrived, our only contact with any food not in direct line of descent from Mrs Beeton was Cantonese – popularly supposed to contain possum or pets, but did we care? The bland, slightly scorched flavour of rice, egg and MSG has imprinted itself permanently on the taste-buds of New Zealand.
When I was asked to write a New Zealand food retrospective 'in a chatty style, taking a light and fond approach…' I thought: whoa! Light, yes; chatty, by all means; but fond?
These were the days of WWII, when Daisy Basham ('Aunt Daisy') came to power. Her ingenious substitutions were the inspiration for generations of New Zealand cooks: how to make lamb taste like goose (a vivid imagination was the essential ingredient); how to scramble dehydrated egg (don't try this at home); and her unlikely triumph, mock whitebait, which I seem to recall was made of turnip (whitebait apparently stop running during world wars).
As a broadcaster, I've met most of the culinary icons of the past 40 years, and Aunt Daisy herself was the first. Newly arrived from Sydney, I was being shown round the old Hope Gibbons building in Tory Street, Wellington, where I was introduced to a small, sharp-eyed woman who had just finished her morning broadcast.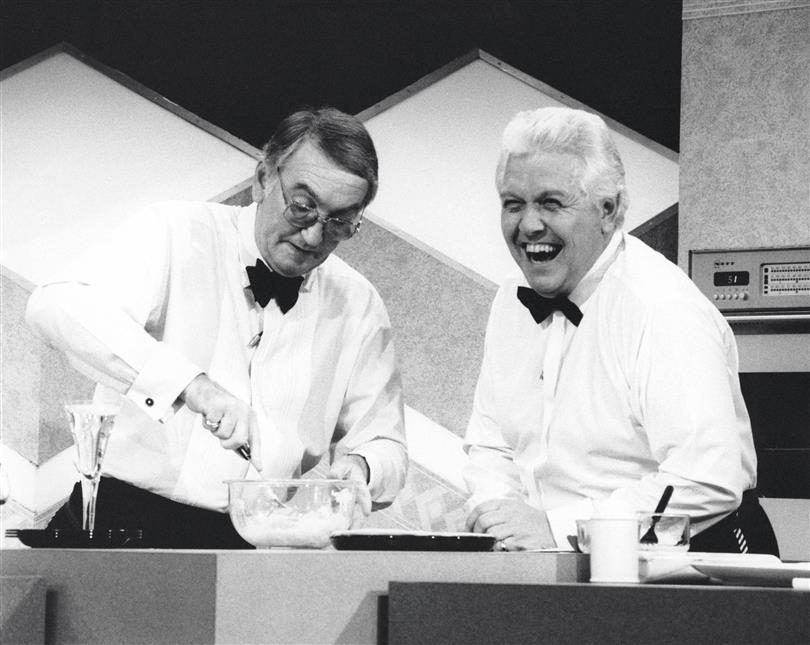 Peter Hudson and David Halls. Cookery show came to UK in 1986 (previously aired in New Zealand)
AND NEXT?
So that was the past, told in some tales of legendary Kiwi food influencers. The future? Well, don't ask me. I said to my departing colleague in the '80s, "You are starting a microwave shop???? Will never take off." Also had the notion that My Food Bag would not attract many customers. I do know, however, that people like to buy, cook and eat good Kiwi tucker. I cannot see that changing. JD
Thank you to Peter Sinclair's estate for permission to reproduce his article.