ADDRESS:   115 Queen St, Northcote Point
CHECK WEBSITE FOR OPENING HOURS
MAINS:   $37 – $45
WEBSITE:    engineroom.net.nz
CONTACT:   09 480 9502
SCORE:   17.5 / 20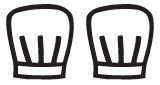 The warmest of welcomes, seamless service and a buzzy atmosphere get your engines running. Maître d' Natalia Schamroth co-owns the restaurant with head chef Carl Koppenhagen – and what a pair they make. Schamroth makes you feel right at home and Koppenhagen's culinary talents easily turn out the best food on the North Shore (and some of the very best in the city). The seasonal menu also features iconic year-round staples, such as a spectacular rendition of duck confit with jus, kūmara purée, pickled cherries and chard. Daily specials keep you on your toes, while the extensive drinks list offers something for all occasions. The separate dessert menu features dishes that would easily grace the cover of a magazine. A meal here will see you join the large number of loyal regular diners.
IN BRIEF: A Shore bet: your home away from home
---