The Solo Blacksmith / Solomon Marshall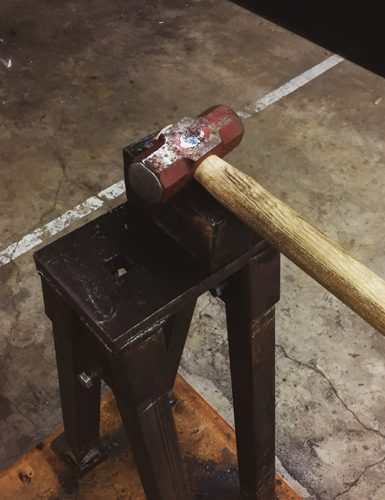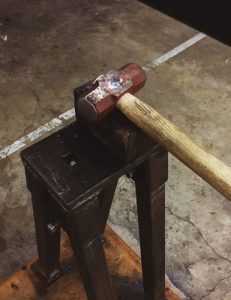 'Simple, handmade products for the truly materialistic' says the tagline for The Solo Blacksmith. Solomon Marshall, the blacksmith himself, says, "The truly materialistic are people who care about the things they own, not just about owning stuff, or having more stuff." Think of it as caring about fewer, better things, a notion Solomon heard about from Glenn Adamson, former director of the Museum of Arts and Design in New York whose 2018 book (entitled Fewer, Better Things) celebrates the beauty and utility of handmade items crafted by the drawing together of raw materials, tools, design and technique. And, I would add, heart.
"For me," Solomon says, "that's about just having the things you need – one or two nice knives that you use all the time, not a whole load of stupid one-use gadgets. You don't need a lot. I'm a  simple person and I like simple things."
And those nice, simple knives are ones Solomon has made himself, alongside frying pans, palette knives and axes. There's a sense of wonder, he says, when people pick up his products. "It's different to picking up a knife in a shop which shows no evidence of the process that formed it. My stuff is rough and people appreciate it as something that has been crafted and see hints of what it has been through to make it."
Solomon taught himself his blacksmithing skills and now he passes on what he has learned in workshops where complete beginners can spend the day in his Mt Albert forge making their own axe or kitchen knife and budding blacksmiths can make the tools they need or indeed any custom project. Most participants have never set foot in a blacksmith's forge and while acknowledging that it can be a bit daunting and that it's hot and physical work, Solomon is adamant that anyone can do it.
Going back to Glenn Adamson's book, it talks about the trait of material intelligence – the ability to read objects around you and having an intuition about making them. Clearly Solomon possesses this in spades as he talks enthusiastically about the pottery wheel he has just bought, the scythe he made recently and a dream project to build an Inuit-style skin-on-frame kayak. Blacksmithing was a gateway craft, he says. "Essentially, I wanted to do leather work, bow-making, carving and wood turning and common to all of these crafts were special tools a blacksmith could make. Honestly, I just like making stuff."
And that stuff he makes, or will help you to make, is made to last lifetimes. Yes, that's right, lifetimes. soloblacksmith.com