David Neville on resourcefulness, reducing food waste and layering ingredients to make something delicious.
THERE'S LOTS OF . . . RHUBARB
GIVE THESE A GO…

Preserved rhubarb & pomegranate agrodolce
This is based on the Italian agrodolce, which translates as 'sour/sweet'. It is a grand condiment to all things strong in flavour, from game meats to pungent cheeses. Heat 100ml olive oil in a pot. Gently fry 2 sliced shallots and a crushed garlic clove. Add 80ml pomegranate molasses and 60g brown sugar. Reduce over a medium heat until syrupy. Add 600g chopped rhubarb and cook for 10 minutes, stirring regularly. Add 60g each raisins and toasted walnut pieces and continue to cook for 5-6 minutes. Remove from heat and add ¼cup chopped flat-leafed parsley. Season with sea salt and black pepper.
Rhubarb & tamarind toffee sauce
Put 500g caster sugar in a medium-sized pot with 200ml water. Place over a medium heat and stir until it comes almost to the simmer. Stop stirring once simmering. Brush down the pot sides with a damp pastry brush. Lower the heat and cook until it's a light caramel colour. Remove from heat and cool for 3-4 minutes. Add 250g tamarind concentrate, 200ml water and 1 cup chopped rhubarb. Return to the heat for 6-7 minutes and cook until rhubarb has fully collapsed. Add a pinch of salt and cool thoroughly. Store in a clean container or bottle in the fridge. Serve with ice cream, fruit crumble or dark chocolate brownies.
Rhubarb & winter citrus salad
Finely slice 250g rhubarb stalks (about 1mm thick). Lightly salt and set aside. Finely slice 2 large fennel bulbs and reserve the fronds. Finely slice 4 radishes. Pat dry the rhubarb and toss with sliced vegetables, 50g red radish shoots and segments of 2 mandarins. Add 2 tablespoons mirin and a tablespoon each soy sauce and rice vinegar. Add a teaspoon of sugar and toasted sesame seeds and toss. Season with salt and pepper.
Rhubarb vinaigrette
Place a large bowl over a pot of simmering water (top this up as required). Add 1 litre red wine vinegar and 500g rhubarb stalks cut into 1cm pieces. Cook for 45-50 minutes. Remove from the heat and add 4-5 lavender stalks and fronds and infuse for 5 minutes. Strain into a clean bowl and store in bottles. Mix 100ml vinegar with 300ml good-quality olive oil, salt and pepper for an instant vinaigrette.
MAKE IT YOURSELF / SAUSAGES
All countries have a national anthem, flag and sausage: sai ua, bratwurst, andouille, lap cheong, chorizo and a growing list of vegetarian and vegan options. They are part of the human experience. No one will live a full life without having a sausage. We don't tend to think of sausages as a marker of humanity, yet they are something every culture celebrates. As we evolve, so do they… or is it the other way around?
GIVE THESE A GO…
Pork sausage & bean ragout
Heat 100ml olive oil in a large pot and gently fry 2 medium diced onions. Add 2 grated carrots and 4 finely chopped garlic cloves. Cook for 6-8 minutes to soften. Add 2 large peeled, diced potatoes and 1½ litres chicken stock and bring to a simmer. Add 500g of coarsely chopped raw or cooked pork sausage and 400g can drained white beans. Simmer for 45 minutes. Add 3 cups silverbeet leaves and ½ cup grated pecorino. Allow the silverbeet to wilt, then fold through. Remove from the heat and season with sea salt and black pepper. Great with crusty bread.
The O.G. scotch egg
Boil 6 eggs for 4 minutes and cool under running water. Place 900g sausage meat in a bowl, add a tablespoon each of mustard and Worcestershire sauce and mix. Divide into 6 ×150g patties. Peel the eggs carefully and dust with flour. Place an egg into the centre of each patty and encase the egg gently. Coat the parcels in flour, then egg, then breadcrumbs. Fry on all sides until golden brown, then bake at 180°C for 6 minutes. Serve immediately.
Pork, apple & green peppercorn sausage roll
Place 750g pork sausage mix in a bowl. Add 100g finely sliced bacon. Grate in 1 medium onion and 1 green apple. Add 2-3 finely chopped garlic cloves and 1 egg. Season with 1 tablespoon green peppercorns and 2 teaspoons salt. Place 100g of the mix onto 15cm×12cm shortcrust pastry, form into the classic shape and brush with egg wash. Repeat with the remaining mix. Bake at 180°C for 20-25 minutes until golden.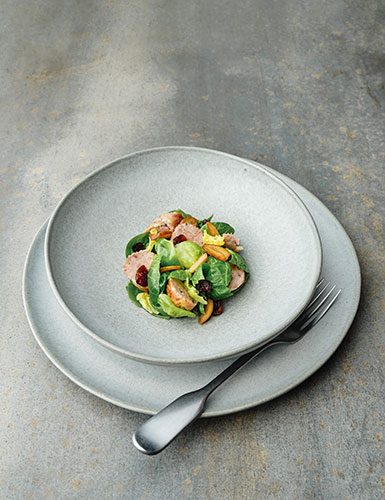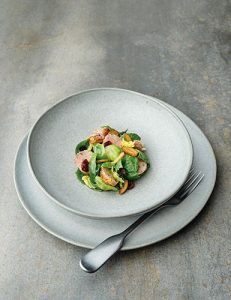 Broken pork sausage & brussels leaf salad
Roughly break cooked sausages into bite-sized pieces. Pan-fry in butter over a moderate heat. Peel brussels sprouts into their individual leaves and add to the pan with 1 crushed garlic clove. Continue to gently fry. Add a dozen sliced tinned chestnuts (leftover from making the sausages) and ¼ cup dried cranberries. Cook until brussels leaves are tender. Splash in 2 tablespoons sherry vinegar, 1 tablespoon mustard and a big pinch of sugar and toss. Season with salt and white pepper.

CELEBRATING THE STAPLES / CHEESE
There is a secret shame hiding in fridges across the world: lifeless-looking feta, dried parmesan rinds, a once-loved cheddar. fear not, those odds bits of cheese still have life. they not only have life, but these recipes embrace them.
GIVE THESE A GO…
Savoury parmesan shortbread
Grate 100g chilled butter into a medium bowl. Add 100g flour, 100g grated parmesan and a healthy sprinkle of thyme leaves. Rub together to form a clumpy dough, turn out onto a bench and roll with a rolling pin until smooth. Cut into neat 2cm × 6cm rectangles. Bake at 180°C for 12-14 minutes and allow to firm up while cooling.
Cheese & beer sauce
Melt 3 tablespoons butter in a medium pot. Add 2 tablespoons flour and stir. Add a half bottle of Pilsner, 1 cup milk and a small bottle of cream. Stir over medium heat to make a white sauce. Add 1 tablespoon each wholegrain mustard and HP sauce and bring to a simmer. Add 11⁄2 cups grated sharp cheese, some grated nutmeg and 4-5 chopped sage leaves. Cook over a low heat for 6-8 minutes. Season. This is a perfect umami- packed sauce for grilled pork chops, schnitzel and fried foods in general.
Con queso dip
Melt 50g butter in a medium pot and gently fry 1 diced onion and 1 crushed garlic clove. Add 1 teaspoon paprika and 2 chopped tomatoes and cook for 4-5 minutes. Add 1 can evaporated milk, 1 cup sour cream and 2 cups grated cheese (virtually any cheese, or combination of cheeses can be used in this dip: mozzarella, Cheddar, blue, Emmental) with 1⁄2 tablespoon flour. Bring to a near simmer until it begins to bubble like lava. Remove from heat and stir in 4-5 chopped pickled jalapeños. Season with salt and black pepper.
For the smoky tomato butter
Place 200g room-temperature butter in a solid bowl and whisk until pale. Add 2 tablespoons tomato paste and 1 tablespoon smoked paprika and mix thoroughly.

REINVENTING THE MEAL / CHICKEN
A roast chicken is a glorious meal, but it's not the only way to prepare a whole chook, nor is it the easiest. This recipe celebrates slick, subtle skin and meat for next to no effort with a slow cooker. It is time to dust off that dubious wedding gift and put it to good use. A $20 digital cooking thermometer also removes all the guesswork when cooking whole birds and can give guaranteed results for anxious cooks.
GIVE THESE A GO…
Shredded chicken with snowpea tendrils & white sesame
Place 400g thinly sliced cooked chicken into a large bowl. Add 100g washed snowpea tendrils and 4 sliced spring onions. Add 20 torn basil leaves and finely grate in a 3cm piece of ginger and 2 small crushed garlic cloves. In a separate bowl, whisk together 3 tablespoons black rice vinegar, 2 tablespoons caster sugar, 1 tablespoon tahini and 1⁄2 cup each light soy sauce and peanut oil. Season with salt, pepper and chilli flakes. Toss the salad together, arrange in bowls and spoon over dressing.
Chicken satay toasties
Butter 8 slices of bread. Shred 300g cooked chicken and slice 2 spring onions. Heat a toasted sandwich press. Sprinkle the buttered side of the bread with sesame seeds and place buttered-side down in press. Scatter shredded chicken from edge to edge, top with 1⁄2 tablespoon satay sauce and sprinkle over the spring onions. Place another slice of bread butter-side up and sprinkle with sesame seeds. Close press and cook for 5 minutes until deep golden and piping hot. Repeat for remaining sandwiches. Serve immediately with a cold beer or chilled soda pop.