WE'RE WATCHING… ABHIJIT DEY
Driving an awareness of wellbeing keeps this innovative sous chef moving forward, says MATTHEW PATRICK.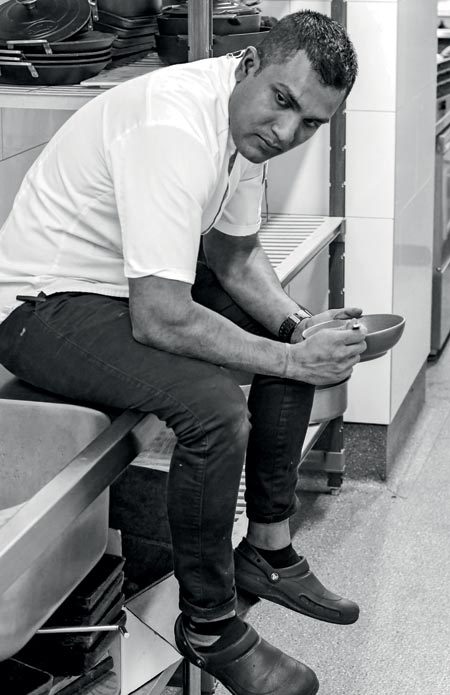 A life in chef's whites wasn't an obvious choice for Abhijit Dey. Finishing high school without any inkling of what was next, it was his mum and dad who pushed the idea of culinary school, setting the trajectory of his professional life in hospitality, and proving the age-old adage that parents know best. "It didn't take long to realise my future was in food and I soon became that guy no one wants to be in culinary school: the one with posters of Gaggan and Ramsay on his bedroom wall," he admits with a grin.
On completing his qualification at home in Kolkata, which had seen him work six days a week, studying by day and gaining practical experience in a hotel restaurant by night, he set out for New Zealand to further his training at NSIA, a leading culinary and hospitality academy. Since graduating, Abhijit has honed his skills in some of Auckland's most prestigious kitchens, getting his start with Mark Southon at former Viaduct favourite The Foodstore before moving on to positions at Clooney and later, Orphans Kitchen. "Working in restaurants of this calibre you realise what the level is and where you could be – it's a great motivator," he explains.
This experience has undoubtedly stood him in good stead to undertake his latest role as executive sous chef at Harbour Society, the flagship restaurant of chic new hotel SO/Auckland by Sofitel. Working alongside Michelin starred executive chef Marc de Passorio is an opportunity he is relishing and together, he says, they're striving to deliver something progressive on both sides of the pass. "Mental health is a major concern in the industry right now and we make a point of having open conversations at work. If you're not feeling good, it's okay, the team will manage without you." While he admits that stepping away is easier said than done, he and de Passorio are doing their best to foster a culture that prioritises the wellbeing of staff. This means sensible work weeks, regular time off and encouraging team members to speak up when pressure gets too much.
That is, when he hasn't escaped to Queenstown for a spot of foraging. At the moment, his focus is on Aotearoa's edible native plants and their use in traditional Māori cookery, as he looks to one day open a bricks-and-mortar establishment that showcases a unique marriage of traditional Indian and Māori cuisine. Until then, he has Aoraki, a pop-up series cooked up with a few industry pals, as a testing ground for his innovative, cuisine blending ideas. Following a successful debut last May, the date for this year's event is soon to be announced, and Abhijit is eager for another chance to bring his passion to the plate.
@aorakipopup
Taste Abhijit Dey's work at Harbour
Society, SO/Auckland