Bar stools are in – and our search is on for the perfect perch, some serious snacks and something stirred or shaken. The team from QT Wellington's Hippopotamus creates some great winter sips and nibbles to cosy up with.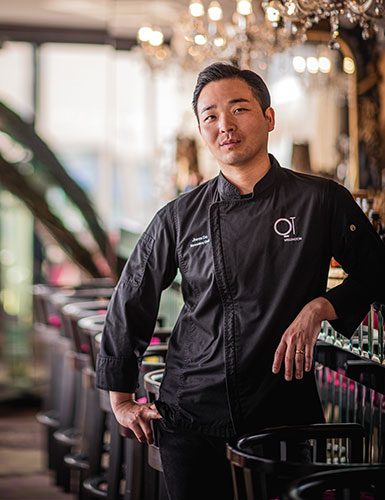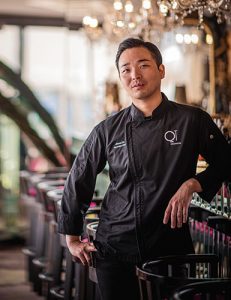 Think you know all about fine dining? Well, if Jiwon Do has his way you'll need to think again. As Hippopotamus – the restaurant within Wellington's QT Hotel, which was awarded two hats in the Cuisine Good Food Awards 2019 – switched from full-time service to a series of pop-ups, high teas and special degustations in 2020, executive chef Jiwon spent the time reflecting on the meaning of 'gourmet'.
Enter the age of the 'new gourmet', Jiwon's take on sustainability and sourcing premium ingredients from the very best suppliers across New Zealand. "Eating local is becoming more and more important, changing our definition and perception of 'gourmet'," he says. "Rather than fine dining, the term is morphing to mean sustainable, local and high quality. I want to serve the stories of my producers and tell diners about the beautiful product of our land and sea."
But, this being Hippopotamus, it was never going to be low key. Roaring back to full service, it's all served up with flamboyant French flair and a theatrical style popping with pizzazz. Guests ordering the Tableside Theatre menu of chateaubriand or rack of lamb enjoy the pomp of dishes carved at the table, followed by classic crêpes Suzette flambéed with a flourish from a table-side trolley. Long a fan of Lot Eight olive oil, Jiwon wanted to elevate its presentation at the table and enhance guests' experience of this premium product. So, with the chateaubriand or rack of lamb, instead of a few artful droplets adorning the plate, guests spritz Lot Eight oil from a French-style perfume diffuser. Quirky, yes, but always from a place of championing top-quality ingredients and impeccable French technique.
Despite being trained initially in South Korea where he grew up, Jiwon was versed right from the start in classical French cookery. He grew up in a hospitality family, with his grandfather owning hotels and both his father and mother involved in the business. Initially steered into fashion aged 12 or 13, he soon swapped pins for pans after seeing a classmate taking part in the culinary arts course. "I thought it was the coolest thing ever. Straight away I said, 'Can I do that instead of this?'" Study at Gyeongbuk Domestic Science High School alongside a private culinary academy set him on his lifelong learning of French cookery. He came to New Zealand in part to learn the language, retrained at WelTech and found his first full-time role at Hippopotamus, then under the guidance of Laurent Loudeac. After 5½ years and working up to senior sous chef, he explored other opportunities before returning to QT Hotel as executive chef.
Jiwon relishes getting out from the kitchen to talk to guests about the food and where it has come from. "My message – the 'new gourmet'– is all in the story," he says. Unlike many restaurants today, Hippopotamus is a closed kitchen, with the magic happening behind the swing doors. "Spending time engaging with guests is really exciting for me," says Jiwon. "I also wanted to know who I was serving my food to. If I'm inspired [to create a dish] then it's really enjoyable. When it comes out exactly as I'd imagined it, there's no better feeling. Then when it's served and customers react how I want them to, I'm beyond happy. It's a phenomenal thing. It's the most satisfying factor of the job." TRACY WHITMEY
Jiwon Do's preferred suppliers of quality meat are Greenstone Creek (greenstonecreek.co.nz) and Awatoru (awatoruwildfood.co.nz).