TRACY WHITMEY gets a taste of classic pastries combined with Asian flavours. WELLINGTON.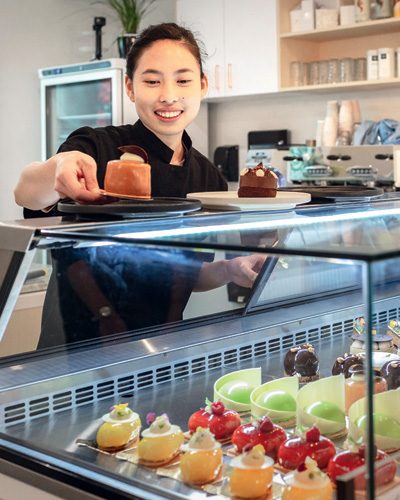 TRUST IS SO IMPORTANT in any marriage, ramp that up a notch when husband and wife are also business partners. So when Andrew Grace says of his wife Mariah, "I trust her tastebuds," it's the ultimate compliment as it's Mariah's skill and flair as a pastry chef upon which their business is built.
Grace Patisserie is a new entrant into the Wellington market, tucked onto Tory Street right across from Moore Wilson's. Here a former Ethiopian restaurant has been transformed into a light, elegant café. The black ceiling is gone, the decor now a clean and simple Scandimeets- Tokyo aesthetic, cool cream accented with blush and dove grey, a huge swag of dried flowers draped across one wall giving a touch of luxe.
Against this pale backdrop Mariah's petits gateaux glow from the cabinet, glistening jewel colours flecked with edible silver and gold, nestled next to sophisticated pastel macarons and golden-crisped croissants and pastries.
While some of the petits gateaux have familiar labels, others are more whimsically named. "These names have a special meaning to us. The first autumn series of desserts have the names of some of our closest friends – Evelyn, Mel, Jie, Sylvie and Tee. All of them and their partners have continued to encourage and support us setting up our business and the café space in some way or another. The new winter series are named after our family members – Abigail, Matilda, Elsie, Eva and Zoe."
Look more closely and you'll see something more is going on than just an elegant little café selling sophisticated pastries. It's the clever and unusual flavour combinations that Mariah has created that catch your attention. "It's cool to introduce locals to new ingredients, things that you don't think would go in desserts, or tastes that you would expect to be savoury," she says. So, you'll see black sesame paired with mandarin for an innovative éclair, a banana and mint sorbet teamed with yuzu mousse and a glossy mango glaze (that's the Sylvie). Who could resist a Tee, a combination of pandan, coconut and kalamansi (once Mariah has explained that kalamansi is a tiny southeast Asian lime, with a flavour cross between lime and lemon). And for those always-popular macarons, Grace has a jasmine tea and apricot combination featuring a jasmine-infused ganache and an apricot chutney centre, and even an intriguing taro variety.
With a Kiwi business degree and a diploma in baking and culinary science already achieved, Singapore-born Mariah recently spent a month in the Ukraine refining her pastry skills.
So, she's well placed to observe the differences in tastes and preferences across different cultures. "In Asia, the majority prefer less sweet desserts, that are lighter in flavour and texture. It'd be common to see light freshcream chiffon cakes with fresh fruits in cake shops. In eastern Europe such as Ukraine, and in Russia the preference would lean towards tasty, well-balanced flavours and texture in their dessert. Sweetness balanced with tartness, airy mousse contrasted with a crispy base for instance. While in New Zealand, you can't go wrong with rich and indulgent flavours of chocolate, salted caramel or peanut butter. Or even classic desserts like lemon meringue or pavlova."
In Kiev she studied with worldclass teachers learning new pastry skills and brushing up on the basics. Then, she says, "I needed to come back to New Zealand and show people what croissants can be – crispy on the outside with the inside a light honeycomb structure. When you slice through and see the honeycomb you feel like you've really made it."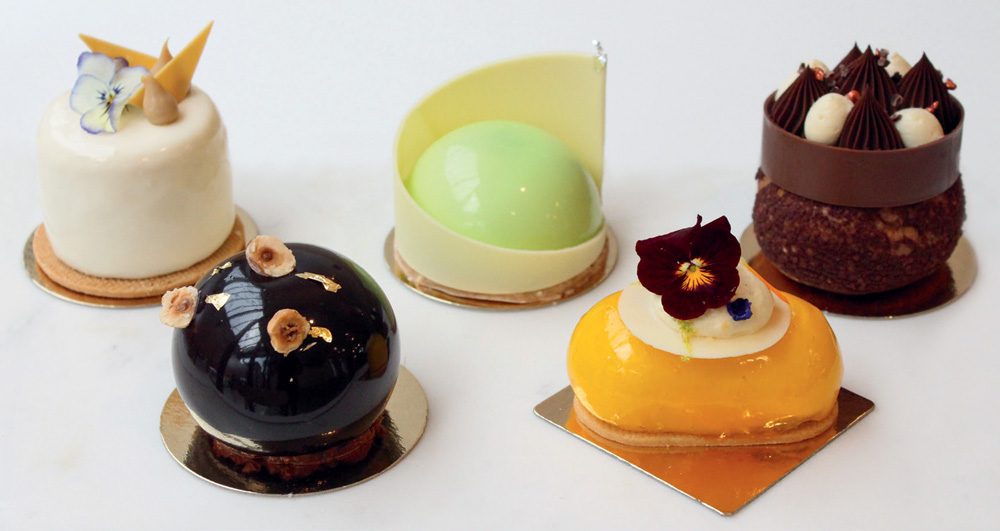 Back in Wellington it took Andrew and Mariah about a year to find the right location for their new venture. With numerous across-the-board hospitality roles behind him, Andrew was well equipped with invaluable skills. "The role I appreciate the most was being a kitchen hand because it was challenging but I was very good at it. It also helped me gain good work ethics that carried over into other areas, such as time management and organisation skills, and values such as being optimistic, respecting other people and being humble." All of which were drawn on during four months of intense planning before gaining the lease, then just two months to make it all happen, with Andrew and Mariah doing much of the design and work themselves.
A couple of months in, Mariah is now working on bringing through some more seasonal fruits, with grapefruit, tamarillos and pears nudging into the line-up through the winter months. And she and Andrew are enthusiastic about future plans to serve high tea and to move into an evening service of restaurant-style plated desserts. gracepatisserie.nz