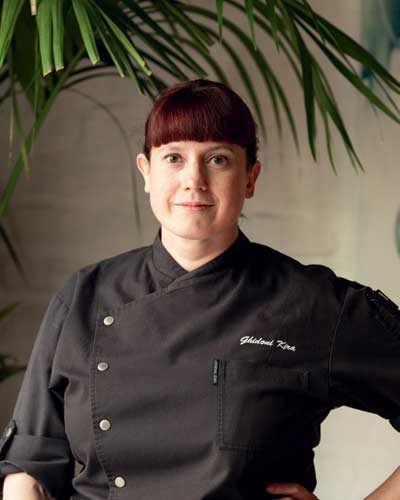 Since its inception in 2004, The Grove has been consistently one of our best restaurants. It's a testament to owners Michael and Annette Dearth's vision of a fine-dining restaurant with wonderful food, excellent service, a fabulous wine list and of course a setting that is comfortable, inclusive and intimate.
And many of the chefs who have made a mark on the Auckland dining scene have got their big break here. There's a long list of those who have held the top job or worked as sous chef: think Michael Meredith, Sid Sahrawat, Ben Bayly, Mikey Newlands Leslie Hottiaux and Josh Barlow. So I imagine the pressure for the current chef, Kira Ghidoni, has been rather intense in the year since she has taken over the top job in the kitchen.
The Swiss-born chef has worked her way around the world, in places such as Melbourne's Vue de Monde and Fera at Claridge's in London. Her skills as an accomplished pastry chef are certainly visible in the presentation of the dishes here which are, for the most part, exquisite and refined.
The Grove specialises in degustation dining with the choice of a four- or seven-course tasting menu and, with prior notice, are happy to make this vegetarian, vegan or to cater to dietary requirements (they also check before ordering). And of course there are snacks and bread to begin.
Some may find the lack of menu disconcerting, but I liked the surprise coming for each dish – however I did find it unusual that the menu was not presented later on. I realised afterwards that this menu is part of the winter Elemental Festival and in particular that the four courses represented some of the elements of Matariki – earth, fire, water and air. Yet at no stage during the meal was this even mentioned, which seems like a haphazard afterthought. So unless you are on Instagram you're unlikely to know that the kingfish crudo represents water, the earth dish incorporates Urenika potatoes, fire is represented by wild venison cooked on the barbecue and air is an apple dessert.
The crudo is served with a burnt coconut sauce, toasted coconut chips, mandarins, coriander and tamarillo. It's a beautiful start to the meal, the leche de tigre is light and fresh, the mandarins plump and sweet and it's really only marred by the thickness of the kingfish slices which don't do justice to the delicacy of the rest of the dish.
A light potato foam surrounded by confit Urenika potato stuffed with a mushroom farce, a truffle and Maasdam croquette and Marsala-cooked shiitake mushroom with toasted hemp seeds, show off simple yet elegant plating. The main of venison is a riot of reds. It's served pink with beetroot in a trio of ways; purée, chips and a clever mirror glaze over a venison tartare. It's a classic combination of ingredients and perfectly balanced, although the tartare looks a little grey, and just a bit too homogeneous, something with a little bite, or a crunch of pickle would have made this stellar.
Expectations of dessert were high and did not disappoint. An apple ice cream, a tender caramelised apple terrine and a fried pastry with the lightest and crispest of pastry was exceptional, the richness cut by the lurid bright green apple and pine granita.
Currently the front of house seem to have a strong contingent of French staff, service is warm, engaged and has a casual, yet professional, focus. The pacing of the meal is strong and the service is polished, relaxed and shows a level of care that is a delight.
There's nothing better than lingering over a glass wine without feeling rushed to move on, and when it's in a warm and glowing dining room, so much the better. Ghidoni's food is great bordering on excellent, oozing talent and clearly she is going to be one to watch.
GINNY GRANT
ADDRESS: St Patrick's Square, Wyndham St, Auckland
LUNCH: Mon-Fri during December,
DINNER:  Mon-Sat set menu 4-courses $119, 7-courses $165
WEBSITE: thegroverestaurant.co.nz 09 368 4129
SCORE: 16 / 20