Helen and Richard Dorresteyn of Clevedon Buffalo were the first people to farm buffalo in New Zealand and are famous for their Italian-style cheeses and yoghurt. This new-to-the-market cheese is a beautifully creamy number, meltingly soft and marinated in olive oil, thyme and roasted garlic. It's easily spreadable and has a light, tangy flavour. It's such a brilliant product that I am loathe to play around with it, instead keeping the preparations simple to allow the flavour to shine through – although it (and some of that delicious oil) does go well tossed through a tangle of spaghetti with some chilli flakes and a few herbs, or dolloped onto an Italianstyle frittata with seasonal vegetables.
Braised garlicky greens & bruschetta Grill slices of sourdough, rub with raw garlic and brush with a little oil from the jar of marinated buffalo cheese. Blanch spinach, silverbeet, cavolo nero or kale in boiling salted water until tender, drain and squeeze out the excess water. Fry the greens in extra virgin olive oil with chopped garlic, chopped chilli and grated lemon zest (add some chopped anchovy if you like) and cook for a few minutes. Add chopped black olives and season generously with salt and freshly ground black pepper. While the greens are still warm, dollop on some of the cheese so it starts to melt in, then pile everything on to the bruschetta.
Crackers with marinated buffalo cheese, pomegranate molasses & sumac For effortless snacking possibilities, spread buffalo cheese on your favourite cracker, drizzle with pomegranate molasses and sprinkle with sumac. A slice of tomato here wouldn't go amiss either.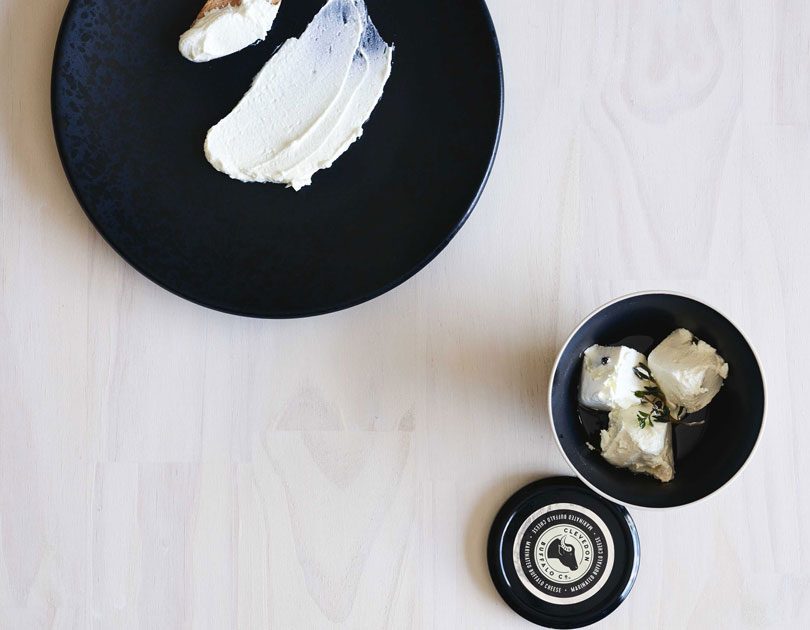 LENTIL & ZUCCHINI SALAD WITH BUFFALO CHEESE

Cook ½ cup lentils (I used beluga, but Puy are also good) until just tender. While still warm, toss with a dressing of 2 teaspoons Dijon or other mild mustard, 1 tablespoon red wine vinegar and 3 tablespoons extra virgin olive oil (or use oil from the marinated cheese jar). Cut 4 zucchini into rounds and fry in olive oil until just tender. Toss with the lentils and add plenty of fresh herbs such as parsley, mint and basil. Dollop on som