GRILLED STEAK WITH STEAMED EGGPLANT SALAD

Marinate a couple of steaks (I used Silver Fern Farms New York Strip Steaks) in 1 tablespoon soy sauce, 1 teaspoon rice vinegar, a minced clove of garlic and 1 teaspoon grated ginger for 30 minutes to an hour. Cut 4 long, skinny Asian eggplants (or 1 large eggplant) into halves widthwise then into 7cm lengths. Steam for 8-10 minutes, then carefully toss with a mix of 2 tablespoons soy sauce, 1 tablespoon gochujang paste, 2 teaspoons sesame oil and 2 sliced spring onions. Put onto a platter and scatter with toasted sesame seeds (white, black or both). Grill the steaks for 3-4 minutes on each side depending on thickness. Rest for 5 minutes then slice. Serve with rice.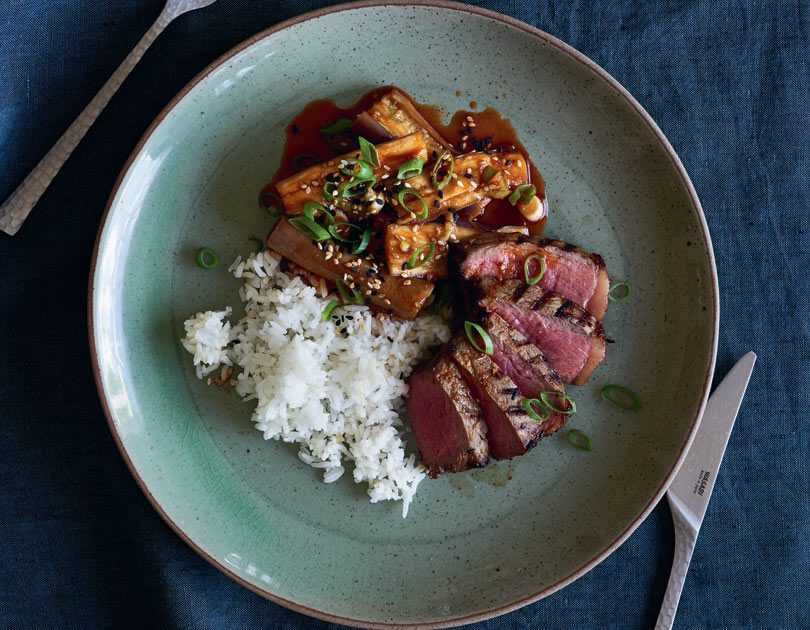 Fennel & mussels with linguine
Steam open mussels with a little white wine, reserving the liquor. Remove the mussels from the shell and chop roughly. Fry coarse breadcrumbs in olive oil and set aside. Fry a chopped shallot or small red onion with a chopped fennel bulb until soft, add chilli flakes and lemon zest then add the mussels and liquor to heat through. Cook some linguine, drain and add to the pan to coat in the juices. Toss through plenty of chopped parsley, season to taste and top with the toasted breadcrumbs.
Ginger chicken
Mix 400g minced chicken with 3 tablespoons sake and 2 teaspoons sugar. Fry over medium heat, breaking up the mince until it turns white. Add 2 tablespoons soy sauce and continue cooking, then add 2 teaspoons finely grated ginger and cook until most of the liquid has disappeared. Serve on steamed rice with boiled edamame and freshly cooked corn stripped from the cob.
Fresh corn & chicken risotto
Strip corn from the cob and set aside. Simmer the cobs gently in chicken stock. Fry thick strips of chicken thigh until just browned and set aside. Fry chopped onion and garlic until soft, add risotto rice and toast for a few minutes. Add a little white wine, then start adding the stock, ladle by ladle, for 15 minutes. Add the chicken and any juices and the corn and cook until the chicken is cooked through and the rice is al dente. Add a dollop of crème fraîche, some lemon juice, freshly chopped tarragon and freshly grated parmesan to finish.
Roasted pumpkin with crumbled sausage
Cut pumpkin into smallish chunks and roast in the oven with some chopped garlic, a dash of white wine vinegar and olive oil until tender. Remove pork sausages from their casings and pan-fry, breaking up any big lumps, until well browned and crisp at the edges, then add chopped fresh sage or parsley and chilli flakes to the pan and scatter with sliced black or green olives. Toss with the cooked pumpkin, add a dash more vinegar and serve.
Oven-roasted ratatouille
Toss together sliced eggplant, sliced capsicums, rounds of zucchini, thinly sliced red onion and thinly sliced garlic with olive oil and season well. Divide between a couple of lipped baking trays and roast in a hot oven for 40-50 minutes. About halfway through, scatter over peeled, chopped tomatoes and torn basil and cook everything until tender. Toss together in a bowl and adjust seasonings, adding a dash of red wine vinegar and extra basil. Delicious with some pan-fried lamb.
Grilled lamb leg steaks with smashed new potatoes
Marinate lamb leg steaks in a mix of garlic mashed with a little salt, finely grated lemon zest, chopped thyme leaves and olive oil. Boil new potatoes in salted water until tender, drain well, then roughly break up with a fork. Add a dash of white wine vinegar, extra virgin olive oil, capers, green olives and chopped parsley. Season the lamb and grill for a few minutes on each side. Serve the lamb and potatoes with a crisp green salad.