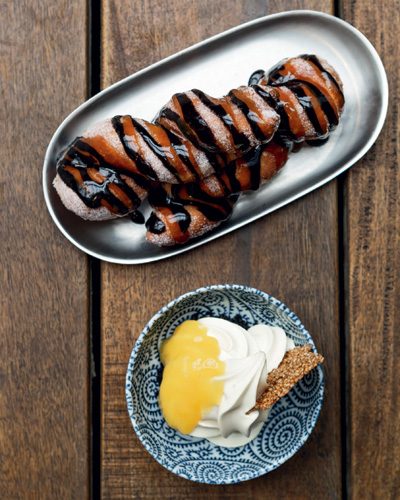 Intrigued by the name and whether it hinted at what we might expect on the menu, I Googled. Delving deep into Urban Dictionary gave some interesting options though I suspect the owners may want to distance themselves from the more extreme alternatives.
Finding no real enlightenment before I booked we asked at the restaurant and were told that Beasty refers to something that is cool and excellent while the Hello refers to the offering of a warm and friendly welcome. It's a description that fits superbly well. Manager Kate Woodhead is one of the nicest and most engaging restaurant hosts I've come across. Not only was her greeting to every guest who crossed the threshold that night thoroughly professional, so too was her calmness, her attentiveness and the generosity of her smile throughout the evening. Did she put us in a positive frame of mind? You betcha! But that's not the only thing that made this a memorable meal.
Stuart Rogan along with partner Emma opened Hello Beasty towards the end of last year. I've eaten Rogan's food on many occasions; when he cooked at The Grill by Sean Connelly and when he was group executive chef for the Good Group owner/operators of high-profile eateries Harbourside Ocean Bar Grill, Botswana Butchery in Auckland and Queenstown, and White + Wong's. It's always been high quality but I think the food at Hello Beasty is his best work. There's a deceptive simplicity, a cleanliness of flavours and extraordinary balance on every plate. Most noticeable are his mastery of flavour combinations and the delicacy of his cooking. For example the line-caught trevally with pickled radish avocado purée and yuzu kosho ponzu was ravishing in its simplicity and satisfaction. If our night had ended there I would have been satisfied. But there was more. The karaage chicken in its red dragon sauce, showed how something deep fried can be light, moist and crisp at the same time and does not need to taste of frying oil. We particularly
enjoyed the Chinese pork belly, too, with its thin, crisp skin and tender meat. It was impressive even without the spiced cucumber and Korean barbecue sauce, but these condiments provided an opportunity to experiment with our own combinations. The white kimchi was not as pickled as I am used to, so did not rock my boat quite as much as the other options. Two other smaller dishes – the spinach, charred corn and tofu dumplings and the chicken and prawn potstickers – though not the same showstopping quality, were very good as well.
The most impressive dish however  was the substantial slow-cooked lamb shoulder with red chilli and Sichuan sauce. Beautifully tender, the pepper provided a gentle heat around the palate. This was balanced perfectly by the coriander and mint and the hint of cumin that, in combination, gave the dish an almost Indian nuance. It really was mouth-wateringly good.
I must also mention the side of carrots recommended by our waiter. For us this could be a signature dish, one that demonstrates the consummate skill Rogan brings to his menu. The carrots were roasted and served whole with white miso dressing, sesame purée and shaved bonito furikaki. The dish was a meal in itself, the carrots soft and sweet, the miso contributing the sesame savoury while the furikaki added the umami and the salt. Rogan knows his Asian cuisines. He has considerable technical skill and he has a passion for balancing ingredients. In this one dish he managed to combine all these in one understated flourish.
The dessert selection is short. We had the parfait and kkwabaegi which were both artfully presented and delicious, but seemed a little out of place among this menu of Asian fusion.
If you are looking for a genuine example of cleverly conceived fusion food cooked with passion and finesse then Hello Beasty should definitely be on the bucket list.
KERRY TYACK
ADDRESS: 95-97 Customs St West, Viaduct Harbour, Auckland
LUNCH & DINNER: 7 days, mains $24-$36
WEBSITE: hellobeasty.nz, 021 554 496
SCORE: 15.5 / 20