FOOD LEGEND / LONG-TERM PLAYER
WINNER
SPONSORED BY PEAD.
ADDRESS:   284 Trafalgar St, Nelson
CHECK WEBSITE FOR OPENING HOURS
MAINS:   $36 – $43
WEBSITE:    hopgoods.co.nz
CONTACT:   03 545 7191
SCORE:   18 / 20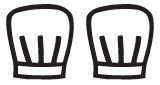 Familiarity breeds contentment in the long-term partnership of owner Kevin Hopgood and head chef Aaron Ballantyne. They've been working together for 15 years and the harmony is reflected in what they produce. Consider the finish, for starters: a dessert of 70% chocolate mousse with cherry, amaretto and caramelised milk gelato. Flavour and texture explode from each component and with all the colours of a Chardin painting it's an illustration of something particularly fabulous. The predecessors are equally impressive, such as our fish of the day – hake – which Kevin had brined on arrival to help it keep its form. Sautéed artichoke and crisp cauliflower made a great counterpoint. Everything is taken into account, from the sparkling glassware to the gracious oversight of the dining room. Hopgood's has that magic capacity to make you feel that dining out is something to delight in.
IN BRIEF Sumptuousness served in a gleaming, inviting space

---