ADDRESS:   67 Shortland St, Auckland CBD
CHECK WEBSITE FOR OPENING HOURS
MAINS:   $34 – $40
WEBSITE:    hugosbistro.co.nz
CONTACT:   09 320 4387
SCORE:   17 / 20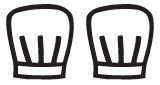 If it's not already on it, Hugo's should be on your list. Sit at the bar under the big globe lights or head to one of the cosy banquettes at the back if you're dining. A cocktail from a small but enticing selection will kickstart your food choices from chef Alfie Ingham's menu. His impressive pedigree, which includes Sidart and Merediths, has morphed into a desire to reinvent the French classics, rather than go down the fine- dining route. It works. One bite of the duck liver parfait with blood orange preserve, or the warm strawberry, fig leaf and almond tart is enough to convince. Ingredients are fresh and thoughtfully sourced; each dish shouts 'eat me'. Partner Sophie Beaton looks after the front of house and curates the wine list with obvious skill, presenting interesting options from small producers. Service is just as it should be – friendly, informed and professional.
IN BRIEF: Modern bistro done to perfection
---