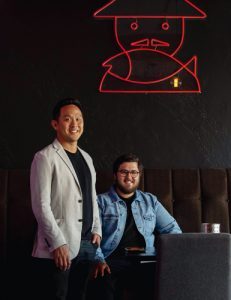 IN BRIEF
Casual, family-friendly Chinese with a modern twist and a kick of spice for those who like it hot.
WHY CHOOSE THIS RESTAURANT?
Forget MSG-laden, bulk-cooked Chinese food crammed into a plastic pottle to carry home. Take table time and enjoy the fun and feisty Sichuan-influenced dishes at one of Auckland's most popular go-to eateries. The service is slick and the beer suitably cold. The kids will love using the Sharpie to mark up their order on the menu while the rest sit back and soak up the up-tempo vibe between moreish mouthfuls.
ABOUT THE FOOD
The succulent, cheap-as-chips meat and fish skewers are especially juicy and full of flavour, while the platters of spicy chicken wings will have everyone at the table fighting over any remaining morsel. For those who prefer something less challenging, the Dandan noodles are recommended while the spicy pork dumplings and the Mala seafood hot pot are from another planet. For an extra treat, go for the Xiao Long Bao with moist pork filling and, for a finish with a flourish, order the sweet and sassy fried Chinese buns with condensed milk.
The Restaurant Interior

Fried Chinese Buns with Condensed Milk from Mr Hao

Spicy Mala Seafood

A selection of skewers and seafood from Mr Hao
ABOUT THE CHEF
Co-owner/chef Paul Wong is New Zealand born-and-bred but has spent long periods owning and operating restaurants in Shanghai. His experience goes well beyond Chinese food, sashaying seamlessly through modern French and Italian cuisine as well. The late-night dining and drinking havens (shaokao) around Shanghai are the primary inspiration behind Mr Hao. The easy-to-eat, good-value dishes found there reflect Wong's feel for flavour-filled food with broad appeal.
ABOUT THE TEAM
Coordinated by co-owner Julian Diprose, the service is slick and tidy. It's fascinating watching Diprose expertly marshalling his team to ensure speedy food delivery as waiters wend their way between tightly packed tables. The bar staff, too, are more than capable, happily making recommendations from a cocktail list that includes a range of terrific tea-based drinks – on tap!
OF NOTE
While the décor is eclectic and the atmosphere fun, nothing takes the focus off Mr Hao's excellent food, prepared with consummate skill underpinned by a deep knowledge of regional Chinese cuisine. It's a very clever concept executed with precision.
ADDRESS: 365 Dominion Road, Auckland
DINNER: Tue – Sun
MAINS:  $15 – $38
CONTACT: 09 214 8501
WEBSITE: mrhao.co.nz