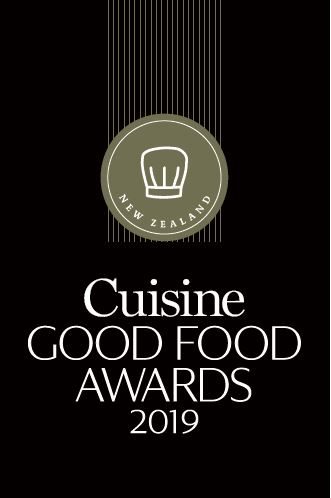 ADDRESS:  50 Park Terrace, Christchurch
DINNER:  Tue – Sat
MAINS:  5-course $135
WEBSITE: thegeorge.com/dine/pescatore
CONTACT: 03 371 0257
SCORE:  17 / 20 In the George Hotel in Christchurch, the entrance to Pescatore looks out over the weeping willows of Hadley Park and is in stark contrast to its surrounds. The all-white décor is immersive; white walls and marble floors evoke A Space Odyssey feeling. The restaurant itself provides further deviations as honey-coloured wood and backlit panelling featuring native flora capture a contemporary elegance. As the name suggests, the menu leans towards seafood. Chef Ryan Henley's culinary philosophy intertwines sustainably caught seafood with seasonal foraged ingredients. The Zen-like plating of the dishes marries art and cuisine: the slow-cooked organic egg yolk is served in the middle of a deep black bowl, its glistening orangey yolk surrounded by a white potato purée. Sommelier Keith Larson easily imparts the minutiae of menu information and his enthusiasm for wine alongside exceptional cuisine makes for a memorable dining experience.
IN BRIEF Seafood at its finest in a modern setting