Heidi Swanson
Ingredients
| | |
| --- | --- |
| | 1 bunch curly kale, stems trimmed and ribs removed |
| | 1½ tablespoons extra- virgin olive oil |
| | 15g nutritional yeast |
| | scant ⅛ teaspoon fine-grain sea salt |
The rule around here is simple: if the oven is on for any reason, make a batch (or two) of these kale chips. They're great straight off the tray and also make the perfect super- green finishing touch to all manner of things. Crush over just- baked flatbreads or add them as a crunchy salad topping or to finish your favourite noodle bowl. The key here is to use curly kale. And after washing it, make sure it is completely dry. If there's residual water on the leaves, they'll steam instead of crisp. Be sure to keep your eye on the kale while it's baking; the only thing I burn more than kale chips is pine nuts.
View the recipe collection here
Instructions
| | |
| --- | --- |
| 1. | Preheat the oven to 190°C and place a rack in the centre. |
| 2. | Tear the kale into bite-sized pieces. |
| 3. | You should end up with about 90g or enough to cover a baking tray in a single layer. |
| 4. | Transfer the kale to a large bowl and toss it well with the oil, yeast and salt. |
| 5. | Really get in there and massage the kale. |
| 6. | Arrange the kale on a baking tray or two as needed to make a uniform layer. |
| 7. | Bake for 15-17 minutes, flipping the kale once after 10 minutes, until it has crisped up nicely. |
| 8. | Let the kale cool completely on the tray for maximum crunch. |
| 9. | Store it in a jar with a lid or another airtight container at room temperature for up to a week. |
Recipes and Photography Heidi Swanson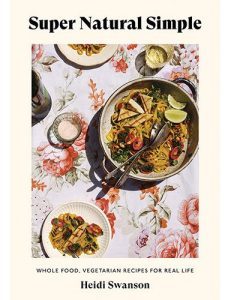 This edited extract
is taken from Super
Natural Simple by Heidi
Swanson, published
by Hardie Grant
Books (RRP $45) and
available where all
good books are sold.