Heidi Swanson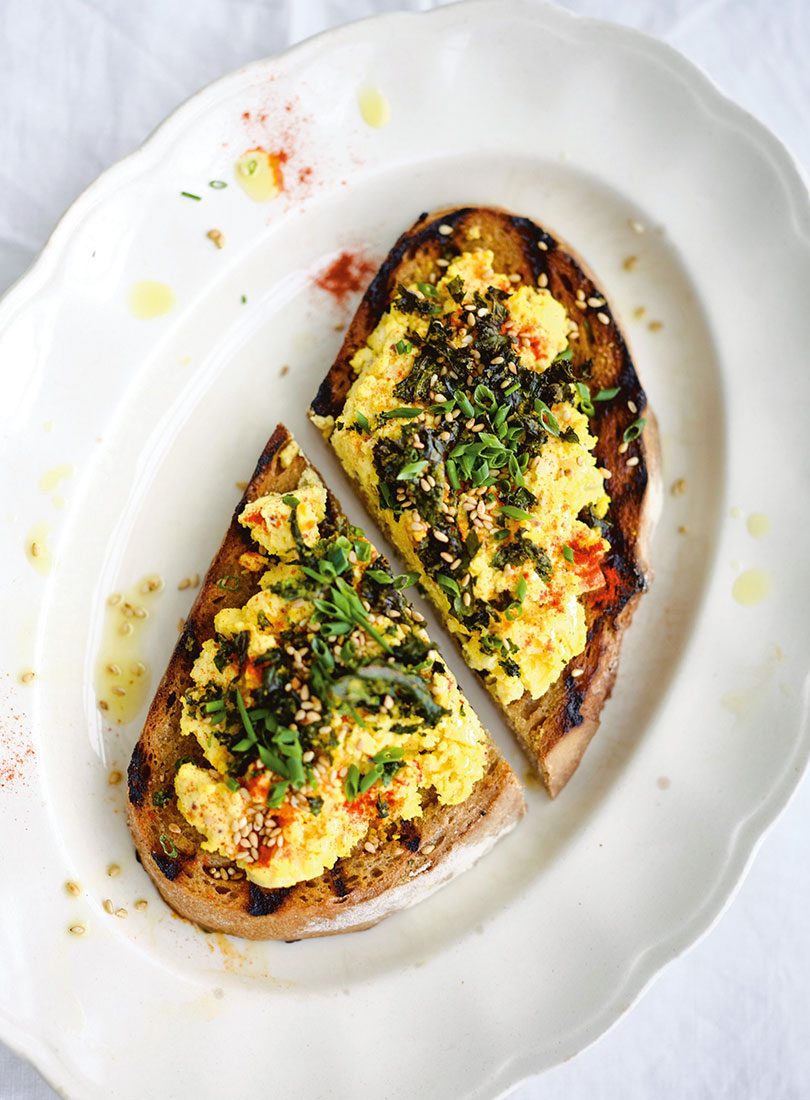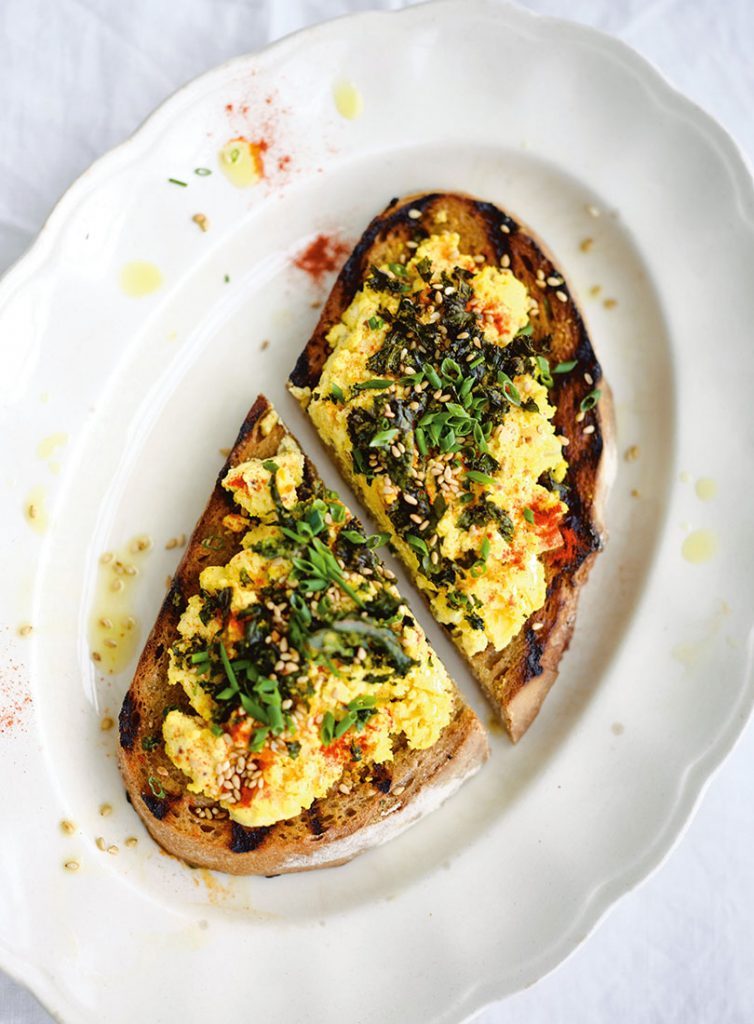 Preparation
5 mins or 10 mins if making the Kale Chips
Cook
20 mins or 35 mins if making the Kale Chips
Ingredients
| | |
| --- | --- |
| | 12 eggs |
| | ¼ cup plain Greek yoghurt |
| | 1 tablespoon extra- virgin olive oil |
| | scant ½ teaspoon fine-grain sea salt |
| | 2 teaspoons Dijon mustard |
| | 3 tablespoons minced white onion |
| | 4-6 slices wholegrain bread |
| | paprika, chopped chives, toasted sesame seeds and/or crushed crispy curly kale chips , to top |
This toast requires top-quality bread and a heavy hand with extra toppings; they make all the difference. You can prepare the devilled egg spread up to 3 days ahead.
View the recipe collection here
Instructions
| | |
| --- | --- |
| 1. | Place the eggs in a large pot and fill it with cold water to cover the eggs by 1cm. |
| 2. | Bring the water to a gentle boil over a medium-high heat, then turn off the heat and cover the pot. |
| 3. | Let the eggs sit for exactly 10 minutes. |
| 4. | In the meantime, prepare a large bowl of iced water. |
| 5. | When the eggs are done cooking, use a slotted spoon to transfer them to the ice bath to cool. Peel the eggs. |
| 6. | To make the devilled egg spread, cut each egg in half and use a spoon to scoop the yolks into a bowl. |
| 7. | Reserve the empty whites for another use (I like to chop them for fried rice). |
| 8. | Mash and fluff the yolks with a fork, then add the yoghurt, 1 teaspoon of the olive oil, the salt, mustard and onion. |
| 9. | Continue to mix and mash until the yolk mixture is creamy and cohesive. |
| 10. | Toast or grill the bread and slather each slice generously with the egg spread. |
| 11. | Sprinkle the toasts with paprika, drizzle with the remaining 2 teaspoons olive oil, and finish with any or all of the toppings. Serve immediately. |
Recipes and Photography Heidi Swanson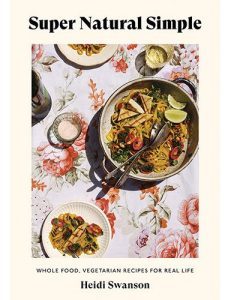 This edited extract
is taken from Super
Natural Simple by Heidi
Swanson, published
by Hardie Grant
Books (RRP $45) and
available where all
good books are sold.