Fideua with Squid & Prawns, Lemon & Garlic Allioli
Sarah Tuck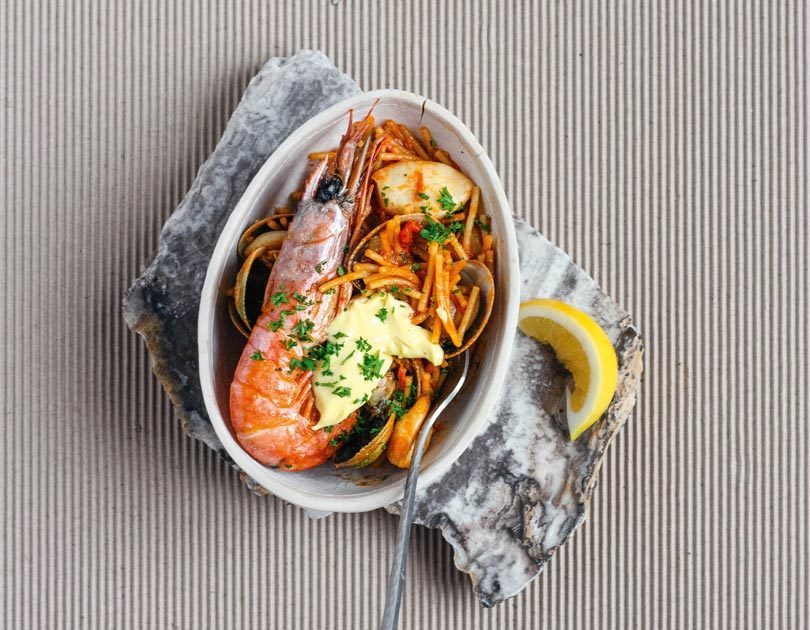 Ingredients
| | |
| --- | --- |
| | 1 tablespoon lemon juice |
| | 750ml-1 litre fish stock (start with 750ml and only add extra if needed) |
| | 1⁄4 cup olive oil |
| | 300g angel hair pasta, broken into 3cm lengths |
| | 8 jumbo king prawns (I used vast Argentine ones) |
| | 1 large onion, finely chopped |
| | 4 cloves garlic, crushed |
| | 300g baby squid tubes |
| | 3 large tomatoes, finely chopped |
| | 2 tablespoons tomato paste |
| | 2 teaspoons smoked paprika |
| | 1⁄2 teaspoon saffron strands |
| | 600g cockles |
| | 2 lemons, cut into wedges, to serve |
| | 1⁄4 cup finely chopped parsley, to serve |
| | lemon & garlic aioli, to serve |
| | LEMON & GARLIC ALLIOLI (MAKES JUST OVER 1 CUP) |
| | 4 cloves garlic, peeled |
| | 1⁄2 teaspoon sea salt |
| | 2 egg yolks |
| | 1 cup extra virgin olive oil |
| | 2 teaspoons lemon juice |
FOOD MATCH:
THE CIVIL SERVANT WITH FIDEUA WITH SQUID & PRAWNS, LEMON & GARLIC ALLIOLI
There's so much going on with fideua that you need a cocktail that is itself both comforting and complicated. This drink is a real balance of fresh and aged flavours, spice and floral notes. With a dish like this it would be easy to pair with purely fresh flavours but the oak on the cognac and the spice from the bitters allows us to tie in with the pan-fried joy of fideau. Also the anise in the fennel is a great bridging flavour between the dish and the cocktail.
Fideua is a little like paella made with pasta such as spaghettini or angel hair pasta snapped into short lengths.
Instructions
| | |
| --- | --- |
| 1. | Put the lemon juice and fish stock in a pot and heat until just simmering. |
| 2. | Put 1 tablespoon of the oil in a large frying or paella pan and fry the pasta pieces for 2 minutes, until lightly golden, then set aside. |
| 3. | Put another 2 tablespoons of the olive oil in the pan and add the prawns. |
| 4. | Cook for a few minutes on each side until cooked through, then remove from the pan. |
| 5. | Add the remaining oil to the pan with the onion and garlic. Cook for 4-5 minutes then add the squid. |
| 6. | Cook for 2 minutes then add the tomatoes, tomato paste and paprika and stir to combine. |
| 7. | Cook for another 2 minutes, then add the pasta. |
| 8. | Cook for 1 minute then add 1⁄4 of the stock and the saffron. |
| 9. | Add more stock as it becomes reduced, cooking for about 7 minutes. |
| 10. | Add the prawns back in with the cockles and cook a further 3-4 minutes until the cockles are open, the pasta is cooked through and the stock is almost completely reduced. |
| 11. | Serve with lemon wedges, a sprinkling of parsley and lemon and garlic allioli. |
| 12. | LEMON & GARLIC ALLIOLI |
| 13. | Put the garlic cloves in a mortar and pestle with the salt and smash to a smooth paste. |
| 14. | Transfer to a large jug or blender and whisk in the egg yolks. |
| 15. | Whisk in the olive oil drop by drop until it emulsifies; as it thickens the oil can be added in a thin drizzle. |
| 16. | (This can also be made using a stick blender, adding the oil drop by drop.) |
| 17. | Once all of the oil has been added, whisk in the lemon juice and season to taste with extra salt if desired. |
| 18. | Store in a sealed container in the fridge for up to 4 days. |
Food recipes, food styling & photography Sarah Tuck; cocktail recipes and cocktail styling Peter Lowry & Laura Walker; cocktail photography Nicola Edmonds
Click here for the cocktail recipe The Civil Servant