Chicken, Green Olive & Manchego Frittata, Fresh Spring Greens
Sarah Tuck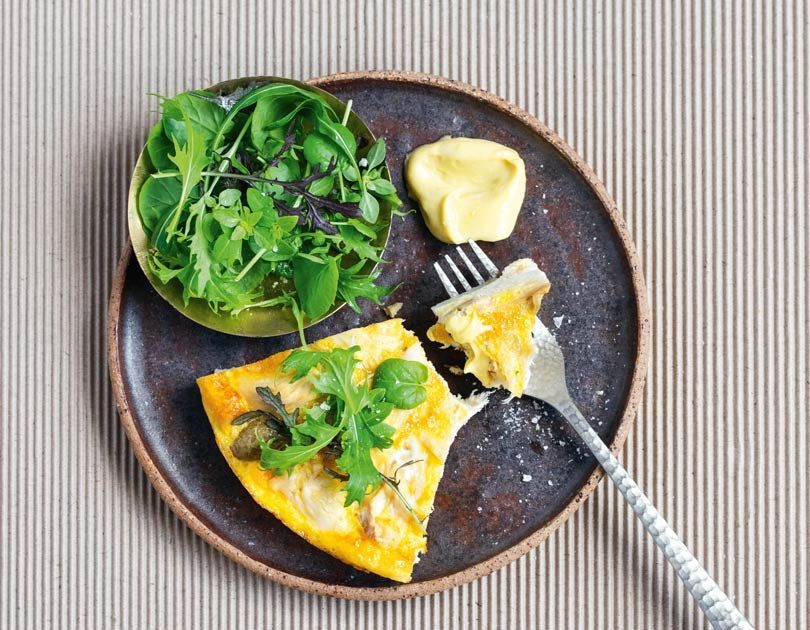 Ingredients
| | |
| --- | --- |
| | 120ml olive oil plus 2 tablespoons extra |
| | 1 medium onion, finely chopped |
| | 300g waxy potatoes, peeled, halved and cut into thin slices |
| | 7 eggs, size 7 |
| | 300g shredded roast chicken |
| | 1⁄2 cup Spanish green olives, squashed with the base of a mug and stones removed |
| | 3⁄4 cup manchego cheese, grated |
| | FRESH SPRING GREENS |
| | 1 teaspoon olive oil |
| | 1 teaspoon lemon juice |
| | 2 cups mesclun salad mix |
| | 1 cup micro greens |
FOOD MATCH:
LIBERTÉ WITH CHICKEN, GREEN OLIVE & MANCHEGO FRITTATA, FRESH SPRING GREENS
This dish of shredded chicken, manchego and green olives has great textures, very important when pairing with cocktails as the cocktail flavours are honest and accessible. You could eat each individual element of the dish with the drink and it will work. And on a more subtle level, manchego loves bitterness and we all know gin loves olives.
The frittata has a pleasant tangy bite from the olives and manchego – it also pairs well with the allioli served with the fideua (recipe overleaf).
Instructions
| | |
| --- | --- |
| 1. | Heat 2 tablespoons of olive oil in a 22cm frying pan over a medium heat. |
| 2. | Add the onion and cook gently for 10 minutes until soft, then remove from the pan and set aside. |
| 3. | Heat the remaining oil in the pan, add the potato and cook 12-15 minutes until they are easily pierced with the tip of a knife. |
| 4. | Remove the potatoes and drain in a sieve to remove excess oil. (Do not wipe out the pan). |
| 5. | Whisk the eggs and season well with sea salt and freshly ground black pepper, (go lightly with the salt as the olives are also salty) and leave to stand for 10 minutes. |
| 6. | Stir through chicken, olives, and two-thirds of the manchego. |
| 7. | Preheat the grill and position the oven rack about 20cm from the SARAH TUCK element. |
| 8. | Heat 2 tablespoons oil in the pan over a medium heat. |
| 9. | Pour in the frittata mixture and cook for about 12-15 minutes until it is starting to come away from the edge of the pan. |
| 10. | Sprinkle with the remaining cheese and put under the grill for a further 5 minutes until just cooked through and golden. |
| 11. | Serve at room temperature topped with fresh spring greens. |
| 12. | If you wish, add a dollop of the allioli from the fideua dish. |
| 13. | FRESH SPRING GREENS |
| 14. | Whisk the oil, lemon juice, some salt and freshly ground black pepper in a bowl and toss through the salad mix and micro greens. |
| 15. | Serve on slices of frittata. |
Food recipes, food styling & photography Sarah Tuck; cocktail recipes and cocktail styling Peter Lowry & Laura Walker; cocktail photography Nicola Edmonds
Click here for the cocktail recipe Libertè