Fiona Smith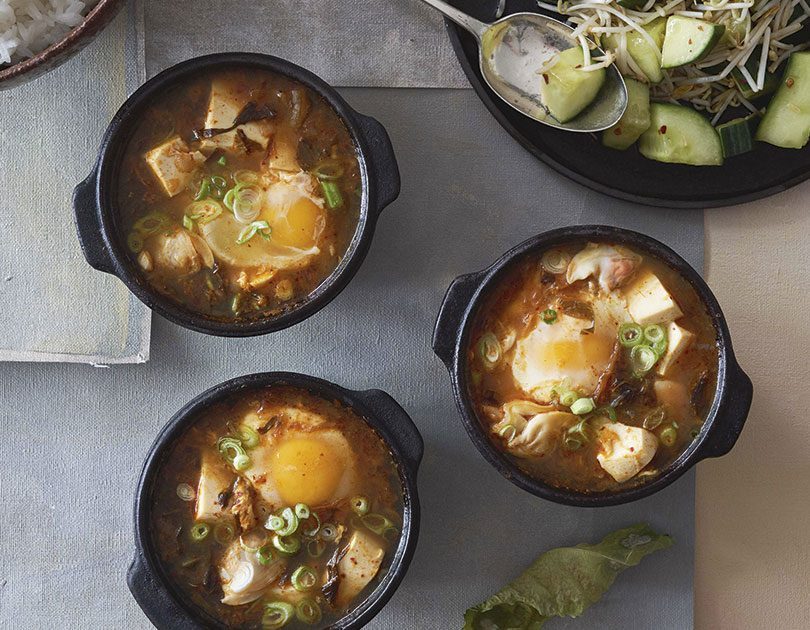 Ingredients
| | |
| --- | --- |
| | 2 tablespoons sunflower oil |
| | 2 cloves garlic, crushed |
| | 3cm piece ginger, grated |
| | 1.5kg pipi, or other shellfish |
| | 1 onion, finely chopped |
| | 2 tablespoons fermented chilli bean paste such as toban djan or gochujang |
| | 1 cup kimchi, finely chopped |
| | 1½ teaspoons (1 sachet) dashi powder |
| | 1 tablespoon soy sauce |
| | 300g silken/soft tofu, cut in 2cm cubes |
| | 4 small eggs |
| | 2 spring onions, finely sliced rice to serve |
| | FOR THE CUCUMBER & BEAN SPROUT SALAD |
| | 1 telegraph cucumber |
| | 200g mung bean sprouts |
| | 1 teaspoon salt |
| | 1 garlic clove, finely chopped |
| | 1 teaspoon sugar |
| | 1 teaspoon sesame oil |
| | 1 teaspoon chilli oil |
| | 1 tablespoon rice vinegar |
| | 1 tablespoon soy sauce |
Wine Match
An off-dry pinot gris, such as Mission Estate Marlborough Pinot Gris 2017.
"A new take on Korean hot tofu soup that uses pipi with silky soft tofu – served bubbling hot in cast-iron bowls, it's light and refreshing."
Korean hot tofu soup can be made with a meat base but I have based this version on my sister Meredith's favourite soup – from the long-gone Korean restaurant at Auckland's Mercury Plaza – which included little clams. The egg is added at the last minute and thickens the soup as you stir it through. If you are feeling hungry, double the quantity of tofu.
Instructions
| | |
| --- | --- |
| 1. | Heat 1 tablespoon of the oil in a large saucepan over a medium heat, add the garlic and ginger and fry for 1 minute. |
| 2. | Pour in 1 cup of water, raise the heat to high and bring to the boil. |
| 3. | Add the pipi, stir around quickly, cover and cook for 3 minutes, shaking the pan to move the pipi around. |
| 4. | Take off the heat and scoop the pipi out into a bowl. |
| 5. | Remove the meat from the shells and set aside |
| 6. | Carefully pour the pan juices plus any from the scooped out pipi into a container and set aside, discarding the last bit in case there is any sand (if you have purged the pipi you shouldn't need to). |
| 7. | Heat the remaining tablespoon of oil in the saucepan and cook the onion with a sprinkle of salt for 10 minutes over a medium/low heat until it is soft. |
| 8. | Raise the heat to medium and add the chilli bean paste and cook for 1 minute. |
| 9. | Add the kimchi and cook for 2 minutes. |
| 10. | Add the collected juices along with 4 cups of water, the dashi stock and the soy sauce and bring to a steady simmer. |
| 11. | Taste, season with more soy sauce or salt if needed. |
| 12. | Add the tofu and bring up to steady simmer again then add the pipi meat. |
| 13. | You can either spoon the soup into heated bowls, break an egg into each and sprinkle with spring onion. |
| 14. | Or carefully break the eggs on top of the soup in the pan, ladle one egg and soup into four heated bowls and scatter with spring onion. |
| 15. | Serve with rice and the cucumber & bean sprout salad. |
| 16. | FOR THE CUCUMBER & BEAN SPROUT SALAD |
| 17. | Cut the cucumber into chunks, put in a colander with the bean sprouts and toss with the salt. |
| 18. | Leave to drain for 10 minutes, tossing once or twice. |
| 19. | In a bowl, combine the garlic, sugar, sesame oil, chilli oil, rice vinegar and soy sauce. |
| 20. | Toss through the cucumber and bean sprouts just before serving. |
Recipes & Food Styling Fiona Smith / Photography Aaron Mclean / Styling Ellen J Hemmings