SPICED PERSIAN RICE WITH LAMB, BEANS, FLATBREAD TAHDIG & ALMONDS
Fiona Smith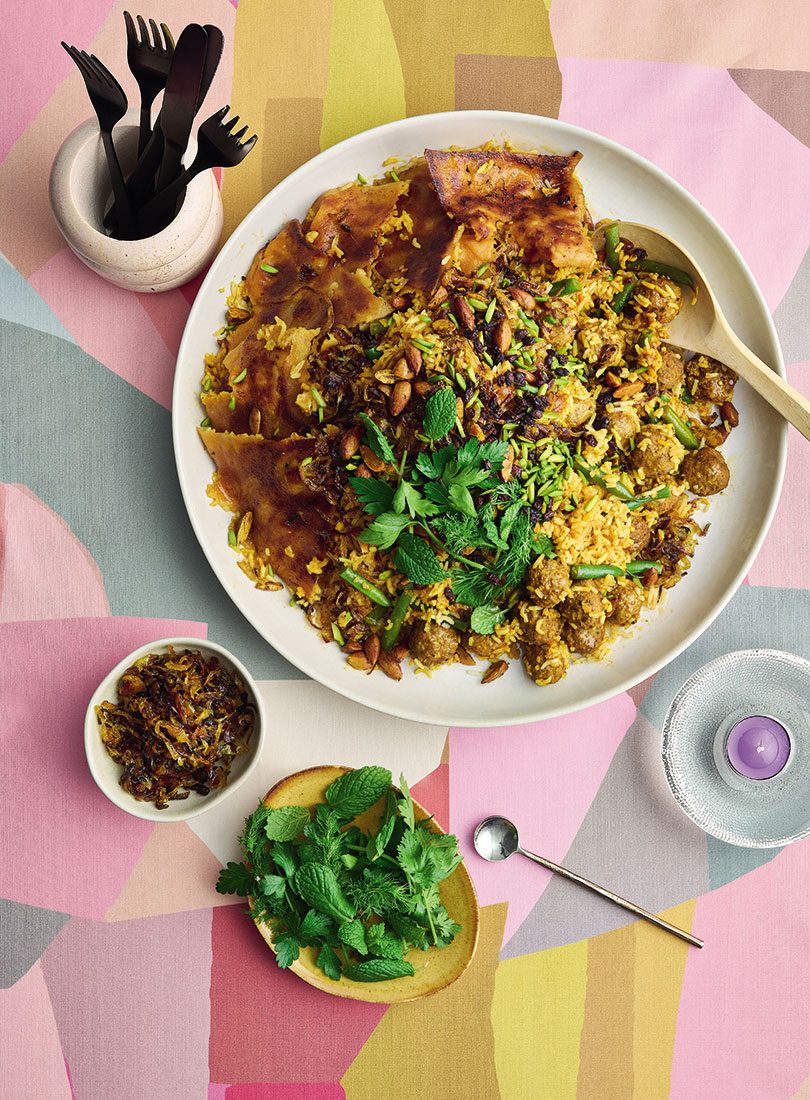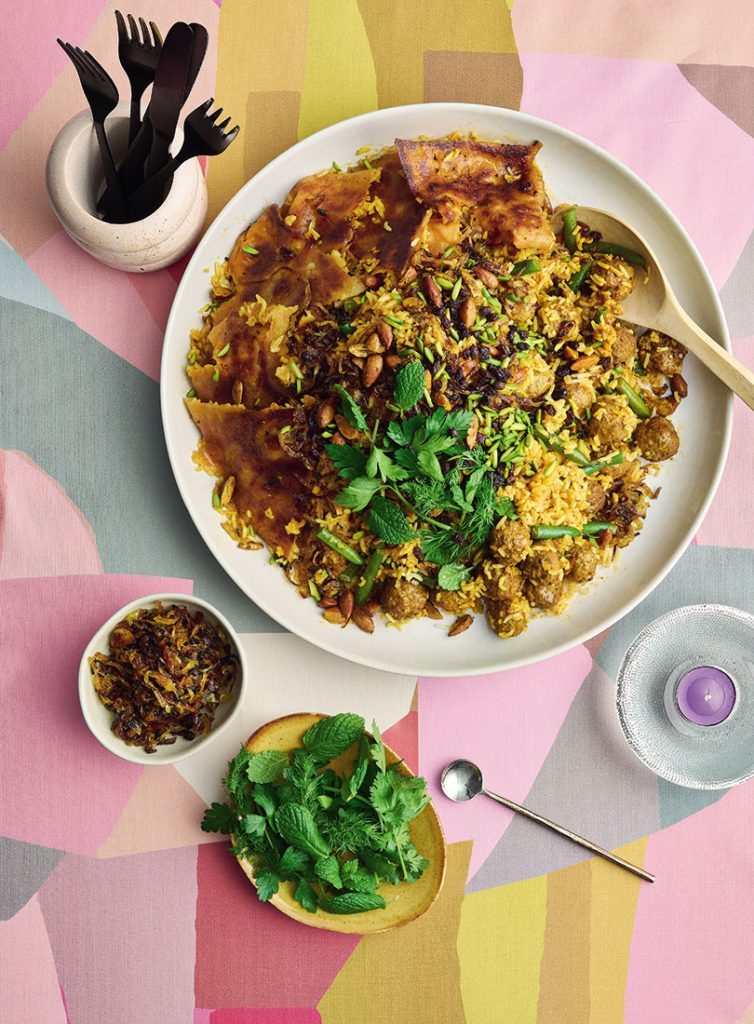 Preparation
40 mins plus steeping and cooling time
Cook
60 mins plus resting time
Ingredients
| | |
| --- | --- |
| | 2 cups basmati rice |
| | 2 tablespoons salt, plus extra to season |
| | 500g minced lamb |
| | 3 tablespoons chickpea flour or ¼ cup fresh breadcrumbs |
| | 1 egg |
| | 5 tablespoons spice mix (see recipe below) |
| | ¼ teaspoon saffron |
| | 8 tablespoons olive oil |
| | 1 large onion, thinly sliced |
| | 3 tablespoons tomato paste |
| | 400g green beans, cut into 3cm pieces |
| | 1½ cups vegetable stock, boiling |
| | 1 cup almonds |
| | 1 teaspoon flaky sea salt |
| | 1–2 thin pita bread |
| | 50g butter |
| | chopped pistachios, barberries, lemon, parsley, mint or dill, to serve |
| | SPICE MIX |
| | 2 tablespoons cardamom pods |
| | 2 tablespoons coriander seeds |
| | 1 tablespoon cumin seeds |
| | 2 teaspoons caraway seeds |
| | 1 teaspoon black peppercorns |
| | 6 cloves |
| | 1 tablespoon ground cinnamon |
| | 1 tablespoon turmeric |
Many Persian rice dishes are special occasion foods that can involve multiple steps and long cooking times. Here I have simplified a few steps so all the parts can be prepared early in the day or the day before and assembled fairly quickly before serving.
Tahdig, the crisp base of many Persian rice dishes, is the star of the show but it can take years to perfect. Here I use flatbread on the base as this is an easy one to get right; use a thin-style pita bread rather than fluffier and doughier ones. The wider your pan, the more tahdig you will get, so I like to use the widest pan I have: a 28cm casserole is perfect.
Barberries add a sweet/sour acidity, but if you don't have them you could squeeze over a little lemon juice. If you have vegetarian guests, you can cook the meatballs separately, spoon over some of the green bean mixture to keep them moist and reheat separately to serve.
View the recipe collection here
Instructions
| | |
| --- | --- |
| 1. | Put the rice in a large sieve and rinse thoroughly (up to 7 times) until the starch has all run out. |
| 2. | You will also need a large sieve for draining and rinsing the cooked rice, so if you don't have a large one, get two sieves ready. |
| 3. | Bring a very large saucepan of water to the boil and add the salt. |
| 4. | When boiling, stir in the rice, bring back to the boil and boil for 5 minutes (10 minutes for brown basmati) stirring occasionally to separate the grains. |
| 5. | Drain and rinse thoroughly with cold water to stop the rice from cooking, then set aside to cool. Refrigerate. |
| 6. | In a bowl, mix the lamb, chickpea flour or breadcrumbs, egg and 2 tablespoons of the spice mix and season with salt. |
| 7. | Mix well using your hands, then shape into small meatballs. Refrigerate until needed. |
| 8. | Grind the saffron to a fine powder in a small mortar and pestle. |
| 9. | Put the saffron in a small cup and pour over 60ml near-boiling water. |
| 10. | Cover with a saucer and leave to steep for 15 minutes. |
| 11. | Heat 3 tablespoons of the olive oil in a frying pan and fry the onions for 20 minutes with a good sprinkle of salt until very dark golden. |
| 12. | Remove the onions, squeezing out the oil back into the pan, and drain on kitchen paper. |
| 13. | Reheat the frying pan, adding more oil if you need it, and cook the meatballs in batches until brown. Set aside. |
| 14. | Add another tablespoon of oil to the frying pan and heat over a medium heat. |
| 15. | Add 2 tablespoons of the spice mix and cook for 30 seconds, then stir in the tomato paste and cook, stirring, for 3 minutes. |
| 16. | Add the beans, stock and saffron water, bring to the boil and cook for 3 minutes, then add the meatballs and set aside. |
| 17. | Heat the oven to 170°C. |
| 18. | Roughly chop the almonds and combine in a bowl with 1 tablespoon olive oil, flaky sea salt and 1 tablespoon of the spice mix. |
| 19. | Spread the nuts over a baking tray and cook for 10–12 minutes, shaking occasionally. Cool and store in an airtight container. |
| 20. | Cut the pita bread into triangles and separate each piece into single layers. |
| 21. | Heat a large, heavy-based pan over a medium heat and add the remaining 3 tablespoons oil and butter. |
| 22. | Lay the pita bread over the base, covering the entire base and not overlapping too much. |
| 23. | Spoon a third of the rice over the bread and top with half the meatball/bean mix, repeat and finish with a layer of rice. |
| 24. | Use the handle of a wooden spoon to poke 6 holes into the rice, down to the base. |
| 25. | Cover with a tea towel and lid, reduce the heat to low-medium and cook for 10–15 minutes, then turn off the heat and rest for 10 minutes. |
| 26. | Spoon the rice and meatballs onto a serving platter, then remove the flatbread tahdig pieces and arrange around the sides of the rice. |
| 27. | Scatter the top with the onions, spiced nuts and a selection of herbs, barberries, lemon and pistachios. |
| 28. | SPICE MIX |
| 29. | Crush the cardamon pods and remove the seeds, discarding the pod. |
| 30. | Put the seeds in a small frying pan with the coriander, cumin, caraway seeds, peppercorns and cloves and toast for about a minute until aromatic. |
| 31. | Transfer to a mortar and pestle and grind to a rough powder, adding a little salt to help you grind if you need it. |
| 32. | Stir in the cinnamon and turmeric and store in an airtight container for up to 1 week. |
Recipes & food styling Fiona Smith / Photography Tony Nyberg / Styling Fiona Lascelles