BAR BITES / PLANT-BASED EATERY, EAST
Each new day at East brings an opportunity to shine, with plant-based passions from noon to night
Growing up in Mumbai, Harmeet Singh Nanda was fortunate to be part of a food-focused family. Thanks to them, he discovered the power of a good meal at an early age. "When I was a small child I learned that food puts a smile on people's faces," he says. "My mother, my grandmother, my sisters and my aunts were all amazing home cooks, and in my family we were always thinking about what the next meal would be."
As executive chef at East, the Asian-inspired vegetarian restaurant in Auckland's Sudima Hotel, Harmeet is still focused on making 'the next meal' shine. But he's also taking a long-term view. "As a chef, I want to play a part in maintaining the well-being of the planet," he says. "With each new sunrise comes the opportunity to make good choices and I want to help people live sustainably."
East, which opened in 2021, is a great spot to pursue this line of action, reflecting the lifelong vegetarianism of its owners. Seventy-five per cent of the menu is vegan, while the wine list is 100 per cent organic (or biodynamic) and vegan.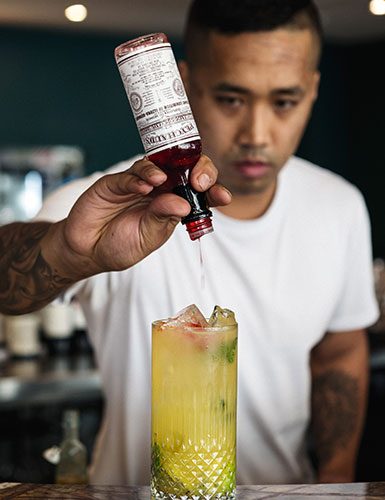 Working here neatly ties in Harmeet's overarching food philosophy with his life and work experience. He's been a chef for 20 years, having fallen in love with cooking while studying hotel management in Mumbai. After working in five-star hotels in India, he came to New Zealand in 2013.
Since then he's worked in a number of head chef roles in Auckland, including at the Bombay-style Urban Turban in the Wynyard Quarter, and Fort St Mediterranean stalwart Vivace.
The role at East, which neatly encompasses his interest in vegetarian eating, his experience in creating pan-Asian flavours and his experience in hotels, looked like the perfect fit. "I was more than willing to jump into this because eating this way is second nature to me. I'm a northern Indian and I grew up eating vegetarian food."
East's menu is best summed up as modern Asian vegetarian cuisine. Familiar flavours and dishes are given a new twist thanks to the plant-based focus. For instance, after a bit of trial and error, Harmeet has perfected a vegetarian XO sauce, replacing the fishy component with umami-rich shiitake mushrooms and adding a host of secret herbs and spices. On his menu, Peking jackfruit replaces traditional Peking duck and soy mince replaces pork in dan dan noodles, while matcha makes an appearance in an Asian-influenced 'matchamisu' dessert. "Our vision at East is to have a sustainable, health-conscious menu without compromise," Harmeet says. "Our food is hearty and bursting with flavour, and I think it's turning people's heads. We get a lot of first-timers who haven't eaten vegetarian food before and they are always happy with the spices. Our dishes are bold and boisterous; people say they don't realise the meat is missing."
While Harmeet eats meat occasionally at home – "I have a nine-year-old daughter who keeps me on my toes and I want her to be able to explore every kind of cuisine," – he's excited about the opportunities he has at East to influence others. He also works hard to support local producers and keep the menu as seasonal as possible. "I totally believe in the concept of plant to plate," he says. "My mantra is to support sustainable living and my goal is for East to be one of the best vegetarian restaurants in the world. We're challenging the stereotype that vegetarian food is boring." LUCY CORRY