OFF-GRID & OFF THE BEATEN TRACK FEELS LIKE HOME FOR A CHEF WHO SWAPPED THE METROPOLIS FOR THE GOOD LIFE, SAYS CLAIRE McCALL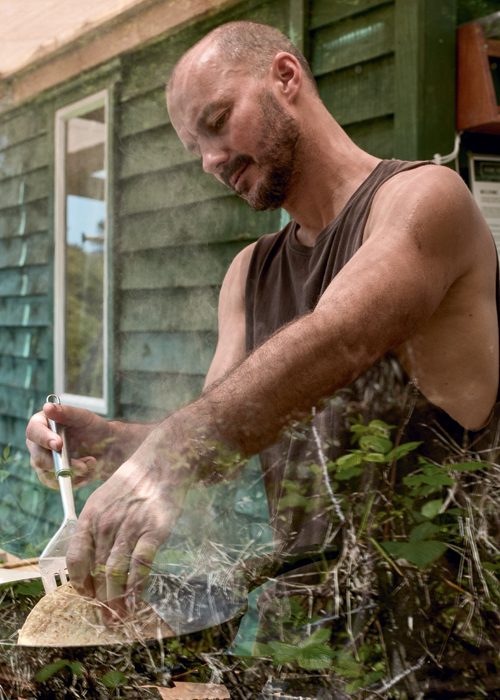 The tiny timber hut where chef Angus McLean hangs his hat only has an outdoor kitchen. For someone who once cooked amidst the hype and industry of London's best eateries, this may seem like a let-down. But the landscape of Te Henga, 35 minutes west of Auckland, offers an embarrassment of riches, and Angus would never turn back the clock.
Where once the day began with several quick shots of caffeine to ramp up the energy through the rush of service, now it starts with a salt-spray stroll along Bethells Beach and ends with a solar-powered shower beneath the cabbage trees. As The Barefoot Chef, Angus now operates day retreats at the four-hectare property he shares with a friend, Joy Lake. While age and stage might bring many of us to the point where we abandon the urban edge in favour of a gentler pace, Angus had a more imperative reason: his health. Up until that wake-up call, his path had been international, successful, some might say even glamorous.
Born in Cheshire, UK, he grew up with open-minded parents who were great travellers. "When friends came around for parties, they'd serve up big bowls of fattoush – Mum was a really good cook." A degree in archaeology gave him the excuse to travel to Jordan and Israel but it was the cuisine that lingered in his mind. So he darted off in a different direction and studied at Leiths School of Food and Wine, learning classical techniques which were soon abandoned for the fun of fusion at Peter Gordon's Providores and the generosity of rustic ingredients at Yotam Ottolenghi's Baker & Spice. Throw in a stint or two on Mediterranean superyachts, buying fish straight from the sea and shopping from Italian markets with no limit to the budget and, well, you get the picture.
The picture isn't always as it seems, however. "Being a chef is stressful so I was always looking for ways to balance that." Moving to New Zealand was a start (he worked at Bellota and helped set up Queenies Café). He had also always been a devotee of yoga – "I'd started at uni" – finding it a great respite from the freneticism of the kitchen, a safe space to unwind. Over the years Angus studied further, training in India to become a teacher.
It was a trip to Bali – an island retreat for yoga lovers – that almost proved his undoing. "As a chef, I was determined to try all sorts of food," says Angus of the experimentation that, as soon as he touched down back in Auckland, drove him straight to the hospital. He thinks it might have been eating pork intestines that gave him the salmonella infection that turned to septicemia when it entered his bloodstream. Intravenous antibiotics proved ineffectual; he contracted a superbug and his weight dropped to 43kg. That's when the head of infectious diseases told him about a cutting-edge treatment. A fecal transplant was a last-ditch option using healthy stool from a donor to alter his intestinal biome and improve gut health. After almost three months of suffering, the procedure worked a miracle. "The next day I felt so much better and in a week I was home," says Angus.
Naturally, the experience, six years ago, left its mark, not least an entirely new appreciation of the power of food to hurt and to heal. When he landed a job teaching yoga at the Aro Hā Wellness Retreat in Queenstown, his seven-day initiation immersed him in the programme – no alcohol, no sugar and a vegan diet. "After that week, I felt amazing. I began to really look into the environmental, health and ethical benefits of plant-based eating."
At the Barefoot Retreats that he runs in summer, Angus gets to share not only his recipes but his philosophies around wellbeing. The day-long programme is a digital detox, a chance for busy people to nourish themselves with yoga and meditation sessions held in the 'temple', a hexagonal building with no walls and a roof of bamboo gathered from a nearby property. There are mindful walks through the bush to the beach and, of course, food – breakfast and lunch made by Angus from local, plant-based ingredients. "We buy from the Oratia markets and grow our own veges, herbs and salad greens. We also have a little orchard with plums, peaches, oranges and lemons."
On the menu might be a galette with pastry made of coconut oil instead of butter, or a Buddha bowl with spiced cauliflower, beetroot hummus and sauerkraut. "I make my own sauerkraut and also demonstrate how to make kombucha at the retreats – both have a positive effect on your gut health."
Given his near-death experience, Angus could be forgiven for being a pedant in this respect. He's not. "I'm into mindful eating and encourage people to take notice of how different foods make them feel. But I don't think food regimes should be about control."
Instead, he says, if you choose to eat something, don't waste your time on guilt. Enjoy it! And don't forget to turn off your phone so you can enjoy the company too.
Angus' culinary career continues – he recently developed the recipes for The Butcher's Son on Jervois Road – but its pace has abated. These days, he's happiest when he's in gumboots and a straw hat digging the garden. Or wandering down to the cliffside track with Elsie, his rescue dog, for a swim at the beach. Or when he's feeding the mohair goats their delicious-sounding diet of soaked oats and linseed with apple cider vinegar, seaweed, hemp oil and molasses. "For me, I wanted to use food to help people to slow down and connect with others, the environment and themselves," he says. Turns out barefoot and in the kitchen can be a progressive, happy place.
barefootretreats.earth