The great gin takeover continues apace and Tash McGill works with the team from Clipper in Auckland to create some classics with their own touches.
Gin has been having a moment for four summers now, without any chance of a slowdown. The best classic gins in the world share some common ingredients: well-treated juniper that provides a piney, resinous quality with some peppery tones, usually combined with citrussy, woody and floral botanicals to create a complex spirit.
The growth of gin distillation has led to an explosion of local and native botanicals being used in gin around the world including here in New Zealand where consumers are showing a preference for bold and strong flavours of pine, citrus, pepper, red berry and pip fruit. Customers are increasingly exploring the unique flavours of premium tonics and how each might complement a variety of gins.
Because gin can be made from any neutral spirit through maceration, infusion or re-distillation, it can be cost-effective and quicker to make gin than many other spirits. It's the price of the botanicals, especially skyrocketing juniper due to heavy global demand, that can impact the production cost of gin. While distillers have always been fascinated by using local ingredients, this has certainly accelerated the exploration of native elements such as kawakawa (peppery and bitter) and local Douglas Fir tips for the pine-like flavour you might otherwise extract from juniper berries.
In a gin and tonic, the quinine in the tonic enhances any bitterness which can provide balance and complexity to the piney qualities in the gin, along with the additional sweetness of tonic.
In a gin cocktail it is important to choose the gin carefully to get the right balance of botanicals, sweetness and bitterness.
A clean spirit base and balanced use of botanicals can create a harmonious palate of opportunities for the flavour-conscious bartender especially when using classic botanical profiles of London Dry gins. Other contemporary gins might add a slighter sweeter or vegetal component to the flavour profile.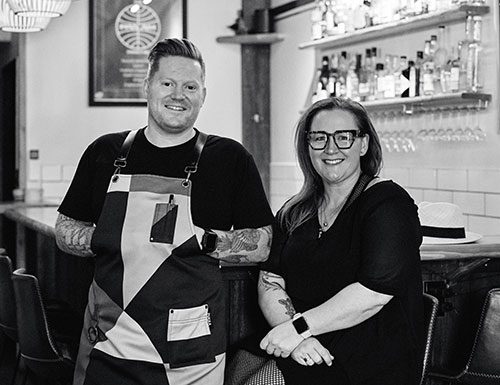 CLIPPER
Clipper sits close to the corner of Franklin Rd and Ponsonby Rd, with distinctive pink and tropical décor oozing a warm welcome to locals and those from further afield. The site will be familiar to Auckland historians and cocktail lovers – it's where Surrender Dorothy and Mea Culpa have been before. Since taking over the site and officially opening Clipper's doors in July 2019, Barney Toy and the team have created a bar that embodies the golden era of travel, capturing iconic flavours and inspirations from around the world.
It was always Barney's intention to create a bar that had international appeal as well as a strong local, neighbourhood feel. Originally from Sheffield, UK, Barney has called New Zealand home for the best part of 15 years despite frequent travel for Bacardi after competing in the Bacardi Legacy cocktail competition with his Pan Am cocktail. His fellow co-owners all come from afar or have travelled extensively in their roles within the drinks industry. That's reflected in the international style of drinks, the menu and the style of service.
"We're were a table-service bar, long before COVID. We want you to come in, sit down and let us take care of you. Take your time with the menu, ask us questions, let us practice hospitality. That's something that Kiwis just aren't used to, but our regulars have it down now."
Divided into short- and long-haul drinks, apéritifs and non-alcoholic options, the menu reflects the way modern drinkers are making conscious and informed choices. Styled as a passport that guests can purchase to keep, each drink is attached to favourite and inspiring international travel destinations, classic and seasonal flavours and comes with the standard drinks measurement for each cocktail on the menu.
"It's not something we've seen done here in New Zealand before but it reflects something that's going to help our customers make great choices," says Barney. And yes, you can collect arrival stamps as you work your way through the menu.
That menu includes a select list of vermouths and apéritifs, embracing the Italian tradition of aperitivo, those precious late-afternoon hours before dinner.
When your drink is served, you'll notice two very intentional things – drinks are minimally garnished (some might say naked) and they are served very quickly. This little bar is fast and efficient, driven by a batching programme that ensures every drink is consistent in flavour, measurement and delivery. By pre-batching components, complex ingredients and textures can be brought together in record time and kept at perfect dilution and serving temperature.
Batching and 'clean' drinks have become increasingly popular internationally, where the focus is on fast, consistent service and flavour over flounce. With a minimalist attitude to garnishes, there's nothing but crystal- clear flavour between customers and their large-format ice. It speaks to sustainability as well – if required, straws are stainless steel, coasters are recycled post-consumer plastic over card and wastage is minimised at every turn. It's in these little touches you feel the international experience behind the bar.
This approach to batching and high volume allows the Clipper team to maintain freshness, flavour and produce consistency in every drink. By creating cordials of local, seasonal or unique ingredients such as lime leaf, rhubarb or even tinned lychee, they can produce huge flavours that will balance well in the final glass. TASH MCGILL