Cuisine Good Food Awards 2018 – winners revealed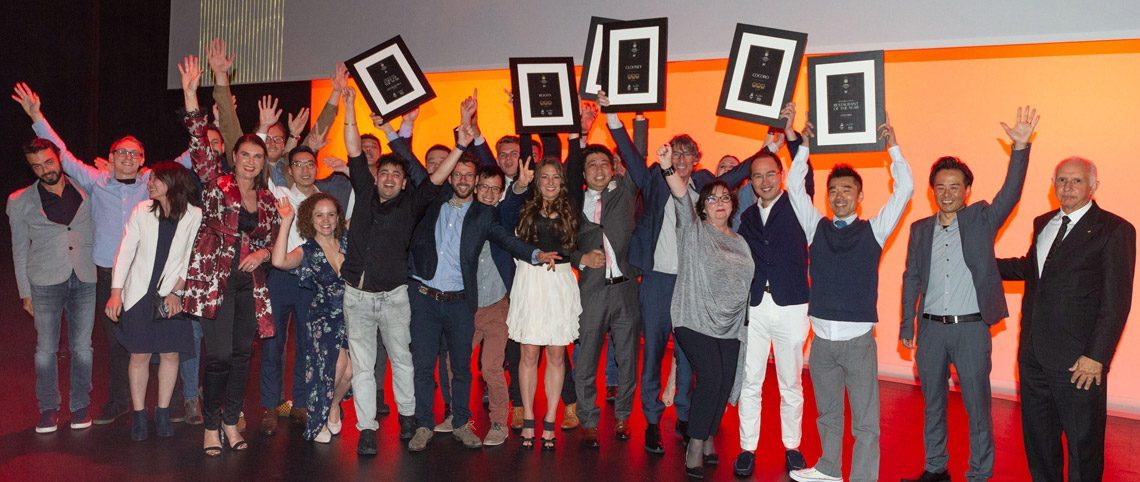 Cuisine Good Food Awards 2018 – winners revealed
New Zealand's hospitality royalty celebrate their biggest party of the year.
Guests arriving at Auckland's opulent Civic Theatre for the Cuisine Good Food Awards 2018 on 15 October 2018 stepped into an Indian-inspired wonderland of elephant statues, seated Buddhas, domed ceilings and twisted columns, while inside the auditorium Abyssinian panthers stalked through a Moorish garden with turrets, minarets, spires and tiled roofs, beneath a night sky sparkling with stars.
But it was the stars of the restaurant and hospitality world that were the focus of attention for the evening as the biggest names in New Zealand's food and wine world gathered to hear Cuisine Editor, Kelli Brett, and Cuisine Good Food Awards lead assessor Kerry Tyack announce this year's winners.
Auckland restaurant Cocoro took the top accolade as Vittoria Coffee Restaurant of the Year, with chef and co-owner Makoto Tokuyama being feted for his sophisticated and inspiring Japanese food. Famed for using only the freshest sustainable seafood, the restaurant also earned three coveted hats.
"This team gets our highest honour in 2018," said Kerry Tyack, lead assessor of the Cuisine Good Food Awards 2018. "With it comes our respect and our appreciation for a job being done quietly yet superbly."
Santa Vittoria Chef of the Year, Giulio Sturla, was lauded for his skill balancing intense flavours that truly respect premium ingredients. "Giulio has so many layers to his work. Through his authentic and clever food, through his mentoring and continuous support of his team, through the telling of the New Zealand food story within his organisation Eat New Zealand and through his never-ending push to learn and to teach and to be excellent. We are so proud to be able to shine a well-deserved light on Giulio Sturla this year.."
With competition for the top awards being so intense, it's remarkable that one chef should take out two of the major gongs. The ingenuity and sheer imagination of Vaughan Mabee of Amisfield Bistro was recognised for the second year running with the Ōra King Salmon Innovation Award, and his dish, The Paua Pie won the Whitestone Cheese Best NZ Dish.
Also demonstrating a wide-ranging talent, two of Auckland chef's Sid Sahrawat's stable of restaurants were awarded two hats this year, with Cassia winning the Best Metropolitan Restaurant.
Not only applauding the newest, hottest spots, Wellington's abiding favourite fine-diner Logan Brown was applauded, winning the Pead PR New Zealand Long-Term Player award for their commitment to consistently serving up elegance and pure class.
At the other end of the longevity spectrum the spotlight turned on up-and-coming chef Monique Fiso, about to launch her restaurant Hiakai celebrating Māori cuisine and indigenous ingredients.
"Transcending trends while remaining the hallmark of success are the twin features of quality and consistency. Our hat and category winners this year deliver both. They have shown a sure-footedness, a confidence that survives and grows without need of gimmicks or extreme positioning," commented Kerry Tyack.
The theme of 'Pure and Premium New Zealand' carried throughout the night from the food by Lizzie Pearson of Urban Gourmet to the sheer array of Kiwi talent that gathered to hear the likes of Auckland's Cassia, Gemmayze St and Depot and Hamilton's Palate restaurants take out well-deserved awards. Also gathering major accolades were Elephant Hill in Hawke's Bay and Wellington's Noble Rot and Charley Noble.
Wellington restaurants took three of the top honours, five went to Auckland with the rest going to teams in Hamilton, Hawke's Bay, Canterbury and Central Otago.
The Cuisine Good Food Guide will accompany the November issue of Cuisine Magazine.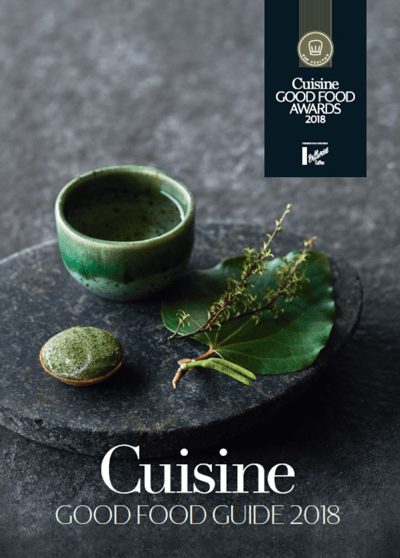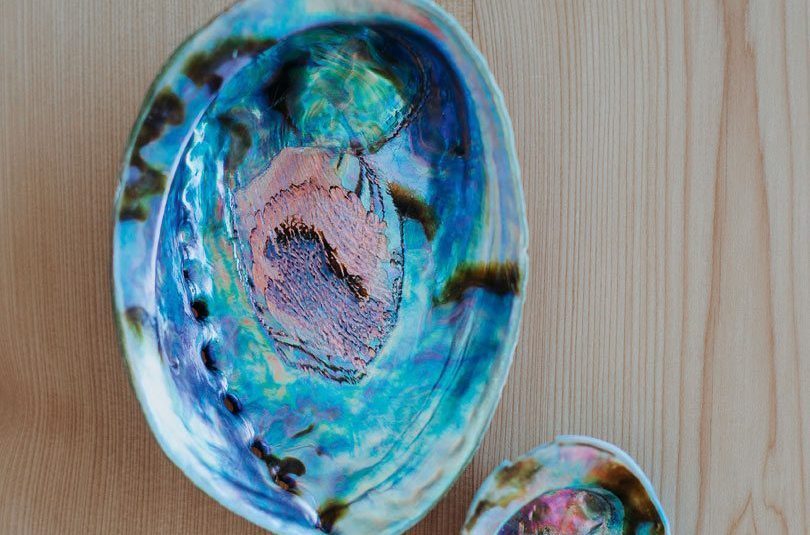 The question "What is New Zealand food?" is often asked and it's tricky to answer. New Zealand's food culture has evolved dramatically, but perhaps we will never have a 'New Zealand cuisine' as such. We are not bound by the time-honoured culinary traditions that bind so many other countries, leaving us free to create our own food identity.
About Slick and Sassy Media Ltd and Cuisine Magazine
Previously owned by Fairfax Media NZ Ltd (now Stuff Limited). Cuisine magazine was purchased late last year by Slick & Sassy Media Ltd. Under the guidance of co-director/editor Kelli Brett and co-director/commercial director Vanessa Stranan, both of whom have extensive media backgrounds, the Cuisine brand is growing to new heights under independent ownership with a modern, relevant and refreshed approached. New Zealand's most trusted food and wine magazine, Cuisine is an iconic brand that, for 32 years, has shared the stories of those who grow, produce and cook our world-class food and drink in New Zealand. An important component of the Cuisine brand are the New Zealand Cuisine Good Food Awards. Launched 14 years ago, the annual awards ceremony brings together New Zealand's best chefs, restaurateurs and hospitality powerhouses for one night each year to celebrate excellence within New Zealand's hospitality industry.