TRACY WHITMEY finds Nanita's Tamales & Cocina Mexicana, a tiny Mexican café that's a riot of colour and flavour.
Im scanning the shopfronts of Auckland's Northcote Centre, worried that I won't be able to find Nanita's Tamales. I see a Chinese medicine shop offering herbal fumigation and moxibustion, I glance in at the packed aisles of the Tai Ping Trading Company, then after passing Tofu Man, Dumpling Ace and the Jiale Bun Shop I come to Food City Ethnic Food Court. Upstairs, in among a cluster of tiny eateries serving Thai, Taiwanese, Malaysian, Kiwi BBQ and Island food, I find Silvia Gómez-Pineda, proprietor of Nanita's Tamales & Cocina Mexicana. Even in this cultural mélange she stands out, dressed in a riot of bright florals with a turquoise fringe and a huge, welcoming smile. Draped in a Mexican flag and garlands of papel picados (paper bunting) her café is one of the few places in Auckland to find authentic Mexican home cooking and, I'll warrant, it has the warmest welcome.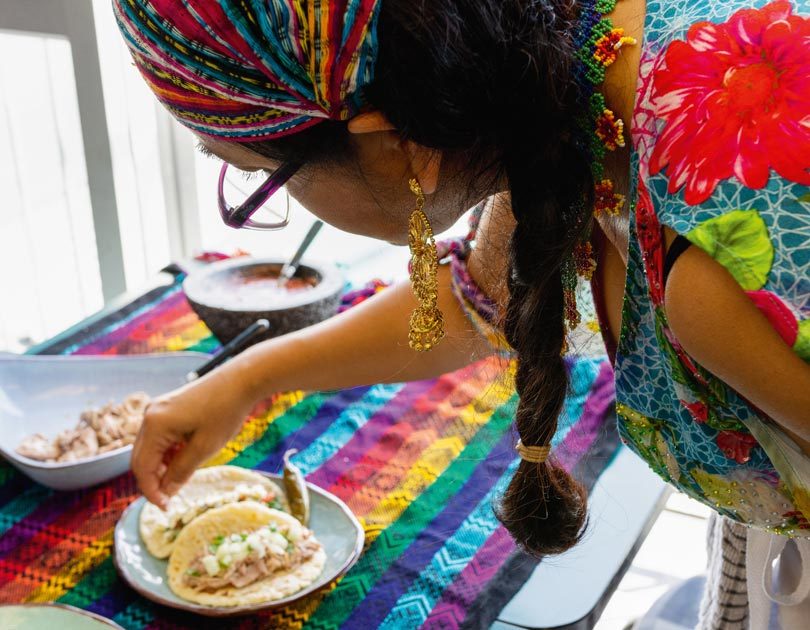 Silvia says, "The food court is not fancy, but it is a lovely place where families gather. That's why I chose it, as it reminds me of the eateries and markets in my beloved Mexico, where you can find the best food, not in a fancy restaurant." From this unassuming kitchen Silvia serves tamales, quesadillas, enchiladas, tostadas, tacos al vapor and fresh tortillas, as well as sopes, tacos al pastor, carnitas, barbacoa, pozole, tlacoyos and pastel de elote. The names might not be familiar but the flavours are spot on and, as it's mostly made right in front of you, you can see the good that goes into it. Silvia says, "This is all made by my hands and it's made with love."
As we talk, she pulls on her Mexican apron – a sort of pinafore appliquéd with yellow and white flowers – and starts into the kitchen. She tells me that cooking tamales makes her feel deeply connected to her grandmother and her late mother, Malicha, as she would always make them for family celebrations. "When I'm cooking I'm away with my mother, so I remember her every single day. When I cook I bring her back near to me." Although Nanita's Tamales has only being operating for a year it has long been in Silvia's heart. Arriving in New Zealand 11 years ago as a solo mum to two boys, Alonso and Jerome, she worked a variety of jobs, first as a caregiver to autistic people (building on 17 years as a pre-school teacher in Mexico), then a variety of hospitality roles. But she suffered some bruising experiences in the hospitality industry and was saddened to see how some Mexican food was presented in New Zealand – touted as authentic but offering poor-quality and pale imitations of the food and culture she loves. And she got tired of being hired for her authentic knowledge and skills only to have her recipes ripped off.
"When I'm hurt, that's when I grow," she says, explaining that every setback fuelled the germination of a little seed, founded in her passion for food. It took the influence and encouragement of a woman she describes as her fairy godmother to push her into realising her ambition. Hired as a nanny and to teach Spanish to a small boy, she grew very close to the boy and the family. "Looking after him and teaching Spanish to him was one of the most wonderful experiences in my life. This precious boy called me Nanita, a diminutive word for nanny in Spanish, so sweet a word with so much meaning to me, so I named my business Nanita's Tamales." Recognising that Silvia's dreams lay in the realms of cooking, her employer, a successful entrepreneur herself, encouraged her to have a go.
Already enrolled in a Bachelor of Culinary Arts at AUT, a year ago she got another nudge with a call to say a stall was available here in Food City. It took three calls before the landlady could persuade Silvia to even come and have a look. "I thought, 'I'm not ready yet,' but someone needs to believe in you to make you flourish. When I came here my heart was beating. You know, when you feel heat you know it's good. My God, I love it! I feel I'm in Mexico!" Silvia tells me that magic happens when you feel a connection with something. So, when not cooking at the café, she makes the magic happen by sharing her enthusiasm and vibrant personality teaching Mexican cooking at Selwyn Community College and at her café, and as a volunteer fundraising for NZ Nuestros Pequeños Hermanos, a charity running orphanages in Latin America. "All my life I have plenty of flavours, some bitter, some good. I like to enjoy every day. I want to wear my beautiful clothing, my flowers. I want to share my culture, not only my food. I'm living with the fullest flavours."